What to Know
The HPV vaccine is confirmed to be safe and effective at preventing HPV-linked cancers, including cervical and anal cancer
A slew of misinformation on social media is spreading fear about the vaccine — claiming it causes side effects and even death
Only about half of teens eligible for the potentially lifesaving vaccine have gotten one
Social media is filled with fake news and misinformation, some more harmful than others. Now, a rise in fear-mongering posts about the vaccine for the human papillomavirus virus (HPV), a sexually transmitted infection responsible for
5% of all cancer cases
worldwide, is worrying health experts that more teens will shun the safe and effective shot.
Currently, only about half of U.S. teens have gotten the vaccination, and groups such as the innocuous-sounding Facebook group "HPV and Flu Shot Awareness NY" are likely part of the problem.
First, the Facts
Read More
"There are no syndromes such as autism or other neurologic syndromes that have been linked to the HPV vaccines,"
Dr. Jessica Geiger
 of the Cleveland Clinic Cancer Center told SurvivorNet. "The truth is that hundreds of thousands of young boys and girls over the years have been successfully vaccinated, and they don't have any side effects or have any problems."
Dr. Jonathan Berek of the Stanford Women's Cancer Center told SurvivorNet that the HPV vaccine is "as safe as any vaccine has ever been."
The science is firmly on the side of vaccinations:
The vaccine can help prevent cervical, anal and gentile cancer, and some oral cancers of the mouth and throat
Over 80 million doses have been given since the vaccine was first introduced in 2006, and through the troves of data collected and studied completed, the only risks have been mild pain and redness around where the shot is given
Plus, the vaccination is covered by insurance, and can be gotten at a primary care doctor or at most women's health clinics. In other words, it's widely accessible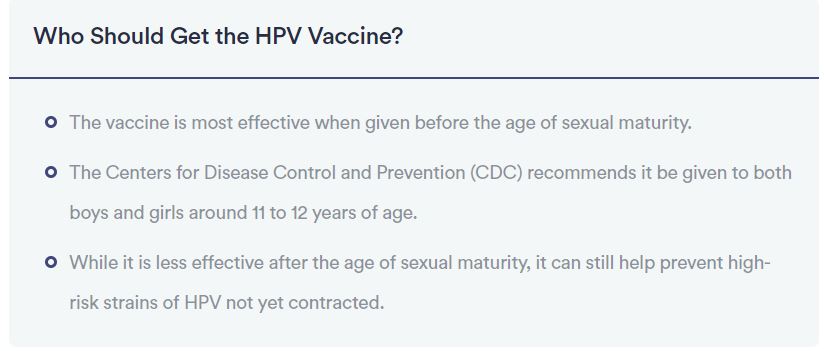 'HPV and Flu Shot Awareness NY'
The pro-vax sounding anti-vax Facebook group is just one of many proliferating on social media. It has over 17,000 followers, and each of its posts get hundreds of likes, comments and shares. Because of the group's innocuous name, along with a front-and-center "rule" list (not followed) that reads "no pro- or anti-vaccination posts allowed," the group's stance is far from clear at first glance.
RELATED: Facebook and YouTube Crack Down on Bogus Cancer Claims and Bad Health Information Littering the Internet
Facebook, in an effort to curb the spread of misinformation on its platform, has also included a warning at the top that reads, "This Group Discusses Vaccines," and links to the U.S. Centers for Disease Control and Prevention (CDC)'s website, where users can find vetted and accurate information about the vaccines.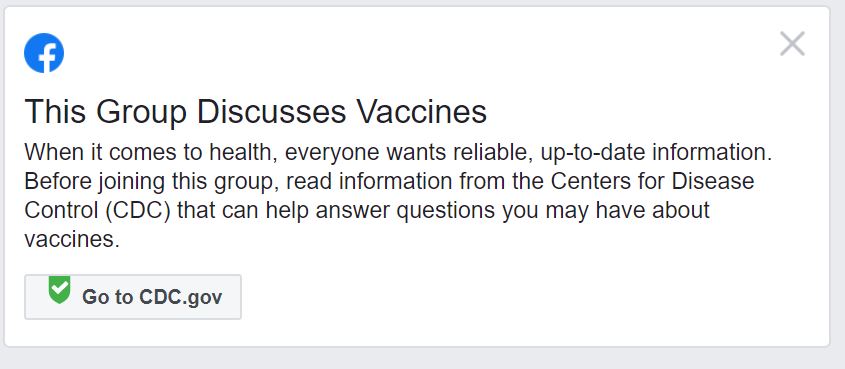 Read through the posts, though, and the overtly inaccurate and harmful information mounts. Here are just five examples of misinformation that stand out:
"There is no proof Gardasil prevents cancer" (False — there's a major body of proof)
"HPV vaccine: 65,000+ serious side effects" (False — the vaccine can only cause minor side effects such as pain and swelling)
"Merck [the company that makes Gardasil] is killing our young children with the most toxic vaccine around" (False — the vaccine is safe )
Dr. Jonathan Berek of the Stanford Women's Cancer Center told SurvivorNet that the HPV vaccine is "as safe as any vaccine has ever been."
Perhaps the most difficult posts to stomach are those with stories of heart-wrenching loss. Parents post photographs of their children and loved ones who have passed away from various causes, all of which they link to the HPV vaccine.
One woman named Kathleen Berret, for instance, shared a post about her son, Colton, who tragically took his own life after developing a spinal condition called transverse myelitis — which she blames on the HPV vaccine — that caused him to lose feeling and movement in his limbs. Studies have found there is no link between the vaccine and transverse myelitis.
RELATED: Don't Be Swayed by the Myths — The HPV Vaccine Is Completely Safe
Another post shares an article from a website called Collective Evolution, the headline of which is "Another Teen Dies After HPV Vaccine – The Science Speaks For Itself."
Text includes anti-vax posts like this one: "The young student from Vienna died in her sleep but suffered a wide range of health problems after getting her second injection of the HPV vaccine.
This wasn't necessarily random, as she experienced neurological issues since having the vaccine. [She] unfortunately suffered respiratory failure only a few weeks after receiving the vaccine."
The article also "reports" that "a 16-year-old British girl, Ruby Shallom, received the HPV vaccine and ended up being paralyzed in three limbs."
Dr. Jessica Geiger of the Cleveland Clinic spoke with SurvivorNet about how the HPV vaccine is completely safe
Because over 80 million people have received the HPV vaccine, statistically at least some of those people will develop fatal conditions. Some will die. These deaths will always be devastating.
But by inaccurately blaming those deaths on the HPV vaccine, then sharing that misinformation with others, their loved ones are preventing the HPV vaccine from doing what it was developed to do: Prevent further devastation at the hands of cancer.
Learn more about SurvivorNet's rigorous medical review process.
---