Choosing a holiday gift can be difficult under the best circumstances, but there's extra pressure when it's for a cancer survivor. There's the hope that the gift can lift someone's spirits, or soothe them in a way you don't feel you can do on your own. And naturally, you want it to be meaningful.
That's a lot of pressure. But don't worry — we have you covered. The SurvivorNet Holiday Gift Guide will help ease the stress of your shopping with gifts from the unusual to the practical with a luxurious spin. So get going — time is running out!
1. Meal Subscription
Read More
Prepared meals arriving at the door can be a boon to those who don't feel enough well to cook. We suggest a service that offers organic ingredients, such as
Veestro
, a vegan, no-preservative option. You can pause delivery or cancel anytime. (Veestro.com $11.70 per meal for 10 meals)
2. Unscented Bath Salts
Some people in treatment are especially sensitive to smells so make sure when you purchase a gift meant to relax that it doesn't contain strong scents. One suggestion is Ahava Dead Sea Bath Salt. (ahava.com, $22 for a 32 oz. jar)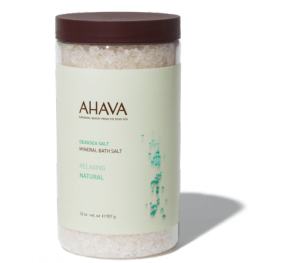 3. Back Massager
Studies show that massage may reduce pain, fatigue, nausea, anxiety and depression. The affordable and top-rated Zyllion Shiatsu Back and Neck Massager is an ergonomic and compact pillow massager that needs to be plugged in, but has a car adaptor. (amazon.com, $44.95)
4. Portable Projector
These small devices are great for watching streamed content on walls, ceilings — pretty much anywhere, which makes it especially convenient for people in bed, or who have found that one weird nook in the house they feel most comfortable. The pocket-size Pico Projector can be connected to an iPhone, Android Smartphones, Tablet, Roku stick and much more. (amazon.com, $65.99)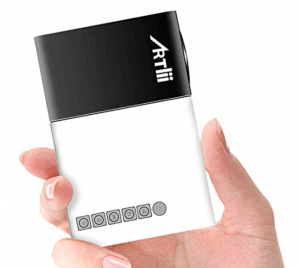 5. Headwraps and Headbands
Yes, there's no shortage of headwear for people going through chemo. But this is an extra stylish selection and no wonder – -it's from geeg, founded by cancer survivor and fashion insider Gina de Givenchy, a family member of the storied Givenchy luxury fashion house. (Geegny.com, prices vary)
6. Socks
There's a reason socks show up on holiday lists: Clothes that keep people warm are perfect gifts for cancer survivors at home or in the hospital. We like these Cozy Slipper Socks for a few reasons — they have slip-resistant bottoms, come in nine colors, and one size "fits most." (Choosehope.com, $9)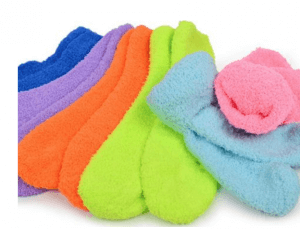 7. Overbed Computer Desk
There are plenty of affordable over-the-bed table options for those who need to relax or recover while reclining — the Gerry Height Adjustable Desk is a good option for those who want to use their laptop thanks to its tilting tabletop. (Wayfair.com, $28.99)
8. Robo Vacuum
Cleaning floors can be taxing for people in treatment, and robo vacuums can do the work for them. The Good Housekeeping Institute puts the eufy BoostIQ RoboVac on its top 5 list, noting it's the most affordable option that still gets the job done. (amazon.com, $269.99)
9. Chest Port Clothing
If you'e going for the practical, these shirts and hoodies are great for cancer patients receiving chemo with a port — a small, implantable reservoir with a tube that attaches to a vein for chemotherapy medications. These have dual-side zippers for easy access and claim that the antimicrobial fabric offers protection against infection. They're also warm! (Careandwear.com, from approximately $45)
10. Chest Port Pillow
Seatbelts can make traveling uncomfortable and sometimes painful for those with a port. These handmade, cheerful-looking port pillows each have s strap that attaches to the seatbelt so they don't slip. (esty.com, $6.50)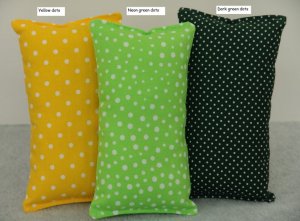 11. Gift Bags
It's a natural choice to send people in the hospital or recovering at home beautiful flowers, especially around the holidays, but flowers (and plants) "harbor fungal spores that place patients — especially blood and marrow transplant (BMT) patients — at risk for infection," according to the Roswell Park Comprehensive Cancer Center. Instead, go for one of the gift bags from Just Don't Send Flowers. (Justsendflowers.com, from $45)
12. Gift Certificates
These get a bad rap because they tend to sit around unused in people's wallets, but they're excellent presents if you put a little work into them. Ask around and see what specific needs need to be filled — is it clothing, entertainment, books? For those struggling with their physical changes, try a makeup gift card, such as from Sephora  (Sephora.com, prices varies)
13. Cashmere Throw
Soft, warm, need we say more? We like this throw from Horchow because it comes in some 15 colors. (Horchow.com, $234.50)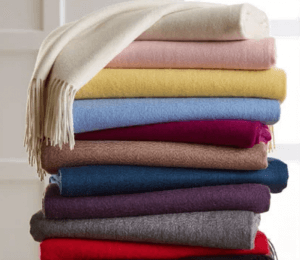 14. Breast surgery pillow
Cancer survivors who have had breast surgery, whether it be a mastectomy or reconstructive, can toss and turn finding the most comfortable way to sleep.  The Billow Pillow, may help — it's ergonomically designed for strategic body positioning for breast, back, under arm and neck support. (Pinklotus.com, $200 – $215)
15. Homemade Gifts
Cancer survivors have told SurvivorNet that some of the most thoughtful gifts they've received were homemade, such as cards, quilts, specific offers of help — whether it's sitting with someone during chemo, or watering their plants — and experiences like a trip to their favorite haunts.
And remember, you can't go wrong giving the gift you would have bought if the person didn't have cancer. A gift that speaks to them as a person rather than as someone with a disease is always appreciated.
Learn more about SurvivorNet's rigorous medical review process.