Missing chunks of grade school can be devastating for sick children excited to be learning and making new friends. So  7-year-old Gentry Dokter and his family had reason to rejoice last week as he headed back to classes — 81 days after being diagnosed with hepatoblastoma, an extremely rare type of liver cancer.
Best of all: Gentry, as first reported by local Texas TV station KWTX, is now cancer-free.
Read More
His mother, Hannah Dokter, tells SurvivorNet that Gentry had one thing to say about his experience: " Chemo sucks." In this context, she says with a laugh, "he is very much allowed to use the word 'sucks.'"
Of course, Hannah says, Gentry had been nervous about returning to school, where he's in second grade, mostly because of his baldness and his spending so much time with his parents during treatment — which, according to KWTX, included having nodules removed from his lungs and the majority of his liver removed. "He had a hard time going in at first," Hannah tells SurvivorNet, "and didn't want us to leave. He's been with one of us at all times." But Gentry quickly adjusted. "The teacher said he was great after [the first day]."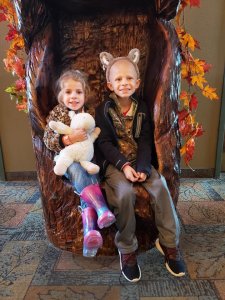 Throughout Gentry's battle, Hannah was outspoken on Facebook, updating her friends about his condition.
"I have been afraid to talk much about it in case something happens or there are serious changes, but Gentry potentially could be completely done with chemo in 3 weeks!!" she wrote in a recent post. "3 more treatments, 1 more hospital overnight chemo treatment and 2 more clinic treatments. The feeling is completely unreal…fear, joy, excitement, anxiety, and every emotion in between."
As the final treatment approached, she updated her friends once again: "Ya'll the anxiety is real…anticipated last chemo is scheduled for Tuesday. Gentry will do a CT and a MRI that morning and chemo following. Granted his scans are clear we will be done with treatment. Please please pray for our boy!"
Finally, she was able to post with the wonderful news that Gentry was finally done with treatment, and clear of cancer: "Scans are clear, last chemo treatment completed, tumor marker good! Gentry will ring the bell next Tuesday at 4!! HALLELUJAH!! Thank you all so much for the prayers going into today! [heart]"
Gentry has a little sister, and his mom says she played a huge role during his treatment. "She's just kind of a rambunctious outspoken and friendly personality," Hannah says, "so she would keep us smiling and laughing on days when we didn't want to smile and laugh."
Gentry's sister spent much of the time at home instead of at day care over the past year because Hannah and Gentry's dad Garrett didn't want her to bring home germs that could get Gentry sick. "She just cared about him and was concerned," Hannah says, especially when he had reactions to the platelets that doctors had to put in his body during treatment.
As hard and scary as dealing with the cancer has been, says Hannah, it has helped them to focus on their blessings: "It's made our family stronger, more loving, and more compassionate toward each other, and just helped us understand what's really important and what's not really that important at all."
Hannah's message for families going through cancer, especially those who have a child with cancer, is simple — hang in there. "I know adults having cancer is hard as well, but to watch these kids and what they go through, and the emotional toll it takes on parents, just hang in there," she says. "Cry if you need to cry, or talk to somebody. But just hang in there."
Gentry will return to McLane Children's hospital in Temple, Texas, on Nov. 25 for a checkup, according to KWTX. After that, he'll have a couple more visits to do blood work and some scans, and make sure everything is still going well.
Learn more about SurvivorNet's rigorous medical review process.
---