During his lifetime, Val Kilmer has journeyed from iconic actor, throat cancer survivor, and best selling author. Now, he's sharing even more personal stories with fans, and in an interview with The New York Times, he opens up about why he decided to go through chemotherapy treatments despite it going against his Christian Science faith.
After receiving his throat cancer diagnosis, Kilmer, 60, said that he initially had planned to treat the disease through Christian Science. However, his two children Jack and Mercedes, who are not Christian Scientists, caused him to change his mind and decide to go through chemotherapy and radiation treatments.
Read More
Related: Actor And Throat Cancer Survivor, Val Kilmer, Opens Up About Diagnosis In First TV Interview In A Decade — "I Haven't Let The Adversity Stifle My Voice"
"I just didn't want to experience their fear, which was profound," Kilmer said. "I would've had to go away, and I just didn't want to be without them."
Val Kilmer's Battle With Throat Cancer
Kilmer initially denied rumors that he was battling throat cancer, but in 2017 revealed to The Hollywood Reporter that had gone through a two year battle with the disease and was declared "cancer free." In addition to chemotherapy and radiation treatment, Kilmer underwent a tracheostomy — a surgery that connects the windpipe to a hole in the front of the neck for people who have obstructed breathing, throat cancer, or throat paralysis. The 80's heartthrob has been relatively quiet about his battle with throat cancer over the years, but in his new memoir I'm Your Huckleberry, he gives fans an in-depth peak into his personal life.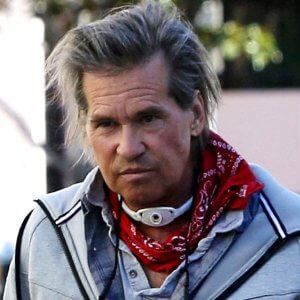 Related: Cancer Survivor Val Kilmer, 60, Says He's Seeing And Feelings Things Like Never Before — He Hopes New Memoir Provides Comfort During Coronavirus
Embracing Religion After A Cancer Diagnosis
For many cancer patients, faith and religion can be an important part of coping with a cancer diagnosis. This was the case for colon cancer survivor Jovannie Lorenzo. According to Lorenzo, her faith was tested after being informed of her cancer diagnosis, but instead of being angry, she decided to embrace religion and ask for help.
"[It] doesn't matter what god you serve because when you're diagnosed with anything, any type of disease, you need something to hold on to," Lorenzo told SurvivorNet. "You need something to fight for."
Colon cancer survivor Jovannie Lorenzo says she turned to God after diagnosis
Similarly, breast cancer survivor Sharonda Vincent, who had discovered a lump on her breast the day before her thirtieth birthday and one month from her wedding, told SurvivorNet that she initially felt like she was being punished, but one night she decided to pray and felt reassured.
Related: The Pressure to Look on the Bright Side — This Colon Cancer Survivor Details Her Complicated Relationship with Faith
"One night I was just laying there in bed, and I had a talk with God," Vincent told SurvivorNet. "I knew that if I just put my faith and trust in God, that I would be OK."
Learn more about SurvivorNet's rigorous medical review process.