Thackston Shares Another Update on Thyroid Cyst
FOX Anchor Lindy Thackston, 41, is sharing another fantastic update in her cancer journey – her thyroid cyst was benign!
After a colorectal cancer battle that started in 2020, Thackston is enjoying eleven months cancer-free.
Thackston is sharing her journey online with fans and loved ones; keeping strong community ties and social connections can help to make the cancer journey easier.
Indiana anchor Lindy Thackston, 41, has lived out her cancer battle in the public eye since May 2020.
And she's continuing to share updates – including happy news – with fans.
Read More
In a post to Instagram, Thackston shared a serene selfie photo at work, captioning it, "Thyroid Benign!"
 

View this post on Instagram

 
We are thrilled to hear this news after she shared that she had a cyst on her thyroid. The cyst was biopsied and came back as benign, which means Thackston is nearly one-year cancer-free. She continues to be an inspiration for all people fighting cancer. As she shared the good news, fans from near and far flooded the comments with love and support.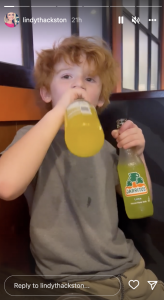 And in her Instagram stories over the weekend, Thackston showcased how she's thriving after cancer and doing activities that bring her joy, like spending time with her son and her friends at a concert.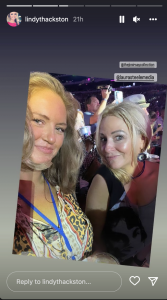 Lindy's Cancer Battle
Lindy Thackston was diagnosed with stage 3 colorectal cancer in May 2020. She went public with her diagnosis, as well as her treatment plan, and has continued to share updates with fans and followers. Thackston finished her chemotherapy treatment – she had 10 rounds of chemo – in spring 2021.
Related: 'The Best News I've Had!' FOX Anchor Lindy Thackston, 41, On The Importance of Second Opinions In Her Fight Against Stage 4 Cancer
Thackston lost her hair while going through her cancer battle as a result of chemotherapy and bravely shared her ever-changing look on social media. Hair loss is a common side effect of chemotherapy, and it can be mitigated with the use of new technology such as cooling caps.
In September 2021, the anchor shared with her fans on Instagram that her cancer had spread to her lung.
Dr. Heather Yeo, a surgical oncologist and colorectal surgeon at New York-Presbyterian/Weill Cornell Medical Center, previously told SurvivorNet that when colon cancer spreads outside the colon, it "most commonly spreads to the lung and to the liver."
Thackston ended up having a lobectomy procedure (a surgery where an entire lobe of the lung is removed) to remove half of her left lung.
Thackston consulted with her oncologist at St. Vincent Hospital (in Indianapolis) about what her next steps should be — chemotherapy, or not. She also sought second opinions on what to do at Indiana University Health and the Mayo Clinic.
"Unfortunately my biopsy came back with the news the colorectal cancer has metastasized to my left lung. I am now technically stage four, but the good news is, my oncologists say it's curable," she said at the time. Thackston had successful surgery on her lung, which led to this current state of being cancer-free.
She has been cancer-free for 11 months!
Not Your Parents' Chemotherapy: New Solutions for Nausea, Hair Loss, and Other Chemo Side Effects During Ovarian Cancer Treatment
Keeping a Positive Attitude Through Cancer
We love how Lindy is sharing these positive wins with her fans and her community. Focusing on hope and maintaining a positive attitude, as Thackston continues to do, can help.
Related: FOX Anchor Lindy Thackston, 41, Candidly Opens Up to SurvivorNet About Her Struggles With Mental Health During & After Cancer: 'Anxiety and Depression is Not Something I Dealt With Before Cancer'
Anecdotal evidence from SurvivorNet experts points to how a positive mindset and gratitude can positively impact a cancer prognosis.
Related: 'Negative!': FOX Anchor Lindy Thackston, 41, Rejoices At Good News From Cancer Test
Dr. Zuri Murrell, a colorectal surgeon at Cedars-Sinai, tells SurvivorNet in an earlier interview, "My patients who thrive, even with stage 4 cancer, from the time that they, about a month after they're diagnosed, I kind of am pretty good at seeing who is going to be OK. Now doesn't that mean I'm good at saying that the cancer won't grow," he says.
"But I'm pretty good at telling what kind of patient are going to still have this attitude and probably going to live the longest, even with bad, bad disease. And those are patients who, they have gratitude in life."
How To Turn Stress Into Strength 
Learn more about SurvivorNet's rigorous medical review process.