Ollie Knowles' Cancer Journey
Ollie Knowles, a toddler from North West England, was left paralyzed in his legs from neuroblastoma after being misdiagnosed for three months.
Neuroblastoma is a type of cancer that develops in neuroblasts, the immature nerve cells around the body. It can be found in the adrenal glands, abdomen, spine, chest, and neck. It occurs almost exclusively in children under the age of 5.
Ollie completed aggressive chemotherapy, which successfully minimized the tumor to the size of a walnut, but remains paralyzed in his legs.
The parents of Ollie Knowles, a toddler who was found to have aggressive cancer called neuroblastoma, were told their son was suffering from either constipation or colic for approximately three months before receiving a correct diagnosis.
After months of Sarah and Phillip, both 34 and from Lancashire in North West England, seeing their son in pain, doctors told them Ollie had a tumor the size of an apple in his stomach that spread to his spine. The cancer caused Ollie to become paralyzed below the waist.
Read More
"He was in so much pain all the time. He had been such a happy baby so it wasn't like him," Sarah told
The Sun
. "The doctors said it was constipation. But I knew that something was wrong. I would put him to bed and as soon as he laid down he was screaming. Now I know that it's because the tumor was pressing on his stomach."
Sarah and Phillip first realized something was wrong when Ollie had a swollen stomach and was crying often in July 2021, prompting them to seek medical advice. "We didn't know what to do. Nothing was working to try and ease his pain. He would just be crying and upset constantly. It was so upsetting to see him like that," Sarah said.
However, they took their son to get checked by doctors 15 times before finally getting answers. "If he had been seen earlier, then it would have been caught before it had spread to his spine and paralyzed him," Ollie's mom explained.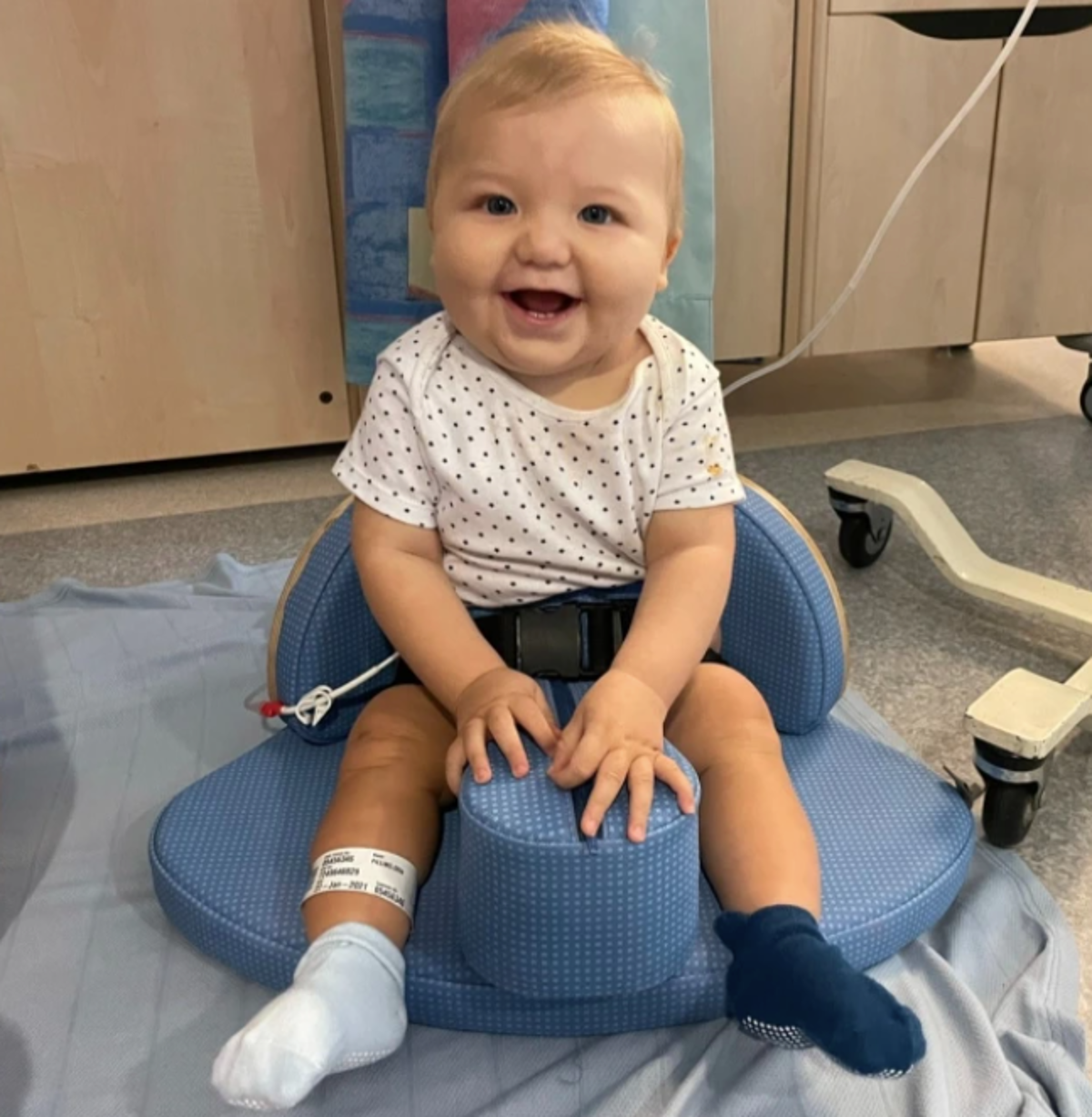 Then, in September, Sarah noticed Ollie fall to the floor one morning while attempting to stand up—which she initially suspected nothing of. "I thought he was messing around at first, but then I realized that he had lost all feeling and sensation in his legs," she explained. After rushing Ollie to the hospital, they learned he had an apple-sized tumor in his stomach and diagnosed him with an aggressive childhood cancer called neuroblastoma.
When Ollie's parents learned the "devastating news" that his cancer had spread to his spine they couldn't believe what they were hearing. "After all this time, he had been crying because the tumor had been causing him so much pain.'"
Despite completing aggressive chemotherapy, which successfully minimized the tumor to the size of a walnut, in November at Manchester Children's Hospital, Ollie's legs are still paralyzed and it's unknown if he'll ever walk.
Related: 6-Year-Old Misdiagnosed with Pulled Muscle, Appendicitis Before Learning She Had Neuroblastoma; Her Mother Was Called 'Dramatic' by Doctors
"Even though he can't walk, Ollie is still now such a happy little boy because he isn't in pain anymore," Sarah said, after explaining how the Coronavirus pandemic was the reason her son's cancer wasn't found sooner. Ollie, who gets regular checkups and scans for the tumor which appears to have stopped growing, was declared in remission in January 2022.
What Is Neuroblastoma?
Neuroblastoma is a type of cancer that develops in neuroblasts, the immature nerve cells around the body. It can be found in the adrenal glands, abdomen, spine, chest, and neck.
Neuroblastoma almost exclusively occurs in children under the age of five. As a child grows, neuroblasts mature into nerves and fibers.
In some instances, neuroblastoma goes away on its own, while those like Ollie with an aggressive form of the disease face more of an uphill battle.
Metastization is the most significant risk for most who are diagnosed with the disease.
"I Try To Stay Strong, But Sometimes You Need To Cry": Playing The Role of Cancer Caregiver and Mom
There are no known causes of the disease, and there is limited proof that family history makes one more or less likely to develop this form of cancer.
The symptoms will vary based on where the affected neuroblasts are in the body, but generally include:
Lumps of tissue under the skin
Eyeballs that protrude from the sockets (proptosis)
Dark circles around the eyes
Back pain
Fever
Unexplained weight loss
Pain in the bones
How a Cancer Diagnosis Impacts the Family
Ollie's cancer diagnosis has been an "emotional" journey for his family. A child's cancer diagnosis affects an entire family in varying degrees. In an earlier interview, Jayne Wexler describes how her son Justice's cancer diagnosis impacted her family.
Related: Mom Thought Her Tiny Daughter's Black Eye Was 'Just From Her Being A Wiggly Baby:' It Turned Out To Be Cancer
"When we were in the hospital we met a lot of couples, and a lot of people don't stay together because they can handle this," Jayne told SurvivorNet. "Fortunately, we [she and her husband] were very strong and we stayed together."
Jayne pointed out that she and her husband will always have fear for Justice's health, given everything they have been through, but she said that they work through that fear together. They try to appreciate every moment they have together as a family, and they even attended parenting therapy to get through some of the harder times.
Childhood Cancer Survivor Gets Real About Life After Chemo and the New Perspective His Experience Gave Him
She says, "We have to live each day and be thankful for what we have. And it's hard to remember that when you're caught up in – especially in New York City and the craziness – it's very hard just to sort of enjoy the moment, because we just don't know what's going to happen in the future."
"And we know that, I mean, it could happen to any of us. And so many people have cancer or something terrible happened. So I try to just keep breathing and relax and enjoy my time with Justice," says Wexler.
Contributing: SurvivorNet Staff
Learn more about SurvivorNet's rigorous medical review process.
---