Does cancer in your past make you more susceptible to the coronavirus?
Many cancer survivors across the world are feeling a lot of anxiety as the coronavirus (COVID-19) continues to spread. Actors Tom Hanks and Rita Wilson announced earlier this week that during a trip to Australia, they started to feel a bit weak and run-down — and after seeking medical care, tested positive for coronavirus. Millions of fans expressed their concerns for the much-loved couple, especially since Wilson is a cancer survivor.
Read More
RELATED: 'I Have Cancer — What Do I Need to Know About the Coronavirus?': Expert Answers on the Current Pandemic
Hanks shared an update on social media yesterday, noting that they are currently in isolation — but they have complete confidence in the medical team that is caring for them.
"We are taking it one-day-at-a-time," Hanks wrote. "There are things we can all do to get through this by following advice of experts and taking care of ourselves and each other, no? Remember, despite all the current events, there is no crying in baseball."
— Tom Hanks (@tomhanks) March 13, 2020
Rita Wilson's Cancer Journey
Wilson was diagnosed with breast cancer in 2015, and was treated with double mastectomy — a surgery to remove both breasts — at the time. The now-63-year-old actress was declared cancer-free in May 2015.
However, many people who have faced a cancer diagnosis in the past are what is considered "immunocompromised" — meaning their immune system is weakened and more likely to have trouble fighting off illnesses. The Centers for Disease Control and Prevention (CDC) notes that older adults and people with chronic conditions (such as heart disease, diabetes and lung disease) should take extra precaution to avoid any situation that may expose them to the virus.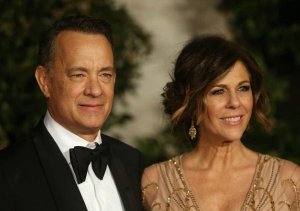 What Do the Experts Have to Say?
But what kind of precautions should cancer survivors take during the pandemic?
Shortly after her cancer diagnosis, Wilson shared that the disease was detected early enough that she did not need to undergo chemotherapy or radiation — which would have put her at more of a disadvantage when it comes to recovery time.
RELATED: 'Get On With Your Lives': What Cancer Survivors Can Teach the World About Coronavirus
SurvivorNet consulted Dr. Marc Braunstein, of NYU Long Island School of Medicine, Perlmutter Cancer Center, who noted that there are cancer treatments that tend to have a lingering effect on the immune system — it depends on a patient's overall health and the treatment they received.
"As we know, some chemotherapies can have a prolonged immunosuppressant effect, typically beyond two years. But if you've been off treatment for six months or more and not on maintenance therapy, it's reasonable to assume that your immune system has been revitalized," he said. "That's not a scientific pinpoint number, but it's an average."
Dr. Braunstein also noted that there are ways to dictate how well a person's immune system has recovered after cancer treatment.
"We do have ways of assessing the suppression level in someone's immune system, for example, looking at their white blood cell count, which can often be suppressed by chemotherapy. In addition, we can look at people's antibody count," he said.
What is the Coronavirus?
When Hanks went public with he and Wilson's diagnoses, he shared that they were both experiencing flu-like symptoms.
"We felt a bit tired, like we had colds, and some body aches. Rita had some chills that came and went. Slight fevers too," Hanks wrote.
The most common symptoms associated with the coronavirus, according to the CDC, are fever, dry cough and shortness of breath — symptoms that, unfortunately, are also associated with the common cold and several other illnesses. As Hanks noted, it's a good idea to seek a professional opinion if you're experiencing any of these symptoms — even if mild — in an effort to stop the spread of the coronavirus.
In a previous conversation, SurvivorNet asked public health expert Dr. Waleed Javaid to share some insight into what the new virus actually is, and the best way to avoid coming into contact with it.
Dr. Waleed Javaid, of Mount Sinai, explains what coronavirus is and the best way to avoid it.
There are seven known types of coronaviruses that infect humans, Dr. Javaid said, and four of those cause the common cold. The other three are Severe Acute Respiratory Syndrome (SARS), Middle East Respiratory Syndrome (MERS) and the new 2019 Novel Coronavirus (COVID-19).
"[As for] protecting yourself right now, there is restriction in travel. … We should closely follow the CDC recommendations for places where the virus has been," Dr. Javaid said. "There is information that will be available [from] them. Also, consulting with your provider before you travel to any area that you think might put you at risk for this Novel Coronavirus is an important thing to do."
Learn more about SurvivorNet's rigorous medical review process.