How Faith Can Help Cancer Patients' Journey to Recovery
A Utah father of six who is also a military combat veteran and police officer is battling stage 4 colon cancer. His youngest son, 2, was recently diagnosed with a cancerous brain tumor.
During stage 4 colon cancer, the cancer has spread beyond the colon and onto other parts of the body. The most notable symptom of colon cancer is a change in bowel habits. Although stage 4 cancer is harder to treat, treatment options exist to help manage symptoms.
The Utah family impacted by both colon and brain cancer is relying on their faith to help them cope during this difficult time. Leaning on faith is something SurvivorNet experts also say helps cancer patients during their cancer journeys.
The onset of sudden cancer treatment can greatly impact your family budget. Fortunately, there are local and national organizations to help if you're struggling to pay medical bills.
A brave father of six who is battling cancer is relying on faith and family to help him and his youngest child who is also diagnosed with cancer.
Dustin Ballard is a military combat veteran and a police officer in Utah. His family is used to him lending a helping hand to others during times of need, but amid his stage 4 colon cancer journey, he is the one needing help.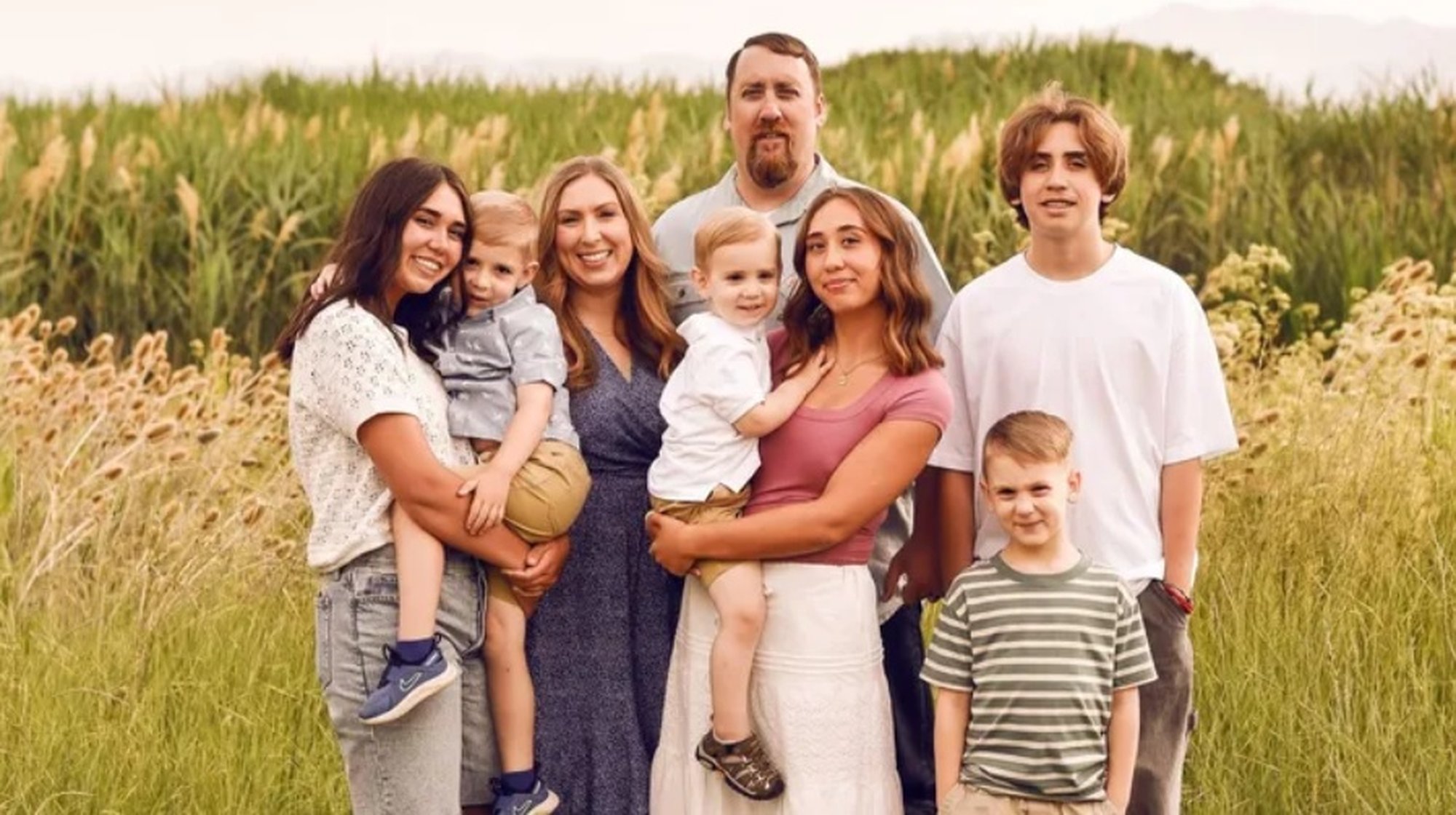 Read More
"It's just devastating," family friend Alexis Benson
told
 Utah's KSTU news. Ballard's cancer journey began last summer according to his sister-in-law Kathryn Grubbs. That's when he was diagnosed with stage 4 colon cancer. During stage 4, the cancer has already spread beyond the colon and onto other parts of the body. He immediately began chemotherapy after his diagnosis to get a handle on his cancer. Fortunately, his chemo treatment worked because his CT scans gave him and his doctors the "all clear." However, Ballard's joy was short-lived because he and his wife noticed their youngest son Mack, 2, walking awkwardly.
After they took the toddler to the doctor, it was discovered he had a cancerous brain tumor. More troubling, Ballard learned soon afterward his colon cancer had returned.
"They took him to the emergency room and found that not only did he have a blood clot in his lungs, but he had new tumors in his lungs and liver. So now we have both Dustin and Mack who are being treated for cancer," Grubbs said.
Young Mack is spending the next few months in a children's hospital to undergo chemotherapy and radiation therapy which uses high-energy beams such as X-rays aimed at cancer cells with hopes to kill them. The toddler is also in line for a bone marrow transplant to help treat his cancerous brain tumor. It's important to note that the type of pediatric brain tumor Mack has been diagnosed with has not been publicly disclosed.
Meanwhile, Ballard has restarted chemotherapy to treat his stage 4 colon cancer. Even though he's undergoing cancer treatment, the proud and brave father of six is still working in between chemo.
"The guy is just amazing. Still comes into work every day between his chemotherapy, just a super positive guy, a hard-working man. It's just been heartbreaking and extremely hard on his family," Benson said.
Some experts tell SurvivorNet, that working during treatment – if able – gives cancer patients a sense of normalcy which is often welcomed amid treatment. Through it all, loved ones close to Ballard's family say they have leaned on their faith to keep their spirits up amid dual cancer battles.
"They're leaning on their faith and God, but just trying to do their best to put one foot in front of the other," Grubbs said.
Relying on Faith
Having faith can help keep your spirits high even during times of struggle. It's something SurvivorNet experts also say helps cancer patients during their cancer journeys.
WATCH: Turning to Faith During a Cancer Journey.
New York City Presbyterian Pastor Tom Evans previously tells SurvivorNet about the importance of finding ways to cope with the complex web of feelings you may be experiencing after a challenging health diagnosis, such as cancer or a threatening tumor.
"It's important to reach out in a simple prayer to God, even if you've never prayed before, you don't know what to say, a heartfelt plea, 'God, help me, be with me,'" Pastor Evans told SurvivorNet.
"You can reach out to God, and you can reach out to people, your friends and, family, and say, 'I can't do this on my own. I need you.' "It's in that willingness to be open and to receive that we can find something deeper that we never would've encountered without this hardship," Evans continued.
SurvivorNetTV's produced a special episode, "Turning to Faith", where we followed the journeys of four women and how they turned to faith to get them through their diagnoses.
For some of these brave warriors, turning to faith can be a great way to keep spirits high when cancer starts taking an emotional and/or physical toll. For more on the impact faith can have on a cancer journey check out the episode.
Treating Late-Stage Colon Cancer
Colon cancer is very treatable and curable if caught early. The cancer starts when abnormal lumps called polyps grow in the colon or rectum. These polyps can sometimes develop into cancer if you don't have them removed.  Colon cancer screening can be done with at-home tests such as Cologuard or a colonoscopy. SurvivorNet experts say colonoscopies are more effective because doctors can remove precancerous polyps in real-time. It takes up to 10 years for a colon polyp to become full-blown cancer, according to SurvivorNet experts.
The most common symptom is a change in bowel habits. This ranges from constipation or diarrhea to differences in the size or shape of bowel movements. A change in stool color, particularly black or tarry stools, can indicate bleeding from a tumor that lies deep in the colon.
Other symptoms can be harder to pinpoint as cancer, such as abdominal pain and unintentional weight loss. Finally, some tumors bleed a small amount over a long period of time, resulting in anemia (a low red blood cell count) that is picked up on a blood test.
Late-stage colon cancer may not always be cured but the disease can be managed with a variety of treatment options. Thankfully, there have been major advancements in colon cancer research in recent years that have led to new and better treatments.
Ballard is currently undergoing chemotherapy for the recurrence of his colon cancer. Oftentimes, stage 4 colon cancer is managed with chemotherapy alone or, in select cases, a combination of chemotherapy and surgery depending on the patient, tumor properties, and where the metastases are located.
In some cases, it is not possible to surgically remove all of the tumors. When that happens, the primary goal of treatment is to manage the cancer to prevent it from growing, spreading, and causing symptoms. A combination of patient factors and tumor properties determine which chemotherapy will be used to treat metastatic colon cancer.
Battling Childhood Cancer
"More than 95 percent of childhood cancer survivors have significant health-related issues because of the current treatment options, and only 4 percent of the billions of dollars spent each year on cancer research and treatments are directed towards treating childhood cancer in the United States. Since 1980, fewer than 10 drugs have been developed for use in children with cancer while hundreds of drugs have been created exclusively for adults," according to the National Pediatric Cancer Foundation.
The types of treatment a child with cancer receives will depend on the stage and type of cancer the child has according to the National Cancer Institute. Common treatments include surgery, chemotherapy, radiation therapy, immunotherapy, and stem cell transplants.
Signs and Symptoms of Brain Cancer
Brain tumors do not always cause symptoms, but they can still impact a person's brain function and overall health, depending on their size, type, and location within the brain. Tumors that grow big enough and disrupt normal central nervous system functioning can press on nearby nerves, blood vessels, or other tissues. The disrupted central nervous system can present in a variety of ways, potentially making it difficult to walk or maintain your balance.
The symptoms brain tumors can cause are similar for children and adults. According to Boston Children's Hospital, common symptoms associated with brain tumors include:
Seizures, especially when there's no history of seizures
Vision problems
Slurred speech
Nausea and vomiting
Headaches
Difficulty with balance and problems walking
Weakness or drooping on one side of the face
Confusion, irritability
Memory problems
If any of these symptoms concern you, you should contact your child's doctor.
When You Can't Afford Your Treatment
Ballard's family has since started a gofundme to help with treatment costs for the father-son duo. Cancer treatment, like many medical expenses, can be costly. Fortunately, there are resources available to help with expenses when crowdsourcing sites are not practical.
Here are some examples of programs and organizations that may be able to help with bills associated with cancer treatment:
For Help With Treatment Bills
Learn more about SurvivorNet's rigorous medical review process.
---