Diet & Prostate Cancer
A new study found that eating a lot of fruits and vegetables will not slow or stop the progression of prostate cancer
The study was conducted on men between the ages of 50-80 who were diagnosed with early-stage prostate cancer
Study authors note that while a healthy diet won't stop cancer, it can still help with how the body responds to treatment
It's recommended that men with prostate cancer consume a diet rich in fruits and veggies, but
a new study
from researchers at Roswell Park and University of California-San Diego found that this diet may not do anything to slow or stop the progression of the disease.
The study, dubbed the Men's Eating and Living (or MEAL) study and published in the Journal of the American Medical Association, followed nearly 500 men with early-stage prostate cancer, and found that men who consumed seven servings of vegetables a day were no better off when it came to disease progression than those who skipped the produce.
Read More
RELATED: The Pros and Cons of Keto — and Whether it Can Treat Cancer
The researchers behind the study did, however, point out that while diet can't slow cancer — a healthy, balanced diet and active lifestyle will make the body stronger, which ultimately, will help it to fight cancer.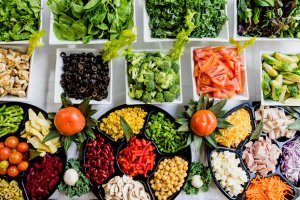 "These data indicated that, despite prevailing scientific and public opinion, eating more vegetables will not alter the course of prostate cancer. It will not, to the best of our knowledge, suppress or cure it,"  said Dr. J. Kellogg Parsons, the study's lead investigator. "However, while eating a healthy diet rich in fruits and vegetables and getting more exercise may not cure cancer, it may keep the body stronger and healthier, which may help patients tolerate cancer treatments."
The men who participated in the study were all placed on "active surveillance" after being diagnosed with cancer.
What is Active Surveillance?
Active surveillance, or the watch-and-wait approach, can be used for men who present with very low-risk prostate cancer, meaning there is time to wait and see if treatment, which can have some pretty severe side effects, is needed.
Dr. James Brooks, of Stanford Medicine, and Drs. Stephen Freedland and Edwin Posadas, of Cedars-Sinai, explain the active surveillance approach to prostate cancer.
The new study is the first randomized clinical trial to test the concept of diet intervention on prostate cancer progression. Unfortunately, once prostate cancer is detected, this research indicates that cleaning up your diet is not going to have any sort of slowing effect.
"We now have good evidence that a diet rich in fruits and vegetables and light on red meat is not likely to impact the need for treatment," study co-author Dr. James Mohler said. "But this study does not provide justification for eating anything you want, either. The overall health benefits of a diet that's relatively low in fat and rich in fruits, vegetables and healthy grains are well-established."
Does Diet Matter?
This study indicates that a healthy diet can't actually fight cancer. However, an overall healthy lifestyle is still incredibly important for people battling cancer of any sort.
In a previous conversation with SurvivorNet, Dr. Stephen Freedland, a urologist at Cedars-Sinai Medical Center, explained that he advises his patients to make simple dietary changes that can have a significant impact on how the body responds to cancer treatment.
"Some of the best data we have is that obesity increases the risk of not just getting prostate cancer, but actually dying from prostate cancer. So, obese men are about 35% more likely to die from prostate cancer," Dr. Freedland said. "…one of the key things we do try and focus on, is weight loss. But not just telling men, 'Oh, you should go lose weight.' But we actually sit down and go through some of the ways that men can make relatively small changes in their diet that, over time, can lead to weight loss."
These changes Dr. Freedland recommends, like cutting out foods that contain a lot of sugar or trans fats, can help get the body into fighting shape.
Learn more about SurvivorNet's rigorous medical review process.