Fighting Against Pancreatic Cancer
Gianluca Vialli, a popular Italian soccer star, and soccer manager in England, lost his battle with pancreatic cancer at age 58, and was honored in various ways today in the soccer community.
Symptoms of pancreatic cancer may include: Pain in the stomach or back, yellowing of skin or eyes, unexplained weight loss, changes in bowel movements, indigestion, fever, and blood clots.
Treatments for pancreatic cancer include radiation, surgery (i.e. surgically removing the pancreas), and chemotherapy. Immunotherapy for pancreatic cancer is given in clinical trials, alongside other treatments, like chemotherapy.
Italian soccer star Gianluca Vialli, 58, has lost his battle with pancreatic cancer, but those who loved and worked with him are honoring him in special ways around the world.
Vialli was an Italian soccer player who also worked as a soccer club manager, and played as a striker. He began his career in 1980 with Cremonese, an Italian soccer club based in Cremona, Lombardy. For Cremonese, he made 105 league appearances and scored 23 goals. Vialli won three Italian cups, and later transferred to Juventus in 1992.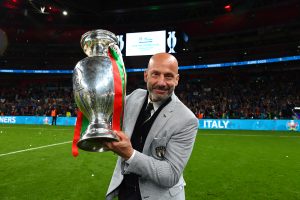 Read More
Vialli joined Chelsea in 1996 and became a manager the next season. As a manager in England, he won the League Cup, the FA Cup, and other tournaments. Today, a minute of silence was held before the Chelsea Women had their training session in Spain, in honor of the late Gianluca Vialli. Elsewhere around the world, tributes poured in on social media.
💔

Ciao Luca. pic.twitter.com/8KAo9BsYaC

— U.C. Sampdoria (@sampdoria) January 6, 2023
Ciao Gianluca. pic.twitter.com/6MBUGpR7HO

— JuventusFC (@juventusfc) January 6, 2023
Watford FC writes on their Twitter account, "All at Watford FC are saddened to learn of the passing of our former manager Gianluca Vialli. Our thoughts are with his family and friends."
All at Watford FC are saddened to learn of the passing of our former manager Gianluca Vialli.

Our thoughts are with his family and friends. 💛 pic.twitter.com/81cg6fZUtG

— Watford Football Club (@WatfordFC) January 6, 2023
Viallia's Pancreatic Cancer Battle
Vialli passed away this week while he was surrounded by his family, reports the Daily Mail. Viallia battled pancreatic cancer for five years. Vialli was married to Cathryn White-Cooper, who he wed in 2003, and they had two daughters together named Olivia and Sofia.
In 2018, the soccer star shared publicly that he had beat pancreatic cancer after a year-long battle with the disease. Vialli was treated at London's Royal Marsden Hospital, and he was given the "all clear" in April 2020.
In December 2021, Vialli was diagnosed again with pancreatic cancer. He passed on January 6, 2023.
Detecting Pancreatic Cancer Early Is Crucial
What are the Treatments for Pancreatic Cancer?
Pancreatic cancer treatments include radiation, surgery (i.e. surgically removing the pancreas), and chemotherapy. There is also immunotherapy for pancreatic cancer, although it's a less common treatment. Pancreatic Cancer Action Network (PANCAN) details how most immunotherapy drugs for pancreatic cancer are in clinical trials. In these trials, patients are also given other treatments, too, like chemotherapy.
"Up until now, immunotherapy hasn't had a big role," Dr. Allyson Ocean, a medical oncologist at Weill Cornell Medical Center, tells SurvivorNet in an earlier interview.
Dr. Anirban Maitra, the Co-Leader of the Pancreatic Cancer Moon Shot at MD Anderson Cancer Center, says in an earlier interview that detecting pancreatic cancer early – so as to treat it earlier – is crucial. He emphasizes that this is difficult, though, saying, "Because the pancreas is inside the abdomen, it often doesn't have symptoms that would tell you that something is wrong with your pancreas."
He continues, "By the time individuals walk into the clinic with symptoms like jaundice, weight loss, back pain, or diabetes, it's often very late in the stage of the disease… for most individuals, about 80%, will actually present with what we called advanced disease, which means that the cancer has either spread beyond the pancreas or into other organs like the liver, and so you cannot take it out with surgeries."
MD Anderson's Pancreatic Cancer Moon Shot
Coping with the Loss of a Loved One
When you lose a loved one, colleague, or friend to cancer, it is challenging and grief may overtake you. It's important to be gentle with yourself as you move through your emotions. Seeing therapy or counseling is a helpful and safe way to process all of your emotions around the loss.
In an earlier interview with SurvivorNet, Camila Legaspi recalls how therapy helped her after losing her mom to breast cancer. She says, "Therapy saved my life. I was dealing with some really intense anxiety and depression at that point."
Legaspi continues on to say, "It just changed my life, because I was so drained by all the negativity that was going on. Going to a therapist helped me realize that there was still so much out there for me, that I still had my family, that I still had my siblings."
She affirms that it's hard, but that seeking help really works. "The reality is, is when you lose someone, it's really, really, really hard," says Legaspi. And it's totally OK to talk to someone."
"Therapy Saved My Life": After Losing A Loved One, Don't Be Afraid To Ask For Help
Learn more about SurvivorNet's rigorous medical review process.