Alboh's Final Collection
Virgil Abloh passed at age 41 last November after a two-year battle with a rare cancer, and today his final collection for Louis Vuitton showed in Paris for Paris Fashion Week.
Abloh passed from cardiac angiosarcoma, which is a type of soft tissue sarcoma found in the heart.
Many people find that a cancer diagnosis leads to grief, anxiety, and depression. Speak with a mental health professional to find support.
Virgil Abloh passed away in November 2021 of a rare cancer called cardiac angiosarcoma, but his memory lives on in – among other places – Paris this week for Paris Fashion Week.
Related: If You're Diagnosed with a Rare Cancer like Louis Vuitton Designer Virgil Abloh, How Do You Find Help?
Read More
His last collection for Louis Vuitton premiered at Carreau du Temple in Paris today for Paris Fashion Week. Beginning in 2018, Abloh served as the artistic director of Louis Vuitton's menswear collection. The Louis Vuitton collection which showed today was dedicated to the late Abloh, who was also the founder of fashion label Off-White. His famous friends and fans of his designs included huge names like Kanye West.
On Instagram, fashion house Louis Vuitton shared the stunning sets from the latest collection's show. The esteemed label wrote, "The upcoming show serves to consolidate the themes and messages of the eight-season arc Virgil Abloh created at #LouisVuitton. Watch the fashion show live at 2:30 pm (CET) on Instagram or louisvuitton.com."
 

View this post on Instagram

 
Megastars like Colombian singer J.Balvin could be seen in Paris getting ready to attend the show, as Abloh's final collection was one of the hottest tickets in town.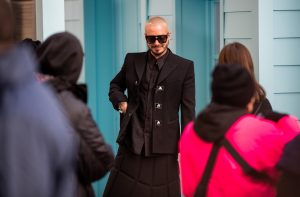 Fashion is seasonal and it operates on an accelerated schedule. This means the collection being shown was for Fall/Winter 2022/2023, so that editors, buyers, consumers, and fashionistas alike can prepare for what's to come. No doubt about it: The absence of Abloh in the fashion world will be felt deeply for years to come.
Prior to the show, Dior's Kim Jones, who Abloh replaced at Vuitton, said of the Abloh's final collection, "It's going to be very emotional."
 

View this post on Instagram

 
At the end of the show, the Louis Vuitton team – missing their director, Abloh – came on stage together to take a bow.
What is Cardiac Angiosarcoma?
For over two years, Abloh fought a rare and aggressive cancer called cardiac angiosarcoma. This is a type of soft tissue sarcoma found in the heart. Symptoms can include blockage of blood flow to the heart and an irregular heartbeat. The symptoms of this disease vary depending on where the tumor is located.
Abloh handled his cancer battle privately from the time of his 2019 diagnosis. His family spoke out after his death about Abloh's cancer battle saying he underwent "numerous challenging treatments, all while helming several significant institutions that span fashion, art, and culture."
Treatments for cardiac angiosarcoma include surgery, radiotherapy and chemotherapy. Due to the rare nature of this type of cancer, treatment guidelines are not yet established.
Not Your Parents' Chemotherapy: New Solutions for Nausea, Hair Loss, and Other Chemo Side Effects
Coping with a Cancer Diagnosis
There's a deep hole left by Abloh's absence in the fashion world, and it's likely that Abloh himself – along with family and friends – struggled to cope with his diagnosis.
After a diagnosis of cancer, many people experience a great deal of grief, anxiety, and even depression. It's important to deal with your emotional and mental health, along with your physical health during this time.
Related: Dealing With Grief After a Cancer Diagnosis
Cedars-Sinai's Dr. Scott Irwin says in an earlier interview that treating mental health can directly impact one's physical health in a positive way. "Depression is a really interesting topic, because a lot of people assume that, oh, they have cancer. They must be depressed. That's actually not true," he says.
"85% of patients do not get what would be considered a clinical depression. 15% do. For prescribing medications for depression in the context of cancer, I often try to choose medications with the lowest side effect profile. If patients are getting hormonal therapy, there's particular antidepressants that we can't use, because they may lower the effectiveness of that hormonal therapy," says Dr. Irwin. "And so we choose antidepressants that don't impact the cancer care."
"Depression and stress make it harder to treat cancer, make it harder to tolerate the treatments," he says. "Actually, there's data that if you have extra stress or depression that you may not recover or you have a higher risk of recurrence, so that in treating the depression, we're actually impacting the cancer care outcomes."
Treating Depression After a Cancer Diagnosis
Learn more about SurvivorNet's rigorous medical review process.