"Watching #AlexTrebek on the season premiere of Jeopardy! is the truly joyous experience the world needs right now." That's what a Sirius XM radio host named Larry Flick wrote on Twitter after Jeopardy! aired last night and it represents a lot of the sentiment we are picking up in the SurvivorNet community.
Watching #AlexTrebeck on the season premiere of @Jeopardy is the truly joyous experience the world needs right now.

— Larry Flick (@LarryFlick) September 9, 2019
Read More
Trebek was his classically upbeat self as he welcomed viewers back and added a line saying, "Yes, I'm still here."  Jeopardy is one of the longest-running television shows in history, and Trebek, the show's 79-year-old Canadian host, has become an American institution. That's why, when Trebek announced he had been diagnosed with stage IV pancreatic cancer in March, many thousands of his devoted fans were distraught. But taking a page out of Trebek's own book, they kept up a positive attitude and sent the beloved host support, prayers, and words of encouragement over social media.
In the months that followed, Trebek consistently reassured his fans that he was doing well, especially considering the difficult prognosis he'd received. Stage IV pancreatic cancer has only a 3 percent five-year survival rate, and most patients diagnosed with the disease live only 3-6 months. Now that it's been 6 months since Trebek's diagnosis, though, the ever-positive "Jeopardy!" host is actively defying the odds.
Before "Jeopardy!" Season 36 kicked off last night, Trebek shared with the world, "I've gone through a lot of chemotherapy, and thankfully, that is all over. I'm on the mend and that's all I can hope for right now."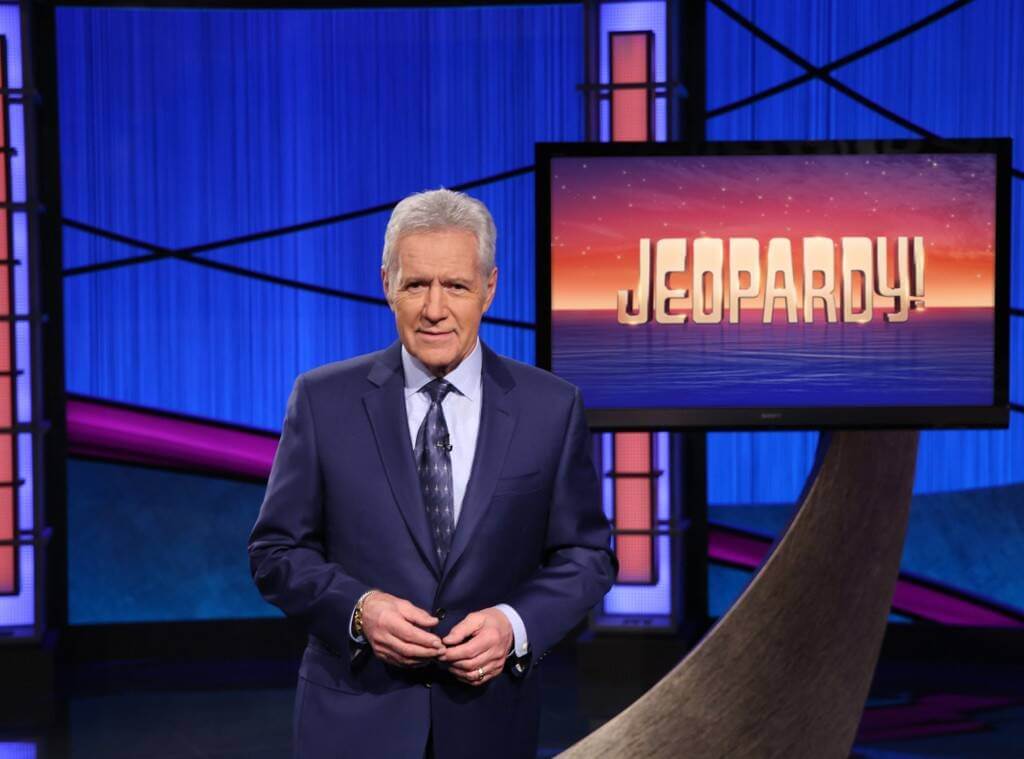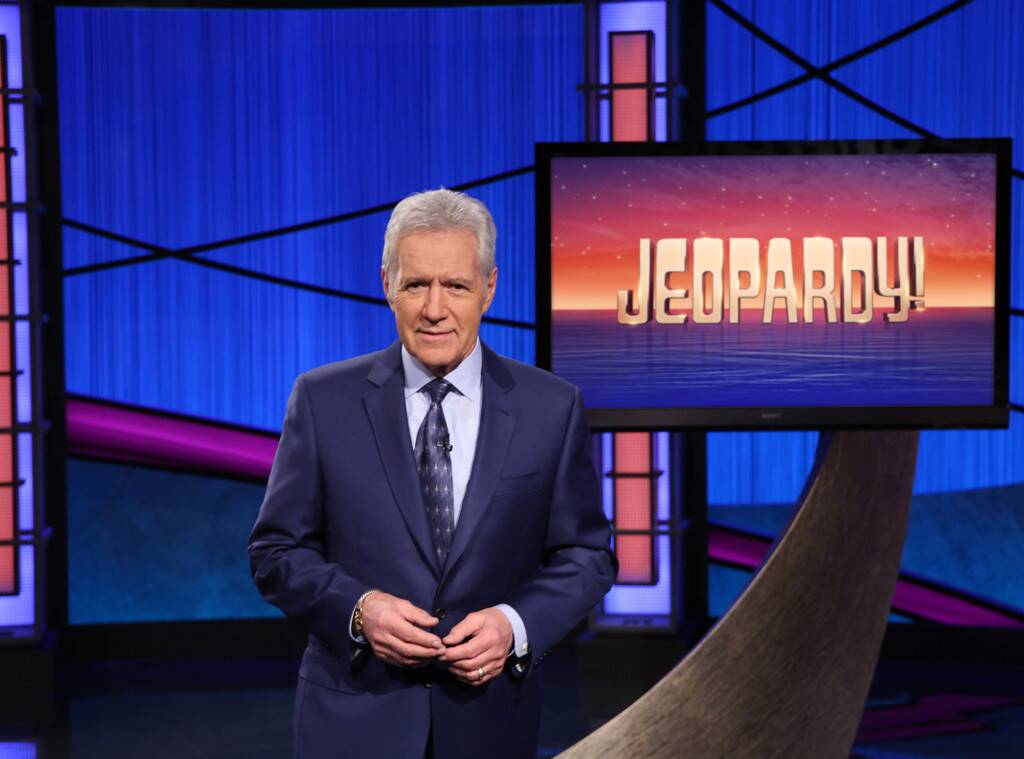 The welcome news comes after Trebek shared in May that the chemotherapy he'd been receiving was significantly reducing the tumors in his pancreas. He used the words "mind-boggling" to describe how drastically the tumors had reduced.
RELATED: "It's Mind-Boggling!" Alex Trebek is Amazed at Results of His Pancreatic Cancer Treatment as Tumors Shrink Drastically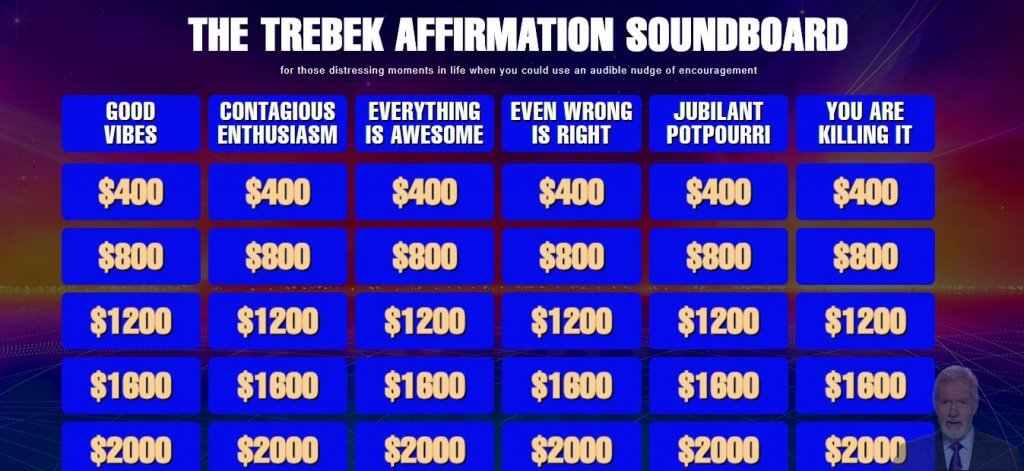 On Social Media, an Outpouring of Joy — And an Incredible "Affirmation Soundboard"
Seeing Trebek back on "Jeopardy!" prompted many people to take to Twitter to share their happiness.
"From one pancreatic cancer survivor to another, I'm so happy to see you back," wrote one fan.
Another tweeted, "Glad to see #AlexTrebek back on @Jeopardy this season looking #healthy and #strong! The answer is, 'What is hope?'"
????THREAD
????PROJECT
????TRIBUTE

I'm stoked to announce a new project, which pays tribute to a personal hero…

THE TREBEK AFFIRMATION SOUNDBOARDhttps://t.co/TzZOk9uMRG

— Rex Sorgatz (@fimoculous) September 3, 2019

Perhaps the most joyous response of all to Trebeck's "Jeopardy!" return came from a creative technologist named Rex Sorgatz who created an interactive online "Jeopardy!" board with every square sounding something positive Trebeck has said. Sorgatz, who called his project the "Alex Trebeck Affirmation Soundboard," shared the following message on Twitter when he rolled out the project:
"Back in March, Alex Trebek announced he had stage-four pancreatic cancer. Doctors recently told him it was in 'near-remission.' What stupendous news! His recovery got me thinking about how culturally underappreciated he is. So I started this project in his honor […] The dude loves to express encouragement. His enunciation of a simple 'correct' can make you feel like you just discovered the Ark of the Covenant, found the end of π, translated the Voynich manuscript, and identified the Zodiac Killer — all in an afternoon […] I have watched the show every week for… 30 years? At some point, Trebek started to feel like a family member. A friend you didn't want to lose."
Learn more about SurvivorNet's rigorous medical review process.
---