Support & Celebrating the Joys of Life as Survivors
"Good Morning America" host Robin Roberts, 62, and her fiancé "Sweet" Amber Laign, 48, are set to get married in September. However, the celebrations got an early start with their bachelorette party televised for the world to see.
Roberts and Laign supported each other during their bouts with breast cancer over the years.
Laign was diagnosed in 2021 with breast cancer. She underwent surgery, chemotherapy, and radiation therapy to treat the cancer.
Roberts was diagnosed with breast cancer in 2007. A couple of years later, she dealt with myelodysplastic syndrome (MDS) which is a rare blood disorder impacting the bone marrow. She underwent a bone marrow transplant to overcome the disease.
Symptoms of MDS include frequent infections, fatigue, shortness of breath (anemia), or easy bleeding/bruising. These symptoms result from the bone marrow being unable to produce enough healthy, functional blood cells.
Milestones for cancer patients are to be cherished. They may include the birth of a child or in Roberts and Laign's case, a much-anticipated wedding for the brave cancer survivors.
Having a partner, friend, or family member by your side to help care for and support you through a health struggle can be advantageous.
Longtime "Good Morning America" host Robin Roberts, 62, and her fiancé "Sweet" Amber Laign, 48, are just weeks away from tying the knot in a long-awaited wedding. Before the nuptials, the happy couple began their celebrations before a national audience with a bachelorette party. Both Roberts and Laign supported each other through their breast cancer journeys so being able to celebrate marriage is a remarkable milestone.
"We love we get to bring so much joy," Roberts said while sitting on the set of "Good Morning America" next to Laign just before the festivities began.
Read More
Roberts and Laign both wore white ensembles for the bachelorette party. A hoard of family and friends of the loving couple joined the program. Among the guests included fellow "GMA" hosts Michael Strahan and Lara Spencer. Roberts' sister Sally-Ann also played a key role during the celebration. Adding a bit of humor to the group was actress Nicey Nash. The set was decorated with a beach-like theme symbolizing Roberts and Laign's favorite vacation spot in Key West, FL. Celebrity Chef Carla Hall whipped together "zero-proof" mocktail versions of the couple's favorite drinks. Roberts is a fan of spicy margaritas and "Sweet" Amber loves expresso martinis.
One of the more emotional moments came when Roberts' sister Sally-Ann presented the couple with a personalized cutting board from Sophistiplate.
Amid tears, Roberts was grateful to learn the board was inscribed with her favorite family recipe for making rosemary chicken.
"You know how much Mama is blowing kisses to you right now, and now you have her recipe for rosemary chicken. I know you're going to be in the kitchen, where you always are," Roberts' sister said with a smile.
The party was capped off with the emotional story of how Roberts and Laign grew to be a couple.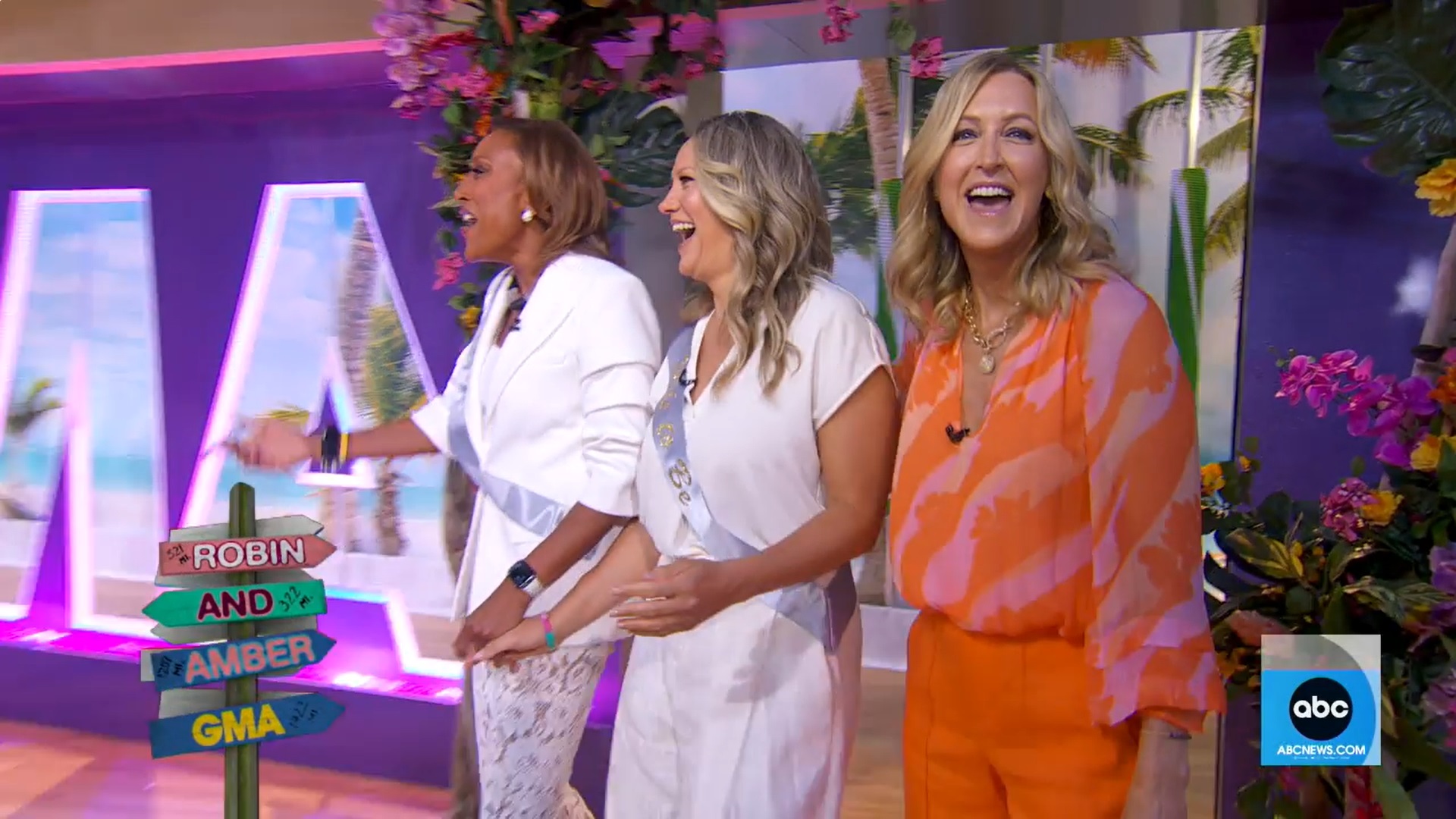 "We had only been dating not even two years when I was diagnosed with breast cancer. She could have bailed early on in the relationship. No one would have blamed her," Roberts said during the televised Bachelorette segment.
"People ask me how did I started calling her 'Sweet Amber,' and it was so organic. It's just the aura about her. She's so kind. She's just really, really kind, and it's so genuine, you know? It's not trying to be anything other than who she is," Roberts added.
Supporting Your Partner During Cancer
Roberts and Laign met in 2005 and have been by each other's side ever since. Perhaps their love grew stronger when they both were confronted with cancer.
In 2007, Roberts was diagnosed with breast cancer. She first noticed a lump while preparing for a news segment about performing self-exams for your breast. Self-exam includes pressing your fingertips along your breast in a circular motion.
WATCH: Getting to Know Your Breasts with Self-Exams.
In addition to battling breast cancer, Roberts also dealt with myelodysplastic syndrome (MDS) which is a rare type of blood cancer where abnormal cells form in the body's bone marrow.
Currently, a stem cell transplant is the only curative treatment option for MDS, but not every patient is a candidate for these intense treatments.
WATCH: How patients with MDS have a chance with a bone marrow transplant.
"A bone marrow transplant is one of the more intense therapies for MDS, so you really want to be able to tolerate this therapy. That is why this therapy is reserved mostly for younger patients and [those] who do not have other medical conditions," hematology oncologist Dr. Jun Choi explains.
While dealing with the disease, Roberts said "physical exams, blood and painful bone marrow tests and chemotherapy" became her "new normal" according to ABC News.
Thankfully, Roberts' sister Sally-Ann was a perfect match for a bone marrow transplant. Roberts underwent a successful bone marrow transplant procedure in September 2012.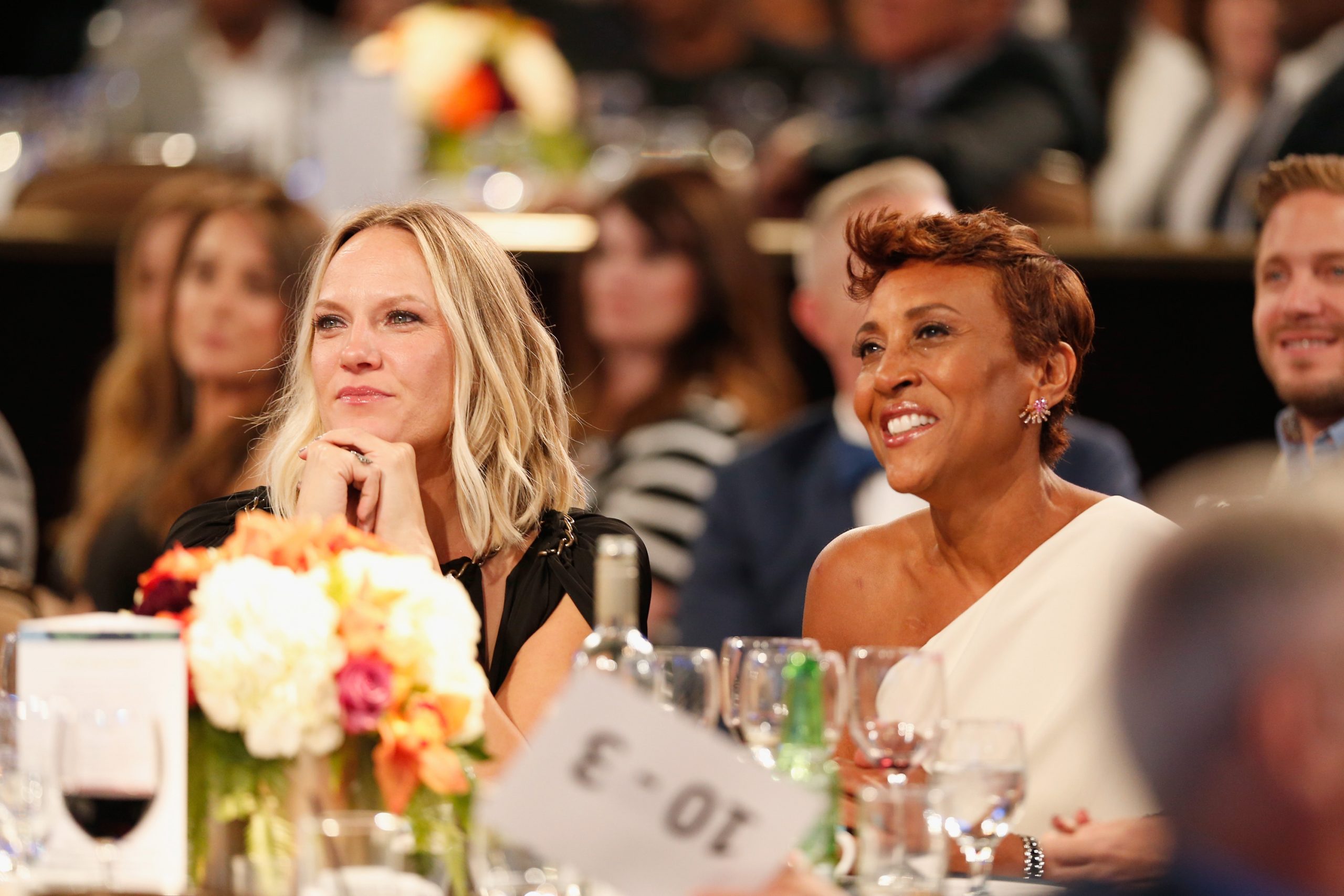 Similarly, during Laign's cancer journey, Roberts was been extremely supportive when she was diagnosed with breast cancer in December 2021. "Sweet" Amber's cancer was discovered while doing a regular exam.
Laign underwent surgery in January 2022 and started chemotherapy in February 2022.
Last summer, Laign proudly rang the cancer bell after completing treatment. Throughout it all, Roberts was undeterred to support her soon-to-be wife.
"I didn't realize how much I had blocked out during my journey, and it was because of sweet Amber because she protected me and navigated for me," Roberts said.
It is important for cancer warriors amid their fight to have a strong support system. Having a partner, friend, or family member by your side to help care for and support you through a health struggle can be advantageous.
And when you take on a caregiving role, it's necessary to understand your loved one's diagnosis and assist them when following cancer-care instructions.
WATCH: Managing Life as a Caregiver
MacMillan Cancer Support, a charity that advocates for cancer patients says communication is a vital tool in helping support a partner with cancer and it could help a couple understand each other better.
"It can help to ask your partner what support they would like and find useful. This makes sure you help where it is most wanted and needed. It can also help you avoid misunderstandings," the charity said.
The charity also advises partners to allow a loved one who is dealing with a disease to feel as if they are still in control in matters like family issues, finances, and making their healthcare decisions.
Learn more about SurvivorNet's rigorous medical review process.
---