How Targeted Therapies Work
Balversa is the first targeted therapy for bladder cancer. It targets a gene changes that help bladder cancer cells grow.
Treatments targeting other genetic changes are under investigation in clinical trials.
Genetic testing soon after your diagnosis can identify which treatments might work best against your cancer.
Researchers are learning more about what kinds of genetic changes cause bladder cancer. And they're developing new treatments to target those changes. Targeted therapy is a more precise way to treat cancer than chemotherapy.
Chemo attacks many types of quickly dividing cells, including some healthy cells. Targeted therapy focuses on the processes that help cancer cells grow.
Read More
In 2019, the
FDA approved
erdafitinib (brand name: Balversa). It's the first targeted therapy for bladder cancer. You might be able to get this drug if you have an advanced bladder cancer, a mutation in the FGFR3 or FGFR2 gene, and your cancer kept growing after treatment with platinum-based chemotherapy.
What Are FGFRs?
Fibroblast growth factor receptors (FGFRs) are proteins that give cells the orders to grow and divide. Mutations to the FGFR genes direct cells to make these proteins, which then help bladder cancer cells grow. Up to 20% of people with advanced bladder cancer that has returned or is resistant to treatment have one of these mutations.
"FGFR3 appears to be particularly important in bladder cancer," Dr. Arjun Balar tells SurvivorNet. Dr. Balar is assistant professor of medicine and director of the Genitourinary Cancer Program at the NYU Perlmutter Cancer Center.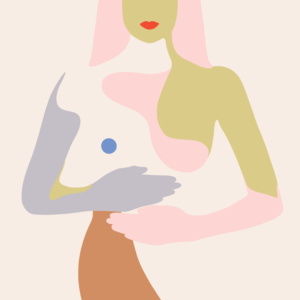 "What we also know is that patients who have FGFR3 mutations with bladder cancer are less likely to respond to some of our standard-of-care immunotherapy drugs," he adds.
Balversa: A New Weapon Against Bladder Cancer
Balversa blocks FGFR to stop cancer cells from growing. The FDA approved the treatment based on the results of a clinical trial. In that study, about one-third of people who took Balversa responded to it. Those who responded survived for an average of five-and-a-half months without their cancer growing.
Related: Artist Tracey Emin Was Working on a Painting of a Lump When She Found Out She Had Bladder Cancer; What Are the Treatment Options for This Disease?
Two people in the study had a complete response. Scans could no longer detect their cancer after the treatment.
The most common side effects with Balversa are:
High phosphate and low sodium levels
Mouth sores
Tiredness
Kidney or liver problems
Diarrhea
Dry mouth
Nail problems
Decreased appetite and taste changes
Dry skin and eyes
Dr. Balar often steers patients who have the FGFR3 mutation to a combination treatment approach. "That includes an FGFR3-targeted drug, along with immunotherapy or another combination that addresses FGFR3, to make sure that we've given that patient the best chance to respond," he says.
Genetic Testing
How do you know if you qualify for treatment with a targeted drug like Balversa? The answer lies in genetic testing.
How Will My Doctor Determine If I Have Bladder Cancer?
"Genetic testing, in my opinion, is one of the most important things that we can counsel patients about," Dr. Balar says.
Genetic tests identify changes called mutations in your genes. These are mistakes in your genetic code that happen when cells divide, or when you're exposed to certain things in the environment.
Research has linked several mutations to bladder cancer. Some of these mutations, like FGFR, affect the cancer cells' ability to grow, divide, and survive.
When to Get Tested
"When I counsel a patient who's undergoing their first treatment for advanced bladder cancer, I will often encourage them to undergo genetic testing. We may find a genetic marker that is present in their cancer that might help me direct them toward a specific clinical trial," Dr. Balar says.
To find these gene mutations, your doctor will need a sample of tissue from your tumor. Usually your doctor will take that sample during a biopsy. You may also need to give a blood sample for the analysis.
Dr. Balar recommends testing as soon after you're diagnosed as possible. Genetic test results can take up to 10 weeks, and you don't want them to hold up your treatment.
"For some patients, I advocate for early testing to have that information available early on. So that when and if it's needed, that information is readily available to make a treatment decision," Dr. Balar says.
Other Targeted Therapies
Balversa was the first FDA-approved targeted therapy for bladder cancer. Other targeted treatments are under investigation.
Researchers are studying targets like epidermal growth factor receptor and tyrosine kinase receptors in clinical trials. Enrolling in one of these trials if you're a good candidate could get you access to a new targeted therapy before it's available to the public.
These studies are also discovering new uses for older treatments. "We are finding out that up to 25% of patients who have bladder cancer harbor mutations in genes that are involved in DNA damage repair," Dr. Balar says.
"Those patients may be best treated with cisplatin chemotherapy, and that may lead to long-term durable responses," he adds. "So there is an instance where I may direct a patient toward chemotherapy as their first choice of treatment."
Many different factors go into your treatment plan. Your type of bladder cancer, your health, and your personal preferences should all play into the decision. And if you've tried several treatments and they haven't worked for you, a clinical trial may offer you a new targeted therapy or other options.
Learn more about SurvivorNet's rigorous medical review process.