The gold standard for skin cancer screening is an annual head-to-toe skin-check by a dermatologist. But suspicious skin changes are often picked up by other skin-focused professionals like tattoo artist, Joshua Gargalione, of Phoenix, AZ. "We need to be very
RELATED: Smart Tips For Getting Cancer Screenings Right Now From The Chief Medical Officer of the American Cancer Society
Read More
aware of the condition of our customers before you just go in and tattoo them,"
says
Gargalione."You're looking for abnormal growths or any moles that seem to be discolored or I would say blotchy and misshapen and stuff, so anything unusual."
Dr. Cecilia Larocca, a dermatologist at Dana-Farber Cancer Institute, recommends checking skin for changes once a month and remembering the acronym ABCDE as a checklist.
Garaglione pays particular attention to areas customers can't see themselves, like shoulders, back, and neck. "It's our responsibility to tell our customers the condition of their skin … you literally have their back, you're tattooing their back, you can see areas that they can't," he said.
He also makes a point of checking his own skin regularly: His father needed surgery to remove skin cancer in his ear and shoulder.
Take Their Advice: Get it Checked
Tattoo artists aren't the only ones who get an eyeful of clients' skin. The American Society of Dermatologic Surgeons offers Stylists Against Skin Cancer a program that trains hair professionals to spot suspicious spots on the scalp. "Because hair professionals see the entire scalp, they can find growths on the scalp that clients might not see.
RELATED: Poison Frontman Bret Michaels Treated for Skin Cancer
"With education, hair professionals may identify suspicious skin growths … and encourage clients to visit a dermatologist for further investigation," the ASDS site explains. Warning signs include skin that is raised or sunken, crusty or bleeding, especially in clients over age 40.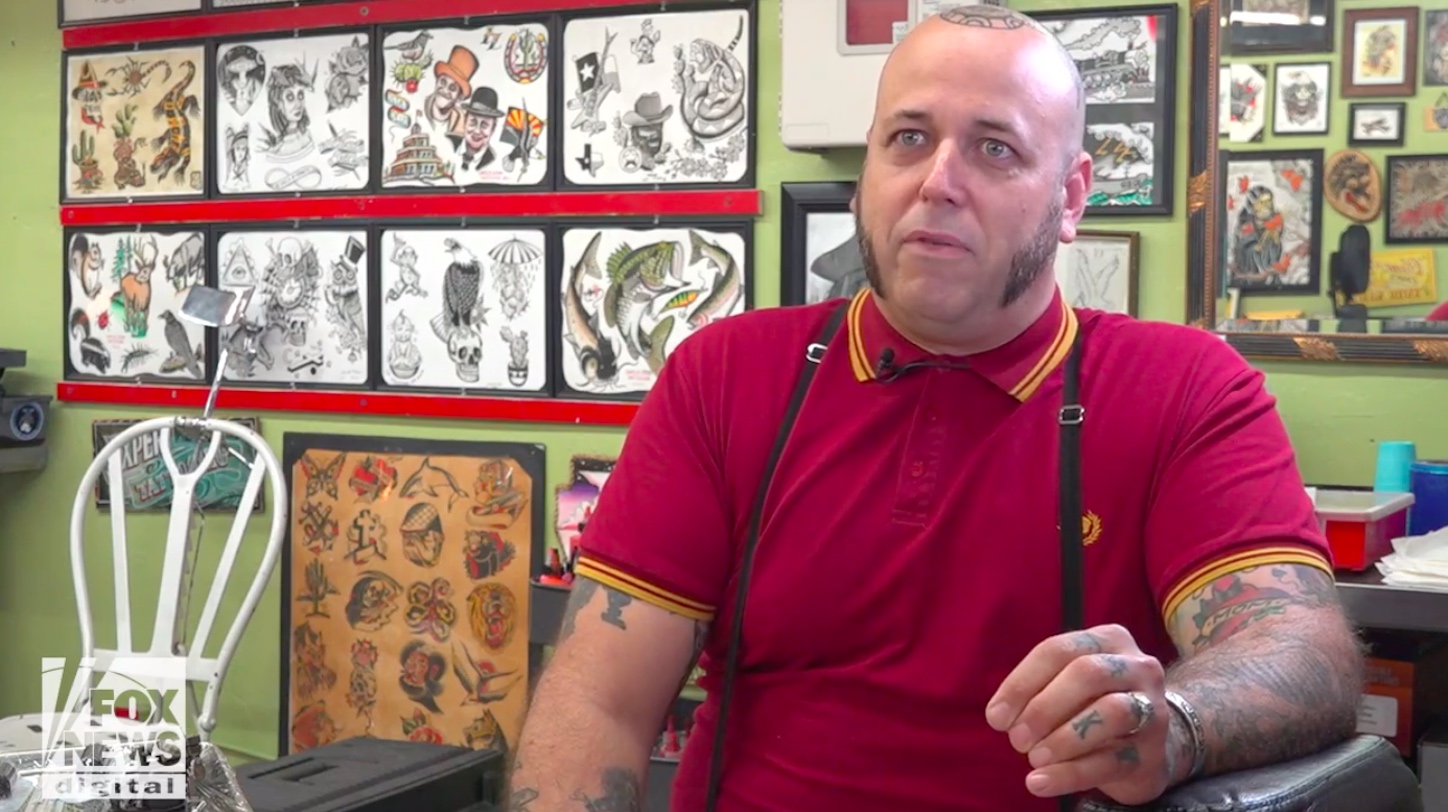 Joshua Gargalione a tattoo artist in Arizona alerts customers if he notices a suspicious area on their skin: "It's our responsibility," he says.
Said Gargalione, "I've come across it two times to where it was actually alarming where I had to say something to the customer." At that point, it's the customer's responsibility to follow up with a board-certified dermatologist. Whether the warning is coming from a hairstylist or a tattoo artists, don't ignore it.
RELATED: Colorado Man Threatening Lawsuit To Obtain Skin Cancer Surgery As Procedures Are Delayed During Coronavirus
One customer who took Gargalione's advice got a suspicious spot checked by a professional. "It was cancerous and they got it just in time before it metastasized," he said.
"They had no idea and they, in fact, came back to me and gave me a present and said 'thank you' and everything…I mean money can't buy that, you know, when you save someone's life."
Sue Manber Beat An Extremely Rare Skin Cancer, Thanks To Her Teenage Daughter, And Now She's Paying It Forward 
Skin Cancer Checklist:
Doing regular self-checks on your skin is important to find skin cancer early. If you're high-risk, it's especially vital. Dr. Cecilia Larocca, a dermatologist at Dana-Farber Cancer Institute, recommends looking at your skin once a month for anything suspicious–and using the acronym ABCDE as a checklist:
Asymmetrical moles: if you drew a line straight down the center of the mole, would the sides match?
Borders: irregular, jagged, not smooth; can also stand for bleeding
Colors: multiple distinct colors in the mole
Diameter: larger than 6mm, about the size of a pencil head eraser
Evolution: This may be the most important, anything that is changing over time such as gaining color, losing color, painful, itching, hurting, changing shape, etc…
Learn more about SurvivorNet's rigorous medical review process.
---