Thriving as Survivors
We've seen that Good Morning America hosts Amy Robach and Robin Roberts are both thriving after their breast cancer battles and reporting on what they love. But did you know the two have had a special bond since Roberts urged Robach to get the mammogram that detected her cancer?
Many women develop breast cancer every year, and the disease is the subject of much research. There are many treatment options out there, but treatment paths depend greatly on the specifics of each case.
Cancer will change your life, but we've seen survivors thrive time and time again. Ovarian cancer survivor Marecya Burton, for example, found her new passion after beating the disease. And breast cancer survivor Fernanda Savino says that cancer brought her a new appreciation for her relationships and her body.
Thriving on the other side of cancer can mean so many different things. For
Good Morning America
hosts Amy Robach and Robin Roberts, it means continuing to report on the things they care about about while relishing in the "real bond" they've created.
Roberts received her breast cancer diagnosis in 2007. Ironically, she was diagnosed after finding a lump in her breast thanks to her prep for a news segment on performing self-checks. Thankfully, she was cancer-free after her surgery.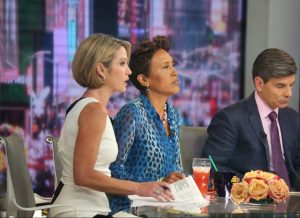 Read More
In an eerily similar fashion, Robach was diagnosed with breast cancer in 2013 thanks to a segment on
Good Morning America
. This time the segment was on the importance of mammograms, and it was actually Roberts who urged her to have an on-air mammogram despite having no history of cancer in her family. Following a bilateral mastectomy and six months of chemotherapy, she was deemed cancer-free.
RELATED: 'Good Morning America' Anchor Amy Robach on How Handling COVID-19 Is Like Cancer
"I really had no plans to actually get a mammogram," Robach said. "[Roberts] looked at me and she said, 'You're exactly the person who should do it.'… She said, 'Because did you know, Amy, that more than 80 percent of breast cancer survivors, patients, have no family history? You're the one who thinks you don't need the test – and I hope you don't, and you probably don't. But, if you can convince one woman who doesn't think she needs…to have this mammogram…I promise you, you will save a life.'
"I said, 'My gosh, you just completely changed my mind. Okay, I'll do it.' And I gave her hug. We think about that moment all the time, because that was the moment that she saved my life."
That encouragement from Roberts to get the mammogram that ultimately detected her cancer and the fact that they both battled the same disease created a bond between the two journalists that endures today.
"Robin and I instantly became sisters, because I think anyone who's walked down that path knows there's just a camaraderie that you can't explain," Robach said. "But it's more than that, though, because she and I both know how integral her role was in me getting that mammogram, which I completely credit with saving my life. We are forever bonded. We can speak without speaking."
On Assignment for Good Morning America
Today, the two "sisters" are cancer-free and continuing to report on subjects they're passionate about. Most recently, Robach got to travel to the Galapagos to share the story of Diego the giant tortoise.
View this post on Instagram
"These incredible giant tortoises can live anywhere from 150 to 200 years and have been here in the Galápagos for millions," she wrote in a recent Instagram post. "What an honor to watch them thrive with the help of scientists and one super giant tortoise named Diego… his story tomorrow on @goodmorningamerica 🐢 #galapagos"
Roberts on the other hand, recently got to speak with members of the U.S. Women's National Soccer Team about the U.S. Soccer Federation's $22 million payout to USWNT players following a gender discrimination lawsuit.
View this post on Instagram
"Appreciate you and Alex sharing the news with us this morning! We all know the hard work you and your teammates put into getting to this moment," Roberts wrote in a reply tweet to soccer star Megan Rapinoe thanking her for breaking the news.
Understanding Breast Cancer
Breast cancer is a common cancer that has been the subject of much research. Many women develop breast cancer every year, but men can develop this cancer too – though it is more rare, in part, due to the simple fact that they have less breast tissue.
Screening for breast cancer is typically done via mammogram, which looks for lumps in the breast tissue and signs of cancer. And while mammograms aren't perfect, they are still a great way to begin annual screening. The American Cancer Society (ACS) recommends women begin mammogram screening for breast cancer at age 45. Even still, we know that a breast cancer diagnosis can come at any age.
When Should I Get a Mammogram?
It's also important to be on top of self breast exams. If you ever feel a lump in your breast, it's important to be vigilant and speak with your doctor. Voicing your concerns as soon as you have them can lead to earlier cancer detection which, in turn, can lead to better outcomes.
RELATED: 'Today Is the Perfect Day to Check Your Breasts': Fashion Icon and Cancer Survivor Camilla Franks Encourages Others to Be Vigilant about Self-Exams
There are many treatment options for people with breast cancer, but treatment depends greatly on the specifics of each case. Identifying these specifics means looking into whether the cancerous cells have certain receptors. These receptors –  the estrogen receptor, the progesterone receptor and the HER2 receptor – can help identify the unique features of the cancer and help personalize treatment.
RELATED: New Hope for Breast Cancer Warriors: ENHERTU Therapy Is A 'Big Game Changer' for HER2 Positive Metastatic Breast Cancer Patients
"These receptors, I like to imagine them like little hands on the outside of the cell, they can grab hold of what we call ligands, and these ligands are essentially the hormones that may be circulating in the bloodstream that can then be pulled into this cancer cell and used as a fertilizer, as growth support for the cells," Dr. Elizabeth Comen, a medical oncologist at Memorial Sloan Kettering Cancer Center, told SurvivorNet in a previous interview.
One example of a type of ligand that can stimulate a cancer cell is the hormone estrogen, hence why an estrogen receptor positive breast cancer will grow when stimulated by estrogen. For these cases, your doctor may offer treatment that specifically targets the estrogen receptor. But for HER2 positive breast cancers, therapies that uniquely target the HER2 receptor may be the most beneficial.
Thriving as Survivors
A cancer diagnosis will change your life. But as we've seen in the case of Robach and Roberts, it is more than possible to thrive on the other side of your cancer journey.
Take Marecya Burton, for example. She was diagnosed with ovarian cancer at just 20 years old. Burton was a college student-athlete looking forward to graduation at the time, but all that had to change when she was forced to move home to start treatment.
Former College Cheerleader Reinvents Herself After Surviving Ovarian Cancer
"That was definitely challenging for me," Burton said in a previous interview with SurvivorNet. "I was looking forward to graduating."
She also had planned on pursuing a law degree after graduation – another dream she had to give up.
RELATED: 'Up in the Clouds': Model and Ovarian Cancer Survivor Ash Foo, 24, Is Seeing Her Dreams Come True as a Billboard of Her Now Stands in NYC
"I really had to, in a sense, put my life on hold," she said. "Sometimes I look at where I am, and I can't help but wonder, would I be further had I not had my diagnosis?"
But instead of law school, Burton found a new passion: teaching. She became a high school teacher in Baltimore, Maryland, and she's since made peace with her new direction in life.
"I wouldn't change my career for the world," she says. "It's so fulfilling."
Other survivors, like Fernanda Savino, have said that cancer gave them a whole new perspective on life – one that has allowed her to appreciate both her body and her relationships more than ever.
'Cancer Brought Me So Many Lessons' Says Survivor Fernanda Savino; It Can Change Your Perspective On Life
"I'm a lawyer, and I used to be such a workaholic," Fernanda previously told SurvivorNet. "I would work for long hours, and I would never make room for doctor appointments or anything like that.
"I started to take care of my health and be more respectful to my body, to me. I started to exercise more."
Like so many others, Fernanda also said she relied on a lot of support from her loved ones – something she'll always be grateful for.
"I had all the support … my family, my friends, even the ones that weren't so close, they always were present," she said. "I don't know how I would have gotten through all of this without them."
Learn more about SurvivorNet's rigorous medical review process.