The Signs of Colon and Ovarian Cancers
Tanya Laird experienced pain and swelling in her abdomen, which she initially blamed on weight loss diets.
But she was eventually diagnosed with colon cancer and had tumors removed from her colon and ovaries.
Most colon cancers can be prevented if people are regularly screened. Signs can include changes in bowel movements, bloody stool, diarrhea, constipation, and constant abdominal pain or cramps.
Ovarian cancer has been called the "cancer that whispers," because women often don't experience symptoms until their cancer has already reached its late stages.
A bulge in Tanya Laird's stomach grew from the size of a bagel to appearing pregnant in a matter of weeks, and after constant vomiting made her more concerned, her quest for answers led to a surprising cancer diagnosis.
Tanya's Cancer Journey
Laird, 40, is in the midst of a tough cancer battle, but she's determined to not give up and she credits a supportive twin sister for giving her strength to keep fighting. Her cancer journey began in February 2018 when she noticed her stomach often appeared bloated.
Read More
"At first, the bulge was the size of a bagel," Laird
told
news outlet The U.S. Sun. Her growing stomach became more apparent when she attended a technology conference and had to continuously brush away congratulatory pregnancy compliments. "I knew I wasn't pregnant, and I assumed it was a reaction to trying different diets to lose a little weight," Laird said.
"People asked to touch my stomach and offered me their seat," she added.
However, when Laird began frequently vomiting, she knew something more was going on.
"I became unable to keep food or liquid down, I went to my general practitioner who told me she suspected ovarian cancer," Laird said.
Ovarian cancer is when the ovaries, which produce the sex hormone, estrogen, as well as eggs, become cancerous. Women have two ovaries, one on both sides of the uterus.
Further tests revealed Laird had tumors in her colon and her ovaries, requiring immediate surgery.
"I was told it was colon cancer and rushed to the operating theatre to have tumors from my colon and ovaries removed. Afterwards, the surgeon told me my cancer was stage 4, and there was no cure," Laird explained, though she did not specifically say whether the tumors on her ovaries were cancerous.
Despite her devastating diagnosis, Laird is keeping her spirits high, which will be key for her as she continues chemotherapy.
"I'll continue to have chemo for the rest of my life, however long that might be," Laird said.
What Is Colon Cancer?
Colon cancer is a type of cancer that affects your large intestine (colon). The term colorectal cancer include colon cancer and cancer that begins in your rectum.
The cancer starts when abnormal lumps called polyps grow in the colon or rectum. If you don't have these polyps removed, they can sometimes become cancerous.  It can take up to 10 years for a colon polyp to become full-blown cancer, according to SurvivorNet experts.
Colon Cancer Symptoms and Risk Factors
Most colon cancer cases involve people older than 50, with this age group making up about 90% of the cases.
Risk factors of developing colon cancer include:
Having inflammatory bowel disease.
Having a family history of colon cancer.
Not exercising very often.
Eating a diet high in meat.
Being overweight or obese.
Using excessive alcohol and tobacco.
Colon cancer symptoms and warning signs include:
Change in bowel movement
Bloody stool
Diarrhea, constipation or feeling the bowel does not empty completely
Unexplained weight loss
Constant abdominal pain or cramps
It's important to note that these same symptoms could be attributed to other conditions. If you notice concerning symptoms or changes to your body, it's important to discuss them with your doctor promptly.
Stages of Colon Cancer and Treatment Options
Stage 1 to 3 colon cancers are cancers that have not spread far away from the colon. Because of this, there is the potential for cure in all of these patients with surgical resection.
Patients with stage 2 colon cancer have larger tumors than stage 1 patients, however, the tumor is still confined to the colon wall. All tumors are examined under a microscope by a pathologist after they are removed.
Stage 3 colon cancer means that the cancer has spread to the lymph nodes surrounding the colon. In such patients, both surgery and chemotherapy are usually recommended.
Stage 4 colon cancer means that the cancer has spread from the colon to other organs. The most common sites for colon cancer to metastasize is the liver, lungs and peritoneum (the lining in your abdomen). Each case is very different, and therefore, the treatment options are different for each patient.
WATCH: Treating Stage 4 Colon Cancer
Chemotherapy, surgery or a combination of therapies may be recommended, but individual recommendations depend on where the metastases are located and how widespread the disease is.
Colon Cancer Prevention
Most colon cancers can be prevented if people are regularly screened. The screening usually involves a colonoscopy, in which a long thin tube attached to a camera is used to examine the colon and rectum. If no polyps are discovered, the next screening won't be needed for about 10 years.
"We know that colon cancers can be prevented when polyps are found early," Dr. Yeo told SurvivorNet. "Lowering the screening age helps somewhat with this, but access to care is a real problem," Yeo added.
The American Gastrointestinal Association lowered the recommended initial age for a colorectal screening from 50 to 45.
What Is Ovarian Cancer?
Laird said that she also had tumors removed from her ovaries, and while she did not specify if those tumors were cancerous, it's a good reminder to learn about ovarian cancer as well.
Ovarian cancer has been called the "cancer that whispers," because women often don't experience symptoms until their cancer has already reached its late stages. The symptoms that do appear at first are hard to identify as cancer. This subtlety of symptoms makes it essential for women to know the warning signs, and report them to their doctor, say SurvivorNet's experts.
According to Dr. Beth Karlan, a gynecologic oncologist at UCLA Medical Center, the term ovarian cancer is referring to a number of different tumors located in the ovary. She also notes that ovarian cancer can be tough to recognize with it's often subtle symptoms.
Many ovarian cancers actually begin in the fallopian tubes. A few cancerous cells first grow on the fallopian tubes and then, as the fallopian tubes brush over the ovary, these cells stick to the ovaries and eventually grow to form a tumor.
There are many different types of ovarian cancer that occur at different stages of life. The three are the most common types include:
Epithelial. About 90% of ovarian cancers are epithelial, which means the cancer cells are located on the outer layer of the ovary. Most epithelial tumors are not cancerous, but when they are cancerous, they can spread before they're detected.
Stromal. This rare type of tumor forms in the connective tissue that holds the ovary together and produces estrogen and progesterone.
Germ cell. These tumors, which develop in the cells that produce the eggs, are more likely to affect a single ovary, rather than both ovaries. When a teen or young woman is diagnosed with ovarian cancer, it's usually the germ cell type. The good news is that most women with these types of ovarian cancers can be cured.
Ovarian Cancer Symptoms
If you are experiencing any of the following symptoms that seem to be getting worse, it is worth it to see a doctor to rule out ovarian cancer:
Feeling full earlier/decrease in appetite
Feeling bloated
Changes in bowel habits
Pain in the pelvis
Urinary symptoms, such as an urgent need to go
Extreme fatigue
Abdominal swelling
Pain during sex
"Ovarian cancer does not have any specific symptoms," Karlan previously told SurvivorNet.
"It's often referred to as the cancer that whispers, in that it has symptoms that are really very vague…and nothing that may bring your attention directly to the ovaries."
Ovarian Cancer Treatment
Treatment for ovarian cancer can include surgery, chemotherapy, targeted therapy, hormone therapy, immunotherapy and supportive palliative care which focuses on providing relief from pain and other symptoms.
If doctors can safely remove your ovarian cancer, this is almost always, at least in consideration, as the first treatment step. SurvivorNet has extensive resources on this procedure, called "debulking." Ovarian cancer is officially staged and graded through surgery to determine its extent.
When ovarian cancer patients are diagnosed, according to Dr. Dana Chase, they are usually given chemotherapy, which puts about "80% of patients into remission, at least for a period of time," she told SurvivorNet.
After initial treatment, ovarian cancer warriors undergo maintenance therapy which is a number of drug options given to the patients as they continue chemotherapy.
A growing number of women diagnosed with epithelial ovarian cancer are eligible for treatment with a class of drugs called PARP inhibitors. PARP inhibitors are options for women as maintenance therapy after first chemotherapy or platinum sensitive recurrence, or as treatment for recurrence. The benefit a woman may see from this class of medication varies greatly, with the biggest determinant being the presence of an inherited or tumor mutation in BRCA.
Support During Cancer Journey
Laird credits her twin sister, Kim, for keeping her motivated throughout her cancer journey.
It's important for cancer warriors know they have a strong support group behind them. It helps them alleviate anxiety and depression as cancer treatments become more intense over time.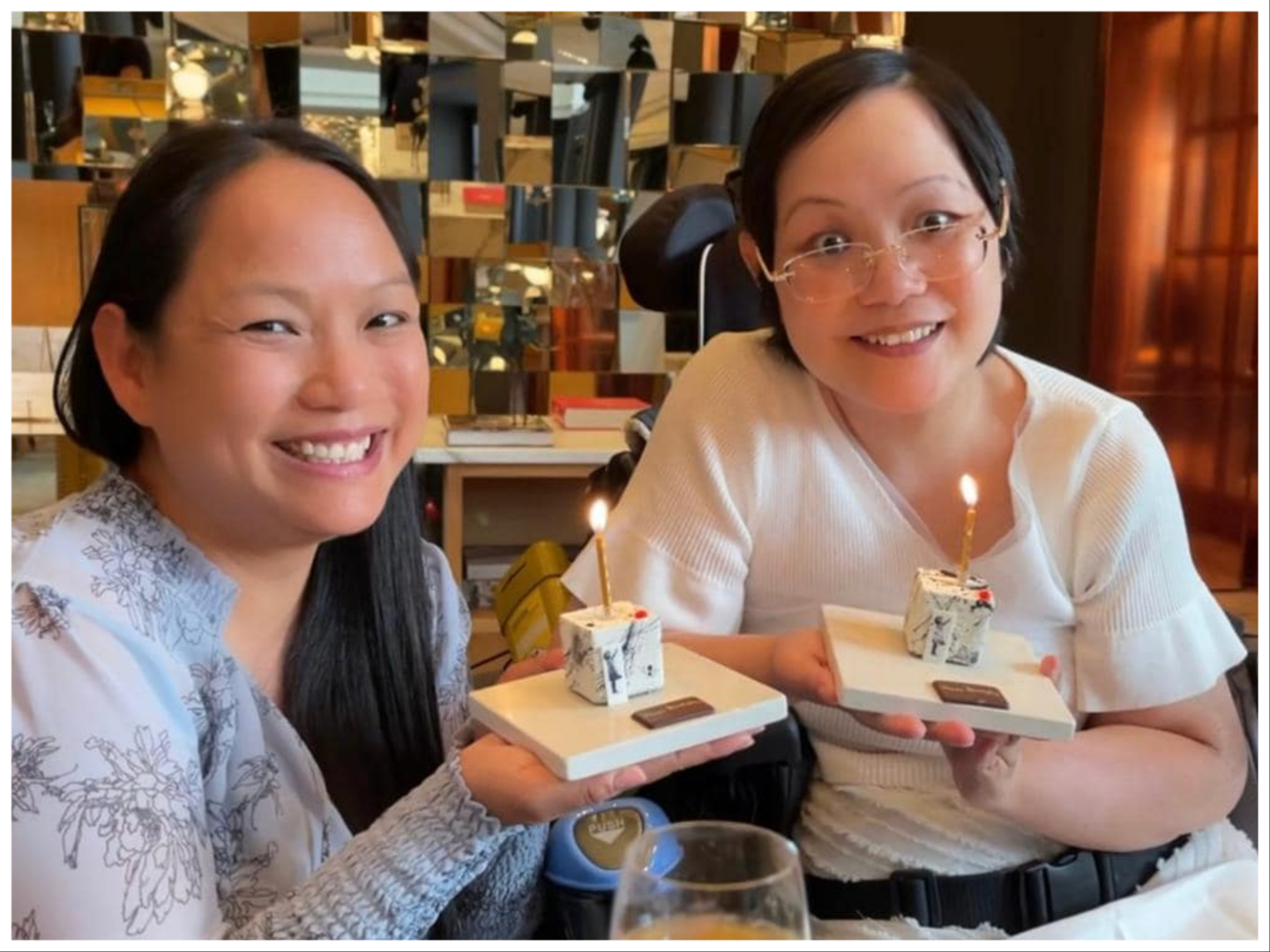 Dr. Shelly Tworoger, a researcher at Moffitt Cancer Center told SurvivorNet that "there's a number of common things cancer patients can experience, such as anxiety, depression, financial toxicity, social isolation."
Knowing you have loved ones by your side at every step and help you process those emotions and cope with your new reality during your journey. Laird said her sister would spend four weeks at a time every other month to be by her sister's side.
"Before my diagnosis, I thought I was a tough cookie who didn't need others," she went on to say her sister and team of nurses have been essential to her cancer journey.
In March 2023, Laird's sister shared on her Facebook page that she had begun hospice health care, which focused on managing people's symptoms and helping them stay comfortable.
Learn more about SurvivorNet's rigorous medical review process.
---