Advocating for Your Health as a Woman
Taylah Oehme was diagnosed with endometrioid adenocarcinoma ovarian cancer months after her symptoms – unexplained weight gain, prolonged periods lasting up to 14 days, and "crippling pain" – began.
She said doctors initially told her to eat less to lose weight.
Endometriosis is an often painful disorder in which tissue similar to the tissue that normally lines the inside of your uterus — the endometrium — grows outside your uterus.
This disorder can lead to the development of a type of cancer called endometrioid adenocarcinoma ovarian cancer, but this cancer is rare.
Sadly, we've heard many stories of women's concerns being dismissed by doctors. That's why being your own advocate can be key to getting a correct diagnosis and obtaining the best treatment possible while dealing with a diagnosis.
A 26-year-old Australian woman says doctors initially dismissed her symptoms of unexplained weight gain, prolonged periods lasting up to 14 days, and "crippling pain," telling her to eat less. But it wasn't until her symptoms worsened that she discovered she had cancer.
Taylah Oehme was diagnosed with rare endometrioid adenocarcinoma ovarian cancer months after her symptoms began in March 2022.
Read More
Oehme, a pharmacist from Newcastle in New South Wales, first brought her symptoms to her general practitioner, who she said told her to simply reduce her food intake and take a medication to induce weight loss.
Related: New Recommendation: Many More Women Should Have Their Fallopian Tubes Removed To Prevent Ovarian Cancer– Top Experts Strongly Agree
Opening up to FEMAIL
about her cancer battle and symptoms, which consisted of spotting, long periods, and fatigue, Oehme admitted. "Cancer was the last thing on my mind, and I wasn't familiar with what ovarian cancer was."
View this post on Instagram
By August/September, she had endured two "episodes" of extreme pain, prompting her to get admitted to the hospital.
"I was vomiting and could barely walk, but the doctor was convinced I had a reaction to the one alcoholic drink I had the night before," she recounted.
However, Oehme pushed for answers and chose to visit a new doctor for a second opinion.
Following scans and an ultrasound, Oehme discovered she had endometrioid adenocarcinoma ovarian cancer in October 2022.
"The ultrasound found the tumor which had taken over my right ovary and was 5.6cm by 6.7cm (around the size of a golf ball)," she explained. " I'm only 5″4 so it looked huge on my pelvis in the scans."
She said, noting that she'd undergone blood tests after alarming tumor markers, "I then saw a gynecologist and had surgery to remove my ovary around three weeks later, which was a big decision because I was worried about my fertility."
"I thought to myself, 'How can this be happening? I'm only 26! I'm not ready to start a family yet," she continued, "Will I even be able to have kids?"'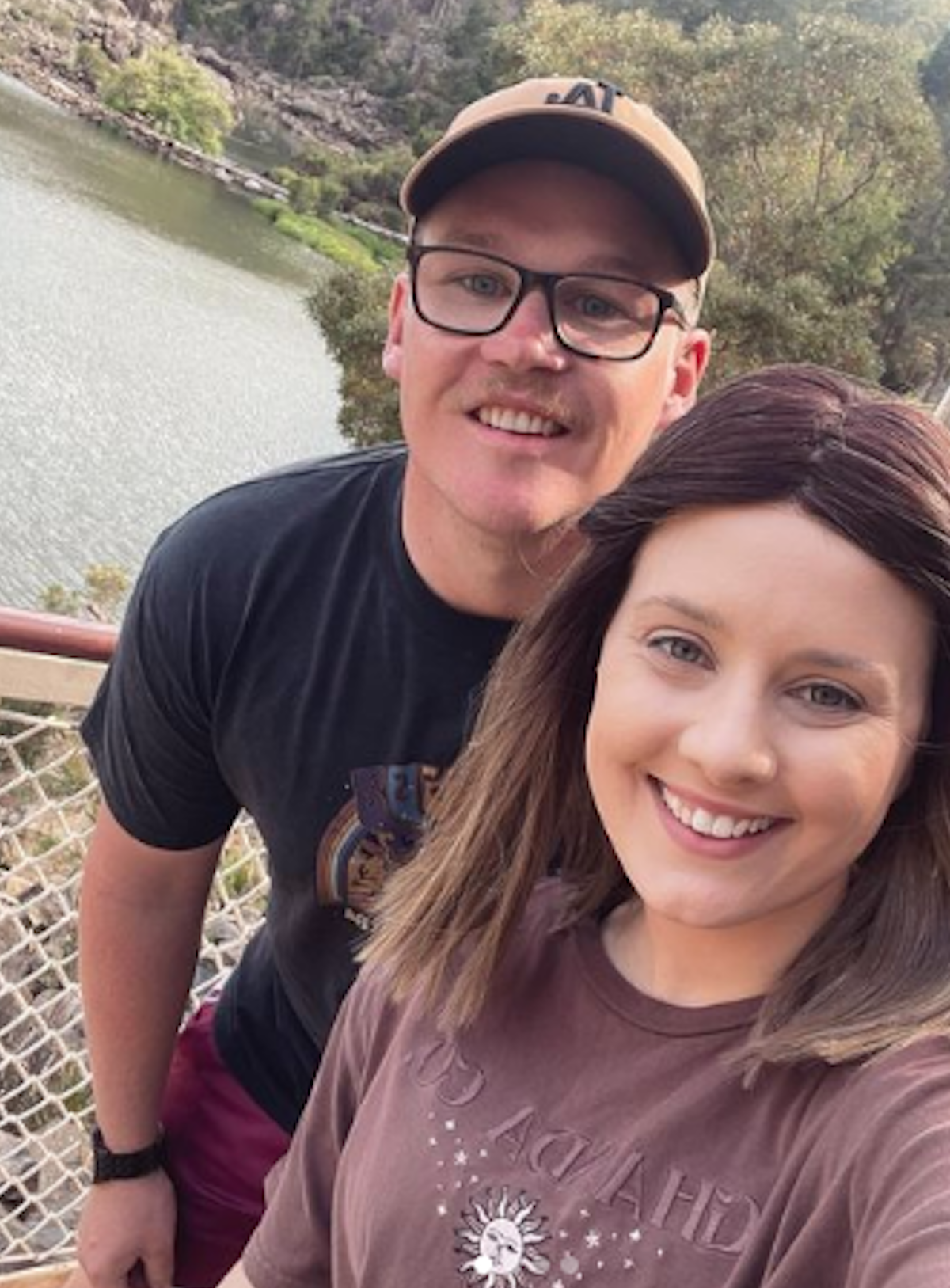 Two weeks later she received her biopsy results and learned she had cancer, and more specifically an "endometrioid" – meaning she had both endometriosis and cancer. Luckily the cancer was in an early stage.
A follow-up surgery confirmed there was no cancer in her uterus, but additional cancer cells were "floating" in the area of her uterus, therefore she would have to undergo chemotherapy.
"They actually think that my endometriosis mutated into a tumor that then became cancerous," she told 7Life. "So really, if I had (my endometriosis) figured out a while ago, I probably wouldn't have ended up here."
She then underwent three rounds of chemotherapy over the course of nine weeks.
Oehme told 7Life, "Usually you have four to six rounds, but they were confident with three rounds with me," she explains. Which was great because it was horrendous and I didn't want to do it again."
Thankfully, Oehme was offered the option to freeze her eggs, allowing her and her 27-year-old boyfriend Brady Benkovic the possibility of having kids one day, but she didn't want to delay her chemo treatments.
Instead, doctors gave her an injection to put her remaining ovary to "sleep," causing early menopause.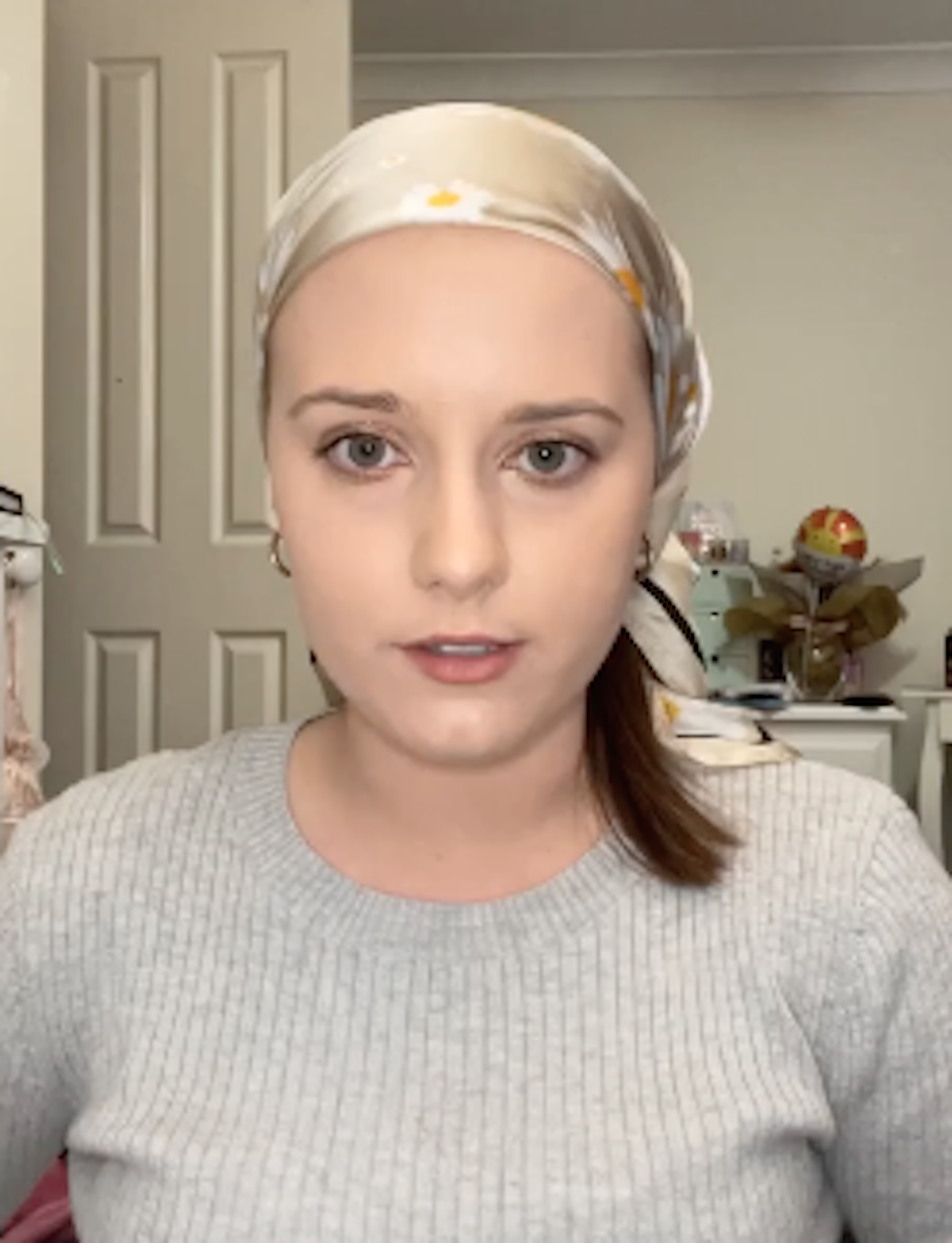 "They did tell me that, because of one ovary having been through chemo, and also having endometriosis, I may need IVF," she explained. "And so many people I know have said, 'I know someone who had chemo and they've got three kids that they had naturally.' So (there were) lots of little stories that made me feel a little bit better. I just want to get it done."
Looking back at her outlook on life amid treatment, she added, "A lot of people have said that I've been so positive, but you do have darker times. Chemo is horrendous… But it has made me feel like, 'Yeah I am, I'm going to get through it.'"
Related: Ovarian Cancer Symptoms Can Be Hard to Spot
Oehme finished her chemotherapy treatments in December 2022 and is now urging others to be advocates for their health.
"Don't feel like you're wasting people's time, that's always what I thought," she advises. "Women, they know their bodies. Most people know when something's wrong."
Endometriosis: A Painful Disorder
Endometriosis can be an extremely painful disorder. When someone has this condition, abnormal tissue outside of the uterus thickens, breaks down and bleeds with each menstrual cycle. However, due to the tissue having no way to leave your body like normal endometrial tissue, it becomes trapped. When the tissue is unable to exit the body, it can cause cysts, irritation, scar tissue, and adhesions – which are abnormal bands of fibrous tissue that can cause pelvic tissues and organs to stick to each other – to form.
Related: 'It Was Bad': Fashion Designer Alexa Chung Details Ovarian Cancer Scare Before Being Diagnosed with Endometriosis
The Mayo Clinic, advises it's unnecessary to worry too much about endometriosis increasing your risk for developing ovarian cancer. And while ovarian cancer does occur at a higher rate in women with endometriosis, studies suggest that any increase in risk is relatively low. Additionally, endometriosis can lead to the development of another type of cancer called endometriosis-associated adenocarcinoma, but this cancer is rare.
According to the Memorial Sloan Kettering Cancer Center, endometriosis-associated adenocarcinom is a type of uterine cancer that forms in the glandular cells of the uterine lining.
"It accounts for as much as 75 percent of all uterine cancers. Endometrioid adenocarcinoma is commonly detected early and has a high cure rate," the center adds.
Symptoms of endometriosis can include the following:
Painful periods (dysmenorrhea). Pelvic pain and cramping may begin before and extend several days into a menstrual period. You may also have lower back and abdominal pain.
Pain with intercourse. Pain during or after sex is common with endometriosis.
Pain with bowel movements or urination. You're most likely to experience these symptoms during a menstrual period.
Excessive bleeding. You may experience occasional heavy menstrual periods or bleeding between periods (intermenstrual bleeding).
Infertility. Sometimes, endometriosis is first diagnosed in those seeking treatment for infertility.
Other signs and symptoms. You may experience fatigue, diarrhea, constipation, bloating or nausea, especially during menstrual periods.
Advocating For Yourself While Navigating the Medical World
Both endometriosis and ovarian cancer can be difficult to diagnose. And given the fact that changes to your menstrual period and lower back pain are potential symptoms of ovarian cancer, it is understandable that doctors may want to rule out the possibility of ovarian cancer.
Regardless, if you ever feel like something is abnormal with your body, it's always necessary to see your doctor right away It's also important to get a second opinion if you feel like your concerns aren't being addressed.
Understanding Ovarian Cancer
Ovarian cancer is when the ovaries, which produce the sex hormone, estrogen, as well as eggs, become cancerous. Women have two ovaries, one on both sides of the uterus.
A significant number of ovarian cancers begin in the fallopian tube, which brings the egg from the ovary to the uterus for fertilization. Initially, a few cancerous cells are developed on the fallopian tubes, then they stick to the ovaries as the fallopian tubes brush over the ovary. Then on, the cancerous cells increase in size to form a tumor.
Taking Control of Your Ovarian Cancer Risk
According to Dr. Beth Karlan, a gynecologic oncologist at UCLA Medical Center, the term ovarian cancer is referring to a number of different tumors located in the ovary. She also notes that ovarian cancer can be tough to recognize with it's often subtle symptoms.
"Ovarian cancer does not have any specific symptoms," Karlan said in a previous interview with SurvivorNet. "It's often referred to as the cancer that whispers, in that it has symptoms that are really very vague…and nothing that may bring your attention directly to the ovaries."
Dr. Karlan urges women to be wary of a variety of possible symptoms.
"The symptoms include things like feeling full earlier than you usually would when your appetite is strong," she said.
"Feeling bloated," is another symptom, she added. "Some changes in your bowel habits. Some pain in the pelvis. These are symptoms women may have every month. These are not very specific. But what we've found from multiple studies, it's this constellation of symptoms."
Spotting the Early Symptoms of Ovarian Cancer
Contributing: SurvivorNet Staff
Learn more about SurvivorNet's rigorous medical review process.
---