Captain Moore's Lasting Legacy
Captain Tom Moore, 100, passed away this week after contracting COVID-19; last year he raised millions of pounds for England's National Health Service (NHS).
Moore fought in World War II and used his fighting spirit to raise money for the NHS as it worked to accommodate and help all the people in the UK battling COVID.
During the pandemic, it's important to continue screenings for other diseases, too, like cancer; this can be done safely and effectively, experts tell SurvivorNet. 
It was the feel-good story that took the world by storm: Last year, 99-year-old Captain Tom Moore walked up and down his driveway to raise money for Britain's National Health Service (NHS) as his way of helping fight COVID-19. Moore died this week at 100 after contracting
COVID-19
, and the world feels a little less joyful as a result. He was
admitted to Bedford hospital
on Sunday, reported 
The Guardian, 
after being treated for pneumonia and testing positive for COVID-19 last week.
Related: Am I Immune After The First COVID-19 Vaccine Shot? No, It Can Take Weeks
Read More
Moore's daughters, Hannah Ingram-Moore and Lucy Teixeira, released a statement, saying: "It is with great sadness that we announce the death of our dear father, Capt Sir Tom Moore. We are so grateful that we were with him during the last hours of his life; Hannah, Benjie and Georgia by his bedside and Lucy on FaceTime. We spent hours chatting to him, reminiscing about our childhood and our wonderful mother. We shared laughter and tears together."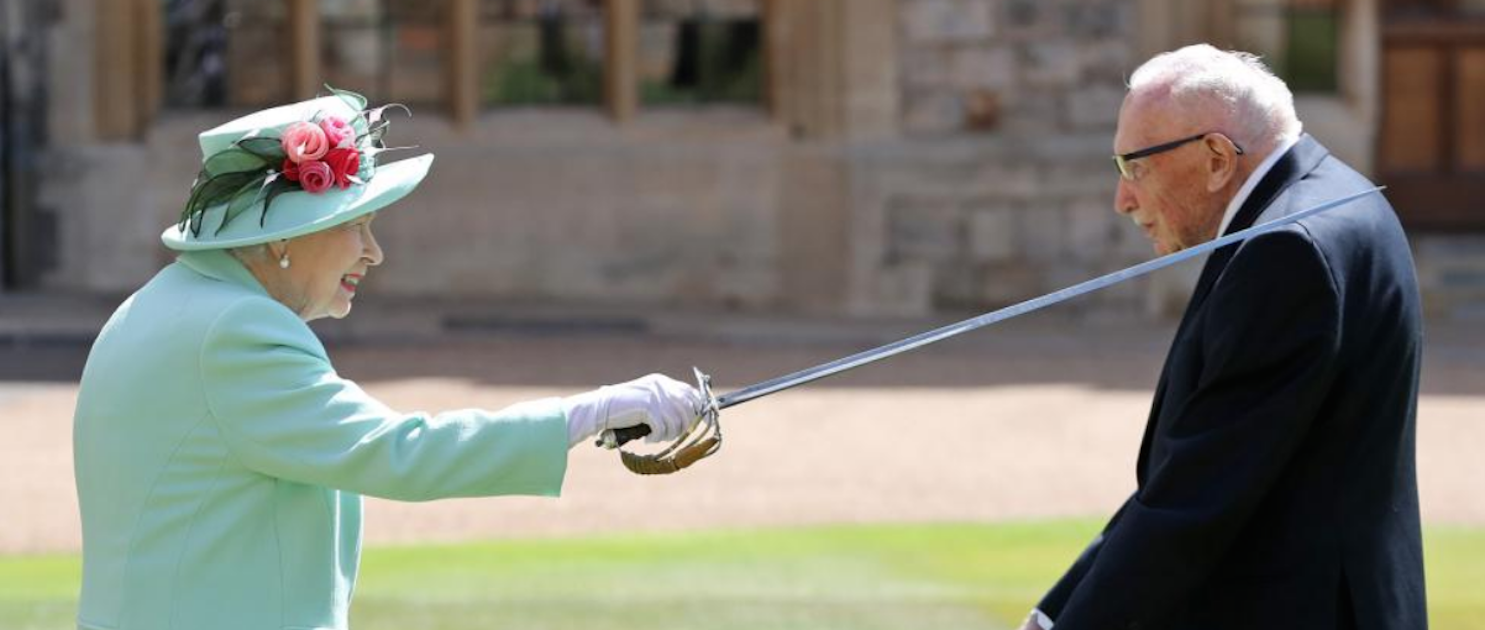 Related: Oscar Nominee Taraji P. Henson, 50, Shares Mental Health Struggles So Many Understand Amid COVID-19, Especially Those Fighting Cancer
"The last year of our father's life was nothing short of remarkable," his daughters wrote. "He was rejuvenated and experienced things he'd only ever dreamed of. Whilst he'd been in so many hearts for just a short time, he was an incredible father and grandfather, and he will stay alive in our hearts forever. The care our father received from the NHS and carers over the last few weeks and years of his life has been extraordinary. They have been unfalteringly professional, kind and compassionate and have given us many more years with him than we ever would have imagined."
While Captain Moore, is gone, he will not be forgotten, nor will the incredible work he did last year, raising millions for the NHS.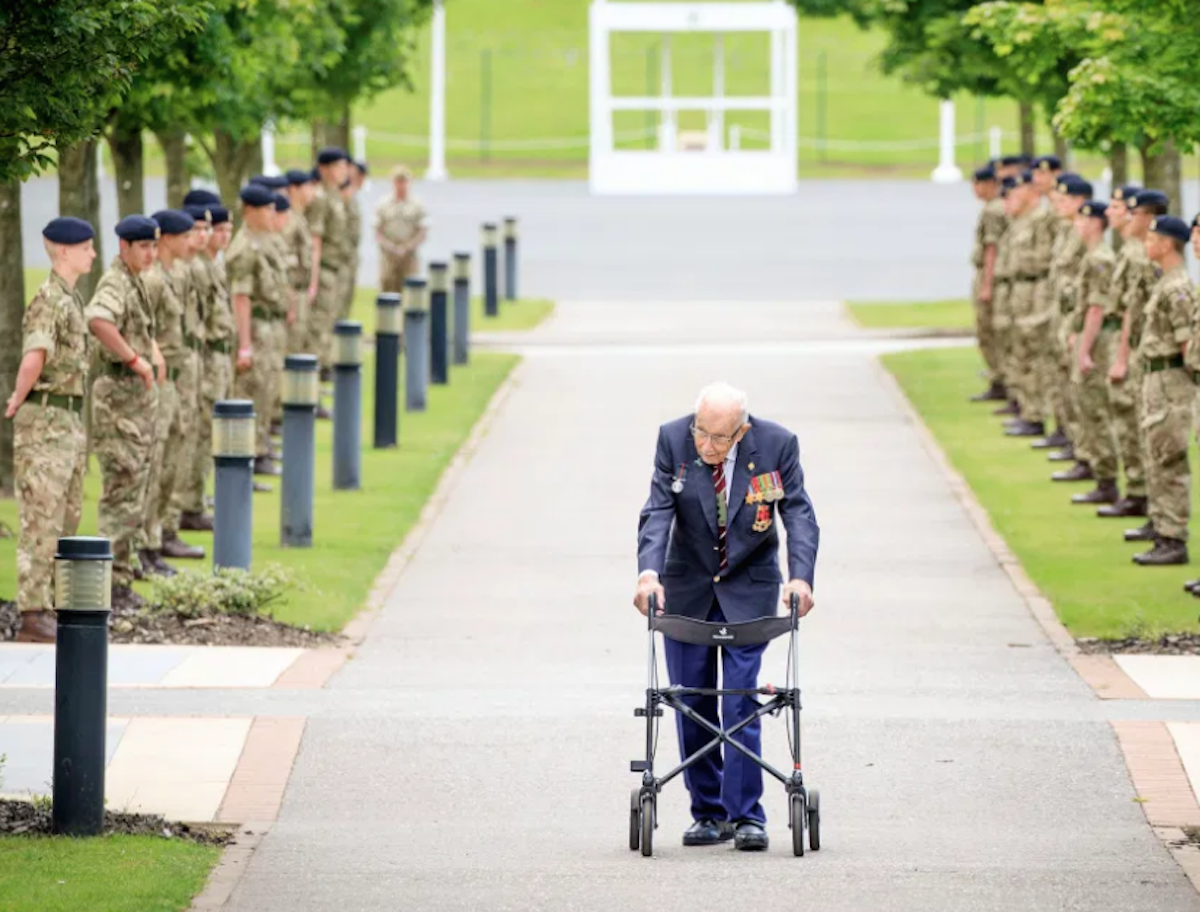 Captain Moore's Good Deeds
Moore didn't set out to become a media sensation last year, but it just kind of happened. His impact was felt widely, and after he passed, the flag at No. 10 Downing Street was lowered to half-mast. Prime Minister Boris Johnson offered his personal condolences to the family, according to The Guardian. And in a video-recorded statement, Johnson described Moore as "a hero in the truest sense of the word…In the dark days of the second world war he fought for freedom and in the face of this country's deepest postwar crisis he united us as well, he cheered us all up and he embodied the triumph of the human spirit…he became not just a national inspiration but a beacon of hope for the world."
Related: 7 Cancer Survivors Share How Gratitude, Faith, & Seeking the Good In Life Help Give Them Strength
Last April, Moore began walking sponsored laps of his home in Bedfordshire using his walker, with a goal to raise £1,000 for the NHS. By his 100th birthday, in late April, we walked 200 laps and raised £32,796,436 in donations, which the largest sum raised by one person for the NHS, according to The Sun. Moore is a true hero and do-good-er and his efforts will not be forgotten.
"Therapy Saved My Life": After Losing A Loved One, Don't Be Afraid To Ask For Help
Cancer Screenings During COVID-19
While the hospital systems struggle to cope with the onslaught of people battling COVID-19, as Captain Moore did, it's important to continue cancer screenings during this time. Dr. Elizabeth Comen, a Medical Oncologist at Memorial Sloan Kettering Cancer Center, said in a previous interview, "So we know that cancer has not gone away just because we're in the middle of a pandemic. We also know that some elective procedures and potentially preventative care– things like colonoscopies, and mammograms, and pap smears– may have been put off a couple months because we wanted to limit the number of people that were coming in to the hospital and also keep patients at home unless they really needed to leave."
Related: 5 COVID-19 Vaccine Questions Answered by Expert Physician
"But fortunately, now that we have a little bit of a better hold on how to protect patients, how to disinfect, how to clean in between patients and scatter so that we're not crowding our waiting rooms, it's really, really important to remember to talk to your doctor about your screening mammogram or any other preventative tests that you may need. We know that cancer prevention works, and what we don't want is a huge fallout because of COVID that patients are so afraid to leave their home that they're missing their most important tests, like their screening mammogram."
It's Important To Continue Cancer Screenings Through COVID-19
Learn more about SurvivorNet's rigorous medical review process.