What to Know About Colon Cancer
Florida doctor and mother of two Lauren Juyia helped discover her own stage 4 colon cancer.
Cancer can happen to anyone, and you don't have to be a doctor to recognize concerning symptoms in your body.
Colon cancer, or colorectal cancer, is a type of cancer that affects your large intestine (colon) or the end of your intestine (rectum).
Juyia, at just 38, is part of a growing population of younger people being diagnosed with colorectal cancer.
Research published in CA: A Cancer Journal for Clinicians found the proportion of cases in people younger than 55 years old "increased from 11% in 1995 to 20% in 2019."
For Dr. Lauren Juyia, diagnosing patients is familiar territory – but she never expected to be her own patient. Noticing some unusual and concerning symptoms led to the discovery of her own colon cancer, showing that the disease can happen to anyone.
However, Juyia says you don't need to be a doctor to recognize symptoms and changes to your body that could lead to lifesaving treatment.
Read More
"We just need to be aware, if we're not lucky enough to be in the range where we should be screened," Juyia
told
ABC News. Last August, Juyia, 38, says she started feeling "pelvic heaviness." Once the unusual feeling grew into something she could feel with her hands, she figured it was time to see what was going on.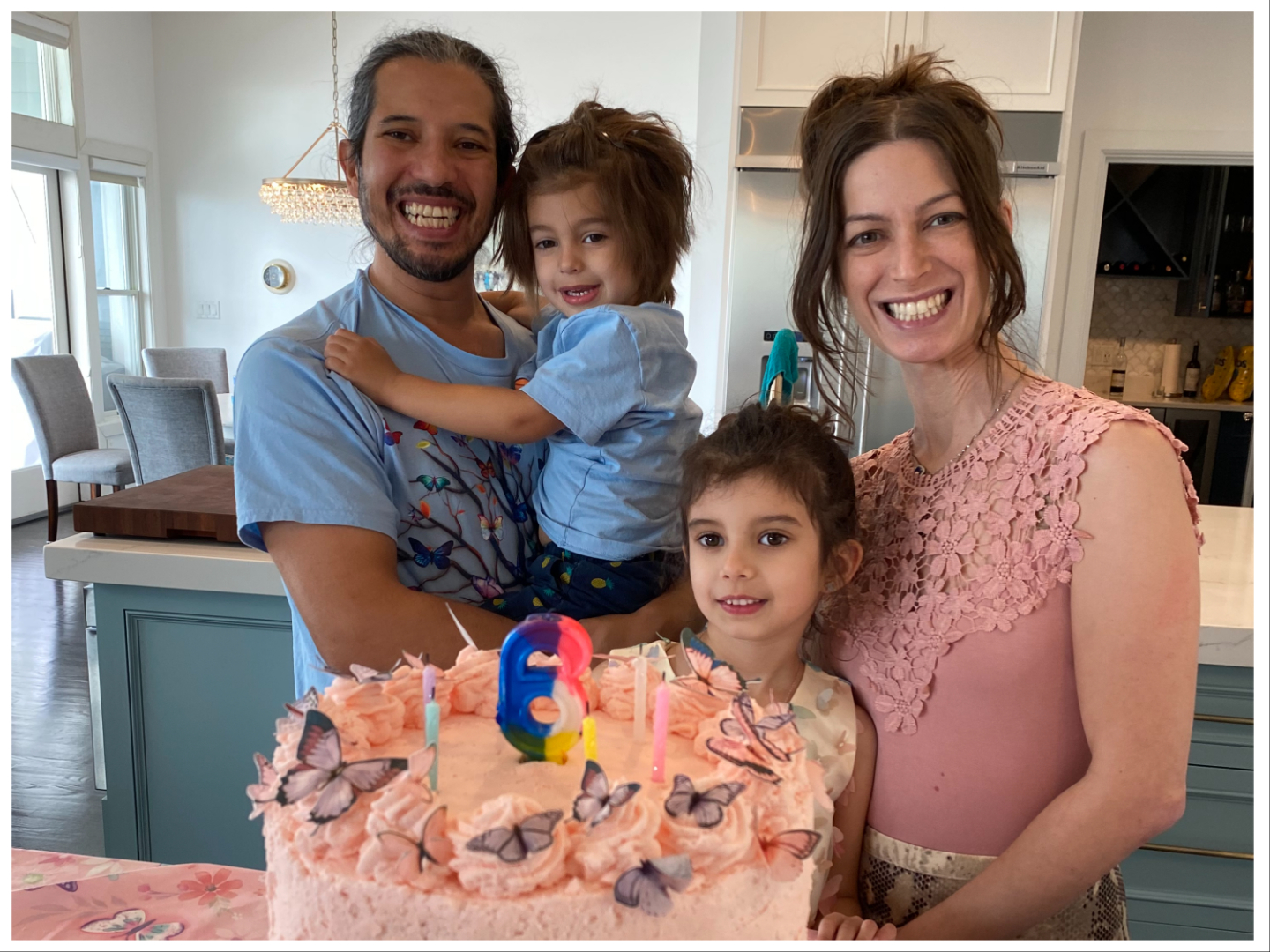 "I could feel a pelvic mass," Juyia said.
"Having a background in obstetrics, we describe size by weeks of pregnancy and so I was like, 'Oh my god, I have a 16-week-size mass.' From experience, I could tell that this was my ovary," she added.
Because of the mass' growth, she figured it was likely malignant or cancerous. An ultrasound confirmed her suspicions, as it revealed she had "larger than normal masses" by her ovary.
"I had never seen anything benign, meaning not cancer, grow that fast before. So we kind of knew, deep down, that this was not going to be good, and we suspected ovarian cancer of course, because it was the ovaries being the masses," Juyia said.
Roughly a month after discovering the masses, she underwent surgery to have them removed, which by that time had already spread to her uterus, appendix, and her abdominal area.
However, Juyia's surprises were not done yet, as tests revealed rather than ovarian cancer, she was diagnosed with stage 4 colon cancer.
Even more startling for the doctor-turned-cancer-survivor, she says she never experienced any of the typical symptoms associated with colon cancer.
Understanding Colon Cancer
Colon cancer, or colorectal cancer, is a type of cancer that affects your large intestine (colon) or the end of your intestine (rectum). It is the third-most common cancer according to the American Cancer Society in people of both genders in the United States, excluding skin cancers.
The cancer starts when abnormal lumps called polyps grow in the colon or rectum. If you don't have these polyps removed, they can sometimes change into cancer.  It takes up to 10 years for a colon polyp to become a full-blown cancer, according to SurvivorNet experts.
WATCH: Common Misconceptions About Colon Cancer.
Most colon cancers can be prevented if people are regularly screened. The screening usually involves a colonoscopy, in which a long thin tube attached to a camera is used to examine the colon and rectum. If no polyps are discovered, the next screening won't be needed for about 10 years.
"We know that colon cancers can be prevented when polyps are found early," Dr. Yeo told SurvivorNet. "Lowering the screening age helps somewhat with this, but access to care is a real problem," Yeo added.
The American Gastrointestinal Association lowered the recommended initial age for a colorectal screening from 50 to 45.
A preliminary staging workup is done after diagnosis with imaging studies, such as a computed tomography (CT) scan, which can show whether the cancer has spread. If you have had surgery to remove your cancer, a pathologist will look at it under a microscope to determine your stage.
Stage 1 cancers are those in which the tumor has only penetrated the superficial layers of the colon, and haven't gotten into the deeper layers
Stage 2 cancers involve the deeper layers of the colon wall
Stage 3 cancers have spread to the lymph nodes around the colon
Stage 4 cancers have spread to other organs, such as the liver, lungs, or peritoneal cavity (the space in your abdomen that holds your intestines, stomach, and liver)
Colon Cancer Risk Factors and Symptoms
Despite the growing trend of more young people diagnosed with colon cancer, people older than 50-years-old still are at the greatest risk, with this age group making up about 90% of the cases.
Other risk factors of developing colon cancer include:
Having inflammatory bowel disease.
Having a family history of colon cancer.
Not exercising very often.
Eating a diet high in meat.
Being overweight or obese.
Using excessive alcohol and tobacco.
Colon cancer symptoms and warning signs include:
Change in bowel movement
Bloody stool
Diarrhea, constipation or feeling the bowel does not empty completely
Unexplained weight loss
Constant abdominal pain or cramps
If you notice concerning symptoms or changes to your body, it's important to discuss them with your doctor promptly.
Colon Cancer Treatment
Treatment options for colon cancer may including:
Surgery
Radiation therapy
Chemotherapy
Targeted therapy
Immunotherapy
After Juyia's surgery to remove the masses, she started six months of chemotherapy. Although chemo treatment can be exhausting for many cancer warriors, the doctor decided to keep busy and maintain a sense of normalcy to help keep her mind off her ongoing cancer battle.
"For me, it was therapeutic to get to still be useful to my patients. When I am with someone in a patient room, I forgot I was ill. Even the nausea, I wouldn't feel it for that 15-20 minutes. So for me, it was most important to try to have a normal life and try to continue to be useful," Juyia said.
People who work in the oncology field — doctors and social workers — have told SurvivorNet that they absolutely recommend working during cancer treatment, if you can, because work can really establish a sense of normalcy in a person's life. Not only does it provide a needed source of income, it reminds you that you have a life apart from cancer – as a valued employee, a great boss, or a trusted co-worker.
A work life also encourages regular contact with others. Sometimes cancer can make you feel isolated and lonely, and being around people can be a great comfort.
This past March, Juyia had a follow-up procedure to remove an inactive tumor leading to tests showing "no evidence of the disease" remaining, which brought a sigh of relief for the mother of two.
"What I remember from that time is just wanting to raise my children," Juyia said.
Colon Cancer Appearing More in Younger People
Juyia is sharing her message in part so people know cancer can and does impact anyone, no matter what they do for a living. But the cancer warrior also wants young people to stay vigilant of their health and any changes to their bodies.
"People that are younger than the screening age should still be paying attention to our symptoms because we're not eligible for screening usually. We might not have any symptoms because we are young, our bodies are more resilient. We can tolerate more symptoms," Juyia explained.
The average age people are diagnosed with colon cancer is 68 for men and 72 for women, according to the American Cancer Society. Dr. Juyia is among a growing trend of younger people getting the disease. And data tracked by researchers outlines the concerning trend.
The National Cancer Institute reports that since the 1990s colorectal cancer cases have been rising among adults younger than 50. Research published in CA: A Cancer Journal for Clinicians found the proportion of cases in people younger than 55 years old "increased from 11% in 1995 to 20% in 2019."
"We know rates are increasing in young people, but it's alarming to see how rapidly the whole patient population is shifting younger, despite shrinking numbers in the overall population," cancer epidemiologist and lead study author Rebecca Siegel said.
Researchers are still trying to determine why younger people are being diagnosed in greater numbers. Some experts point to risk factors which include obesity, physical inactivity, and smoking as a possible explanation for the increase.
"We don't know for sure why we are seeing earlier onset and death from colon cancer,"  Dr. Heather Yeo, a surgical oncologist who specializes in colorectal cancers at Weill Cornell Medicine, told SurvivorNet.
"It is likely a combination of factors, including diet and genetics as well as access to care and some environmental factors," Dr. Yeo added.
Learn more about SurvivorNet's rigorous medical review process.
---