Fighting Colon Cancer
Colon cancer, also known as colorectal cancer, is a disease that affects the cells of the colon and/or the rectum.
Colon cancer can often be detected by regular screenings, such as a colonoscopy, which both examines the colon and rectum for signs of cancer and removes suspicious polyps, or growths.
Charmica Epps, a fundraiser in higher education, was only 34 when she was diagnosed with stage 3 colon cancer, which surprised even her doctor.
Charmica said she leaned hard on her faith to get her through this challenging time.
After surgery and chemotherapy treatment, she was deemed "no evidence of disease."
When young mom Charmica Epps noticed there was blood in her stool, she thought it was just due to hemorrhoids after recently giving birth – something many women struggle with. But when it persisted, she knew it was serious. Still, she never expected it to be cancer, and her stage 3
colon cancer
diagnosis shocked even her doctor.
At the time, Epps was 34 years old and busy.
Read More
Her career as a fundraiser for historically black colleges and universities was thriving, and she had two children, including a newborn baby girl. Shortly after becoming a mother for the second time, however, Charmica started to notice blood in her stool. Like many women, she'd dealt with hemorrhoids during her latest pregnancy, so she thought the blood was related to that.
But two years passed, and the blood persisted. She never imagined it could be cancer, since, as she told SurvivorNet, "I only had one of the associated
symptoms
."
Charmica took charge and went to see a doctor, who scheduled a colonoscopy. That's a procedure in which a probe, attached to a camera, is used to examine the inside of the rectum and the colon. During the procedure, doctors can check for (and remove) polyps, which are small growths on the lining of the colon that may have the potential to become cancerous.
They are also, obviously, checking for cancerous tumors.
Charmica's colonoscopy revealed a tumor that was actually blocking half her colon. Its large mass and the fact that it was pushing through the wall of her colon – though it had not spread to her lymph nodes – led to a diagnosis of stage 3 cancer.
Risk Factors of Colon Cancer
According to our experts, the risk factors of colon cancer include:
Being age 50 or older
Tobacco use
Eating a diet high in red meat.
Lack of exercise
Drinking alcohol
Being overweight or obese
People who suffer from inflammatory bowel disease, Crohn's disease, or ulcerative colitis can also be more prone to developing colon cancer, as can those who have a specific gene mutation or who have a family history.
READ MORE: Michigan Dad, 36, Gets Colon Cancer Diagnosis Days Before Baby Is Born: How Faith Helped Him Find the Strength He Needed
However, Dr. Zuri Murell previously told SurvivorNet that it's vital that people not limit themselves to these guidelines when assessing their chances of having cancer or when deciding whether to seek medical advice.
"The truth is you have to be in tune with your body, and you realize that you are not the statistic," says Dr. Murell, a colorectal surgeon at Cedars-Sinai Medical Center.
For example, the CDC states that most cases of colon cancer occur in older people, over 50 years of age, but Charmica Epps was only 34. Furthermore, her only symptom was blood in her stool.
Dr. Murell even advises people to "be pushy" and take charge of their own health.
For example, he says, many people will avoid seeking help by telling themselves, "Well, I don't have to have a colonoscopy yet because I'm not 50, even though my bowel habits have changed, even though I'm having a lot of blood when I have a bowel movement."
According to a profile of Charmica in the Colon Club, "There was no history of colorectal cancer in her family so the doctor was surprised that she, an otherwise healthy young person would be a cancer patient."
Further tests showed that she also did not carry the gene mutation that sometimes leads to this cancer in younger people.
Thankfully, even though she thought the cause might be hemorrhoids, she sought a definitive answer.
That persistence paid off.  Charmica had surgery to remove the tumor, followed by twelve rounds of chemotherapy, an infusion of chemicals that kills fast-growing cells, such as cancer cells.
She completed her treatments in 2019 and has been labeled NED (No Evidence of Disease).
WATCH: Choosing the Right Surgery for Your Colon Cancer While Avoiding Marketing Gimmicks
Keeping the Faith and Finding Support
When asked what kept her strong during her treatment, Charmica told SurvivorNet, "Absolutely my faith."
Charmica and her family often leaned on their religious beliefs to maintain a positive outlook. Even though she was enduring something difficult, she believed she would come out of it.
She often quotes a verse from the Bible, John 11:4, in which Jesus says, "This sickness is not ending in death, but is to the glory of God, so that the Son of God will be glorified by it."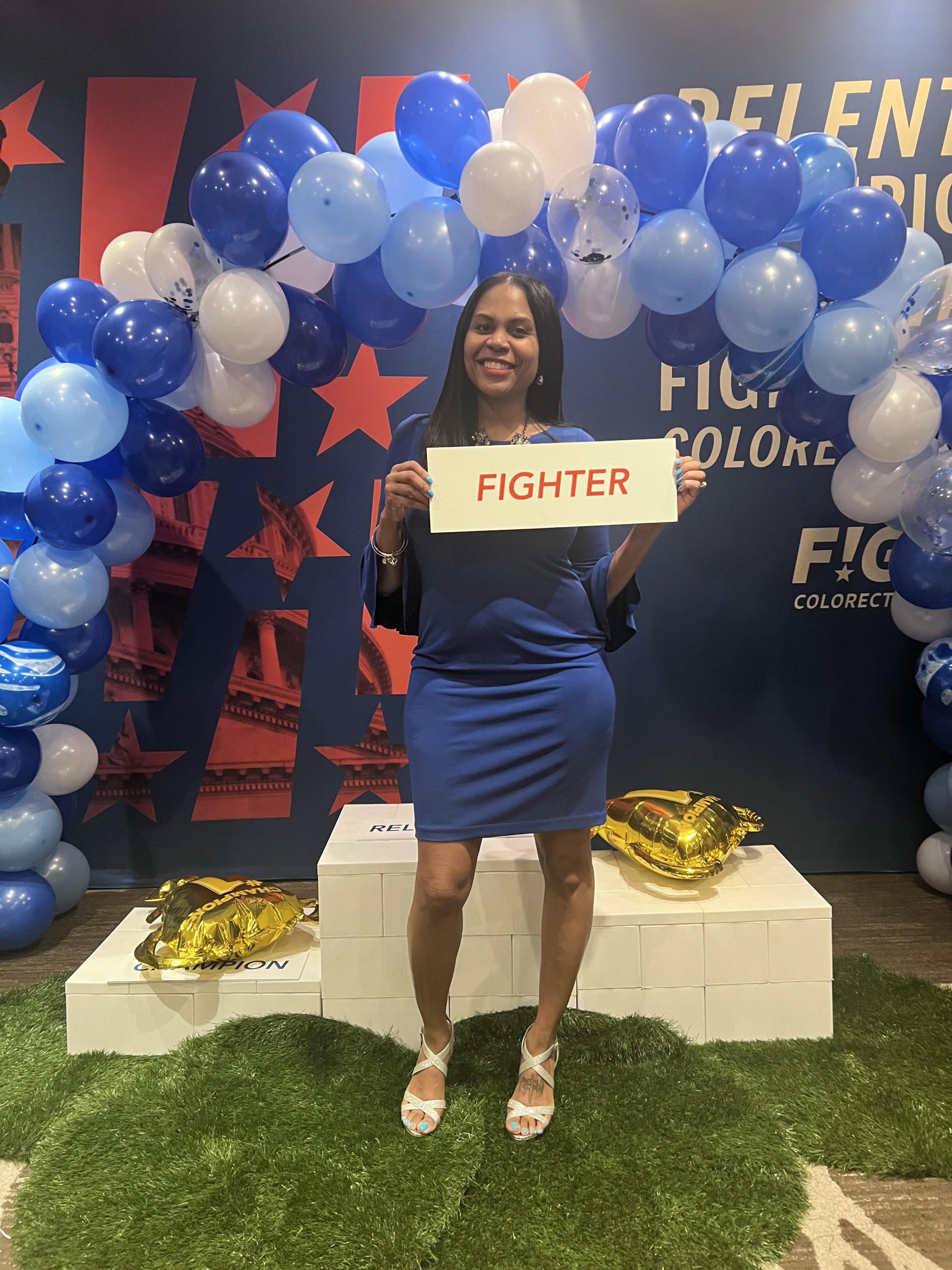 Charmica explains that the verse "was a reminder that even when it seems dark there is glory on the other side. Just like grapes that go through a process of crushing they go through this process to be refined as wine."
During the challenging times of treatment and recovery, Charmica had a close support network in her fiancé, now her husband, and her immediate family members. Gathering a network of supporters is crucial in the early days after a diagnosis, experts say.
"Some people don't need to go outside of their family and friends circle," Dr. Lori Plutchik told SurvivorNet. "They feel like they have enough support there."
But what if a person doesn't have a close family or network of friends on whom they can rely? Or what if a person does have that support but still feels overwhelmed?
Dr. Plutchik, a certified board psychiatrist, says, "For people who feel like they need a little bit more, it is important to reach out to a mental health professional."
Your mental health professional, she stresses, should be part of your care network, which means they should be in touch with the medical team in charge of your treatment.
It's important, she says, that they are "reaching out — with your consent — to the rest of your team, to the oncologist, to the surgeon … it can also be helpful to reach out to family, friends, and any other caretakers that may be involved in the person's treatment."
Advocating for a Cure
After her trying experience, Charmica decided to use her fundraising skills and talents for a cause close to home.
In 2021, she joined the Massey Cancer Center, a part of Virginia Commonwealth University, in its development office. In her new role, she works to raise funds for cancer research, treatment, and care.
"When I say I found purpose, I mean it!," she told SurvivorNet. "Not that I didn't have it before, but it aligned in a way that I couldn't have orchestrated…. Every day I meet families and patients impacted by cancer and have an opportunity to share my store and give hope!"
Learn more about SurvivorNet's rigorous medical review process.
---