Facing Colon Cancer With Strength
Spencer Vereecken was a 36-year-old dad waiting for his baby girl to be born when he was diagnosed with colon cancer.
Spencer received surgery and chemotherapy as treatment, creating a new normal for the young family.
Spencer leaned hard on his faith for strength, something many cancer survivors do.
A study published in The Journal of Medicine and Life suggests that "religious beliefs … can be a real relief and can have an excellent effect on the future of the patients."
"I really persevered through a positive mindset of getting through this for my family," Spencer says.
Spencer Vereecken should have been looking forward to the
birth
of his daughter in the next few days. Instead, the 36-year-old Michigan dad was given a devastating
colon cancer
diagnosis. He knew he'd have to lean hard on his faith to find the strength he needed to carry on.
Vereecken had gone to the doctor to check out a vague pain in his abdomen — he suspected he had a hernia.
Read More
"It was just a minor pain," he told SurvivorNet.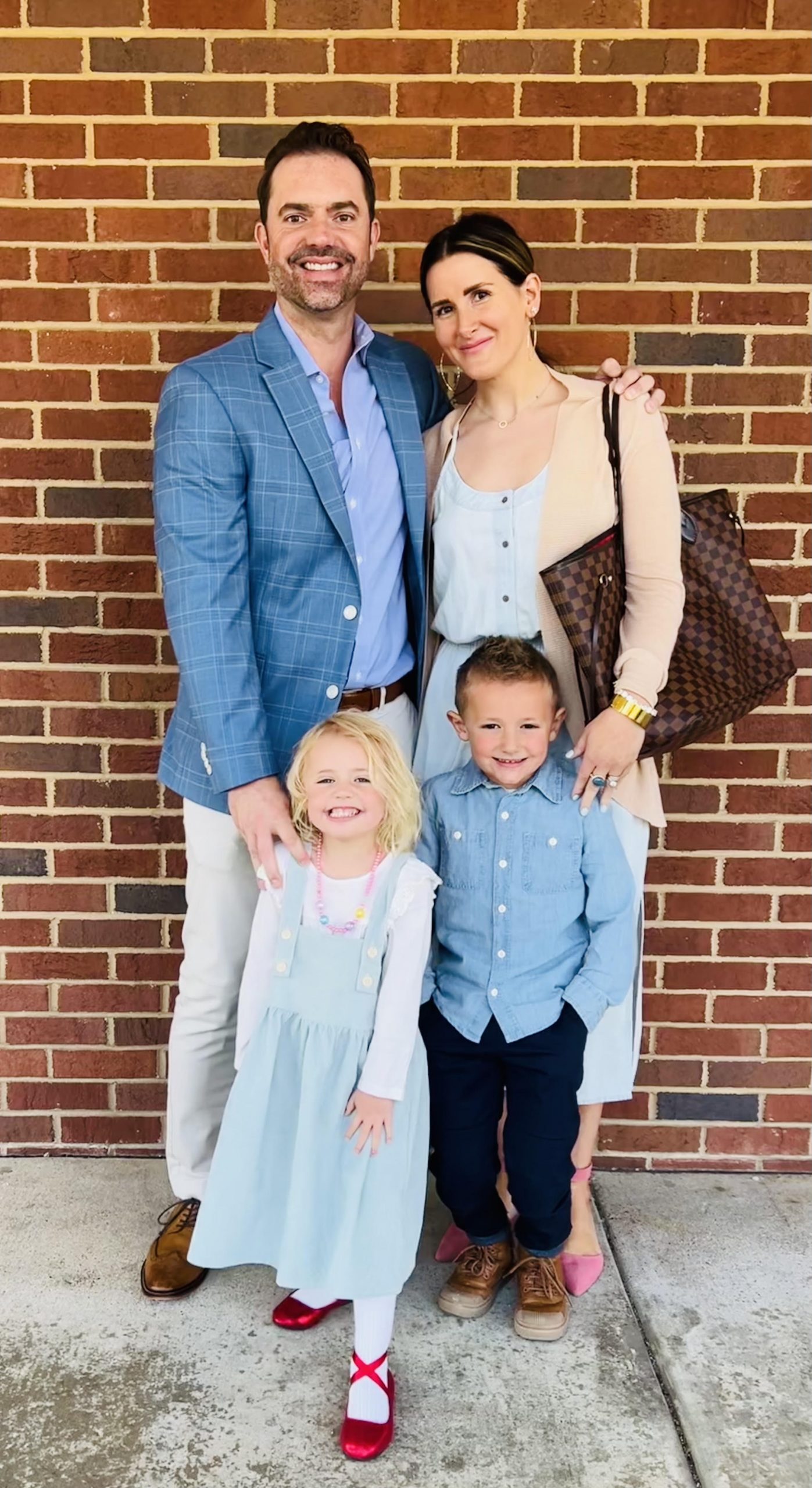 His doctor recommended a CT scan to further investigate it. According to the
Mayo Clinic
, "A CT scan can be used to visualize nearly all parts of the body and is used to diagnose disease or injury as well as to plan medical, surgical or radiation treatment."
In Spencer's case, the result of the scan was alarming: he had a tumor, the size of a softball, in his colon.
Stunned, Spencer consulted with doctors, who confirmed that it was likely cancer and scheduled surgery to remove it.
The news could not have come at a worse time: Spencer's wife, eight months into her pregnancy, was about to deliver their second child any day.
A few days later, however, that planned colon surgery was dramatically accelerated.
While at work, Spencer suddenly felt a tremendous wave of pain that overwhelmed him.  The tumor had perforated, or opened, before doctors could remove it.
While his pain levels had been relatively low before his diagnosis, "The real pain came when the tumor perforated," said Spencer, who is now 40.
"It dropped me to my knees, and I was rushed to the emergency room."
READ MORE: Teen Thought Bleeding Was From Hemorrhoids — It Was Stage 4 Colon Cancer: How Her Brave Positivity Helped Her Beat Disease That More Young People Are Getting
According to an article in Surgery Today, "Perforation of the colon is a rare complication for patients with colon cancer and usually requires emergent surgery."
The fear is that the cancer can spread rapidly into the abdomen.
Spencer's New Normal
Surgeons removed the tumor, as well as some of his lymph nodes that had been affected by the perforation. Doctors also performed an ileostomy, which is an opening made in the abdominal wall.
According to the American Cancer Society, "The end of the ileum (the lowest part of the small intestine) is brought through this opening to form a stoma, usually on the lower right side of the abdomen." The purpose is to allow waste to bypass the colon and collect in a pouch outside of the body.
After the surgery, there was also an official diagnosis:  stage 3 colon cancer.
The next few months were a whirlwind:
Spencer's wife was induced, and they welcomed their beautiful daughter Reagan into the world.
"After my daughter was born, my wife was so strong and made sure she was taken care of along with my son who was almost 3 at the time," Spencer recalled.
In addition to having a newborn in the house, Spencer had continued working from home. But he was also mired in his treatment, which included twelve rounds of chemotherapy, an infusion of chemicals that kill fast-growing cancer cells.
The changes were overwhelming and stressful for the young family.
"Life did become much more difficult as I had more rounds" of chemotherapy, Spencer recalled.
It was challenging to work, raise young children, and handle the fear and changes in one's routine that colon cancer had caused.
Turning to Faith for Strength
Spencer is not alone in being overwhelmed by a cancer diagnosis. When a stressful life event occurs, people may react with a range of different (and quickly changing) emotions – from fear to anger to sadness to grief. And this is completely normal.
"Grief comes in waves," Dr. Scott Irwin, a psychiatrist and Director of Supportive Care Services at Cedars-Sinai Medical Center, previously told SurvivorNet. "They're grieving the change in their life, the future they had imagined is now different."
It's important to seek the help of a mental health professional, Irwin says. "People that are struggling with coping with the experience, coping with body image should reach out to their doctors, find a therapist in the community."
For Spencer, his faith played a major role in maintaining his emotional health and positive outlook: "We prayed every single night over complete healing and health along with ease on the family."
One particular passage from the Bible that Spencer came back to, over and over again, is the story of Jesus walking on water.
For him, Spencer explains, reading that story reminded him to "stay focused on him and if you lose focus, then you will see the storm and sink into the water.  Stay focused on positivity and prayer!"
There are many people out there who believe in the power of prayer. And though it's not necessarily for everyone, turning to faith may help you get through the emotional and physical tolls of a cancer journey.
In fact, a 2015 National Health Interview Survey found that 69% of cancer patients reported praying for their health compared to 45% of the general United States population.
Additionally, a study published in The Journal of Medicine and Life suggests that "religious beliefs and religion belongings can be a real relief and can have an excellent effect on the future of the patients."
The researchers even go as far as to say that there is "a significant relationship between praying and life expectancy" and "the patients can overcome their illnesses with the help of praying and of other religious actions … they can stand the pain and suffering and become hopeful to future."
Becoming a Beacon of Encouragement
Spencer has been open about advocacy work for raising awareness of colon cancer. Recently, he was featured, along with other survivors, in The Colon Club.
He has specific advice for people who have been recently diagnosed: "Pick an option for treatment and stick with it.  There will be so many people trying to tell you what to do."
Spencer learned, soon after his operation and treatment, that his cancer had not spread, despite the original perforation of the tumor. Doctors were also able to successfully reverse his ileostomy.
Today, four years later, he is a grateful father and husband who is determined to help make change. "I truly believed, and still do today, that this happened to me for a couple of different reasons," he said.
"I was meant to help spread awareness and help the world along with strengthening my Faith."
Learn more about SurvivorNet's rigorous medical review process.
---