Facing Cancer as a Parent
Julie Devaney Hogan is currently being treated for stage 3 breast cancer. But one of the most challenging things about her journey has been figuring out how to talk to her kids about it.
Hogan made a colorful slideshow with a superhero character that personified her cancer and her chemotherapy. She named the cancer "Barb."
Hogan told SurvivorNet that her biggest advice for other moms in a similar situation is to take their time: "You are in the driver's seat" of the conversation.
Facing cancer as a parent can be an incredibly difficult task. But having children who depend on you can also provide another reason to fight the disease with everything you've got.
Talking to your kids about cancer can be incredibly overwhelming, and young mom Julie Devaney Hogan knows that all too well. When she realized she'd need to tell her three children about her breast cancer diagnosis, she got creative by making a kid-friendly superhero-themed slideshow — and naming her cancer "Barb."
She shared her colorful presentation with SurvivorNet to "put helpful resources into the universe." See the whole thing below.
Read More
Hogan was diagnosed with stage 3
breast cancer
in late 2022. With that stage breast cancer, the tumor is large (over 5 centimeters), the cancer has spread to nearby tissues, or it has spread to many nearby lymphnodes. So, one of her first tasks was researching help for how to tell her children about the long path that lay ahead. "I felt like the internet and social workers were reading me bad fortune cookie one-liners,"
Hogan wrote in a piece for TODAY
. "I also found lots of conflicting information."
"'Tell them it's cancer.' 'Don't use the big 'C' word.' 'Prepare them for all possibilities.' 'Don't tell them anything they don't ask about.'"
Needless to say, the young mom didn't find that conflicting advice helpful.
Handling Fear When You Get the Diagnosis
"Don't millions of people have cancer? How did we gloss over getting this part of the hell ride right?" she wrote. "In addition to the information being insufficient and confusing, the content itself struck me as stark. I bought all the books, read all the jargon-filled pamphlets, yet I couldn't see myself in any of it."
"'Mom will be sick' 'Mom will be bald.' 'Mom won't be the same for a while.'" just didn't seem right for Hogan.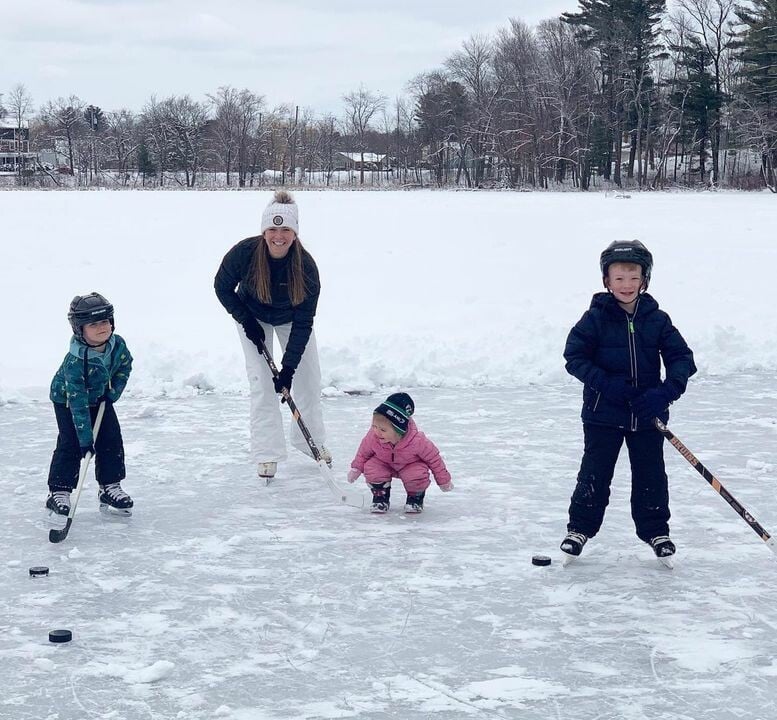 Hogan didn't like the depictions of sick mothers in the resources she read. Realizing that there was, in fact, no playbook that aligned with her vision of how the conversation should go, Hogan just made her own.
She first decided what she didn't want the big talk to be, and that included making it about "mom being sick."
"My mindset since diagnosis has not been that I'm sick, but that I'm healing," she said.
She also wanted to be honest about what exactly was happening to her.
"We didn't want any secrets or panic. In our house we say 'secrets make you sick,' so we agreed that we'd tell them the full story in a way they could understand and also be able to talk about themselves. There isn't a lot of 'non-panic' language when talking about cancer. Words like cancer, chemotherapy, radiation and mastectomy are pretty heavy. We'd have to get creative," Hogan said.
How to Tell Your Kids You Have Cancer
Having a marketing background turned out really helpful as she leaned on a familiar vehicle for the delivery: a classic slieshow.
"As someone who has worked in marketing, consulting and technology my entire career, my love language is a slide deck," she explained. "In my professional life, it's how I tell stories. … I was going to do the same for my family."
If you're looking for your own inspiration for sharing a cancer diagnosis with little ones, check out Hogan's presentation below.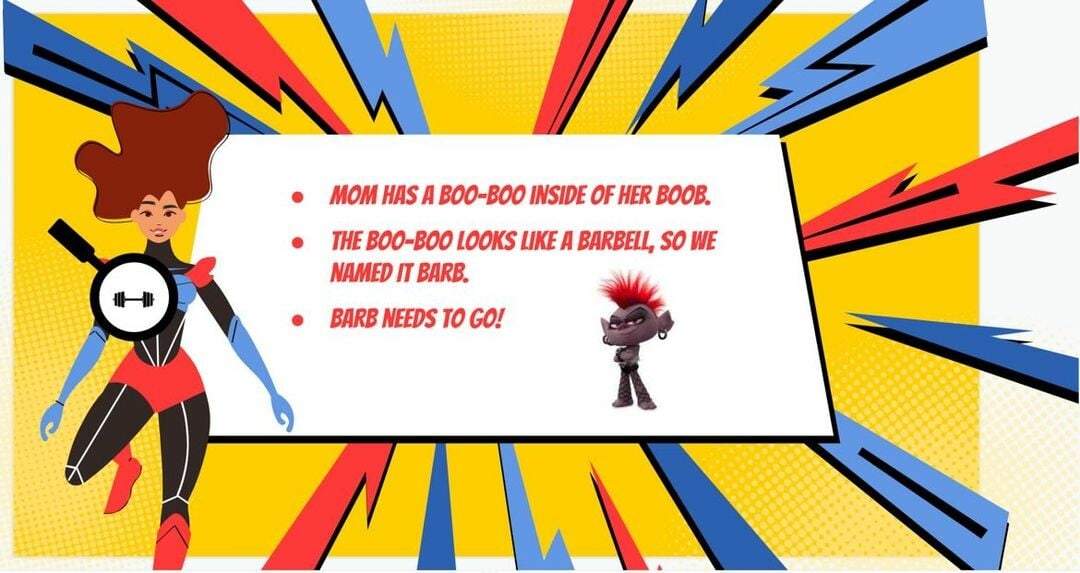 Hogan called her cancer "Barb" – the "boo-boo villain in Mom's boob" that "needed to go." With her cancer successfully personified, Hogan then moved on the her treatment, which included receiving chemotherapy drugs through a small device placed under the skin called a port.
"The acronym for the clinical trial drug that I was going to take was MARGOT, so Margot was my superhero," she wrote. "I'd be heading into Boston every week to get special Margot medicine through a magical tool called a port, and this would help shrink Barb."
Watch the video below for more on clinical trials for breast cancer from Dr. Elizabeth Comen, a medical advisor to SurvivorNet and a medical oncologist at Memorial Sloan Kettering Cancer Center.
Clinical Trials for Breast Cancer
Hogan and her husband spoke with their children on a Saturday morning after playing a game. They wanted to have the whole day together in case questions arose.
"The mood was light and we were laughing," she said of the talk that included what would happened in the weeks and months ahead.
Hogan felt empowered by personifying her cancer – but she left the word "cancer," itself, out of her slides, along with the word "death."
"A few weeks later, my 8-year-old asked me if Barb was cancer," she explained. "'Yes, she is,' I told him. He then asked how we'd get her out during surgery, if she had legs and if I could keep her in a jar.
"'Can I still call her Barb, though?' he asked. 'Yup, that's who she is,' I told him. 'She's Barb.'"
Hogan's Breast Cancer Treatment
Hogan recently underwent a double mastectomy and the removal of seven lymph nodes. She still has trace amounts of cancer left in her body, but a majority is gone thanks to her chemotherapy before surgery. To ensure the cancer doesn't return, she'll have low-dose chemotherapy and radiation .
What Happens During a Double Mastectomy?
"We told our kids, 'Barb is gone — now we burn her house down so she can't come back!'" she wrote.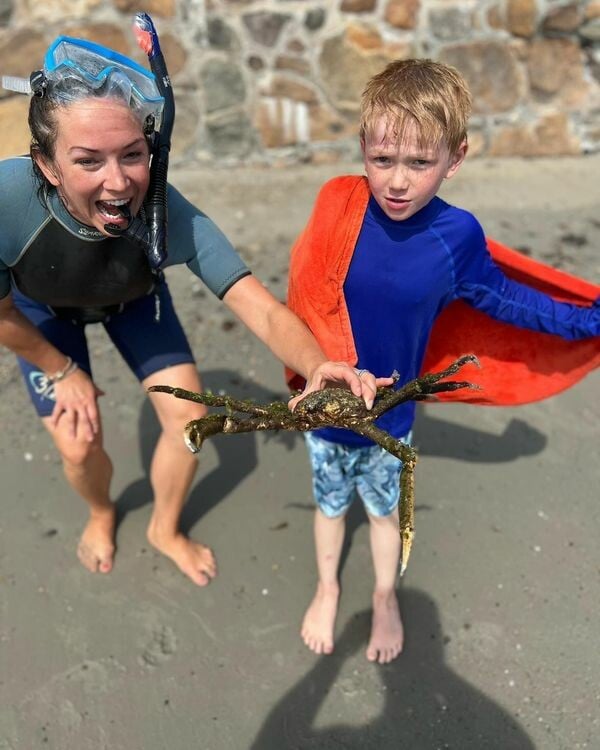 Advice for Moms With Cancer
So, what's her advice for other mothers in a similar situation? Take your time.
"My #1 tip for other young moms struggling to find the words is you don't have to do anything immediately," Hogan told SurvivorNet. "Everything feels urgent and rushed when you're first diagnosed – I felt a lot of pressure from external forces to tell my kids. You are in the driver's seat, and you set the tone for how you want to tell them. I waited until I had clarity and confidence in my treatment plan and an official diagnosis before I told them anything."
Battling Cancer as a Parent
Facing cancer while navigating your role as a parent can be incredibly challenging. And fearful thoughts about leaving your children may be harder to handle than the the actual diagnosis itself.
Telling Your Kids You Have Cancer 'When it Comes to Your Kids, You Want to Protect Them'
Breast cancer survivor Gina de Givenchy previously spoke with SurvivorNet about going through cancer treatment as the mother of a 12-year-old girl.
"I felt it was important to mask it because I really wanted her to know that I was going to be OK," she said. "I didn't want her to see me weak and sickly.
"When it comes to your kids, I think you always want to sort of protect them."
The pressures of parenthood can be daunting during a cancer journey, but having little ones that depend on you can also provide another source of motivation to fight for your life.
Jovannie Lorenzo knows this to be true. When she was diagnosed with colon cancer at 32, she felt an immense amount of fear because she was a single parent of her three kids. Going into her cancer battle, Lorenzo knew she would do everything in her power to be around to raise them.
Facing a Cancer Diagnosis as a Single Parent: "I Knew I Had to Fight for My Life"
"I knew that I had to do everything possible to be here for my children," Lorenzo told SurvivorNet. "They are my saving grace. They are the reason I wake up every morning. They are the reason why I fight every single day and I make a choice to be positive, to be happy, and to move forward."
Learn more about SurvivorNet's rigorous medical review process.