Vidhi Heiland's Incredible Henna Crowns
Vidhi Heiland, owner of Essential Henna by V in Topeka, Kansas, donates henna crowns for women who have lost their hair during chemotherapy.
Heiland tells SurvivorNet that she decided to donate these designs as a way to give back to those going through difficult experiences, and has met wonderful people from it.
While creating these crowns, Heiland's main mission is to empower women and lift their spirits
Coping with hair loss can be the most difficult part, emotionally, of going through cancer treatment, and for some women it's hard to feel beautiful. While there are resources to make the transition easier, one young woman has found a creative approach in using her talents as a way to give back to the people who need it most.
"I have always known that I wanted to give back somehow, but I wasn't sure how I wanted to do it," Vidhi Heiland tells SurvivorNet.
Read More
Vidhi Heiland, 27, has been practicing henna since she was just 12-years-old, and at the age of 18 created her own local business
Essential Henna by V based in Topeka, Kansas
. Henna artists are known for their meticulous and beautiful line work — creating one-of-a-kind masterpieces, usually on the hand or foot, that may only be temporary, but make an impression that lasts a lifetime. However, in 2017, one of Heiland's clients opened up about her previous cancer journey and the experience of losing her hair while undergoing chemotherapy, commenting that she wished she had come to get a henna design on her bald head. From there, Heiland was inspired.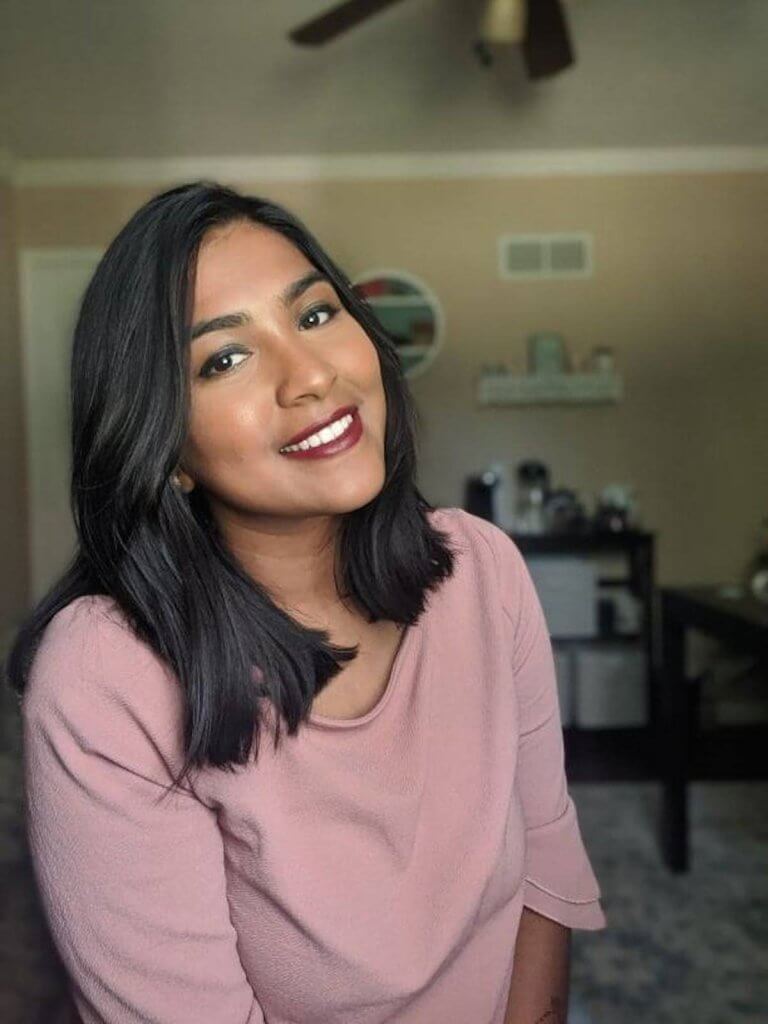 Related: If You're Looking For Ways To Deal With Hair Loss During Cancer, You're Not Alone
"I just fell in love with that idea," says Heiland. "I looked up designs online and found the term 'henna crowns,' and all of them were so inspiring that I decided I wanted to donate henna crowns to anyone who had lost their hair due to undergoing chemo. Henna has helped me through many difficult things in my life, and I hope that it can also help others too."
For these crowns, which can last up to two weeks, Heiland has created her own special lavender blend for the henna paste, taking into account how areas such as a bald head can be especially sensitive to the typical henna paste which uses eucalyptus. In Heiland's work, her main mission is to not only make her clients happy, but help them feel at ease.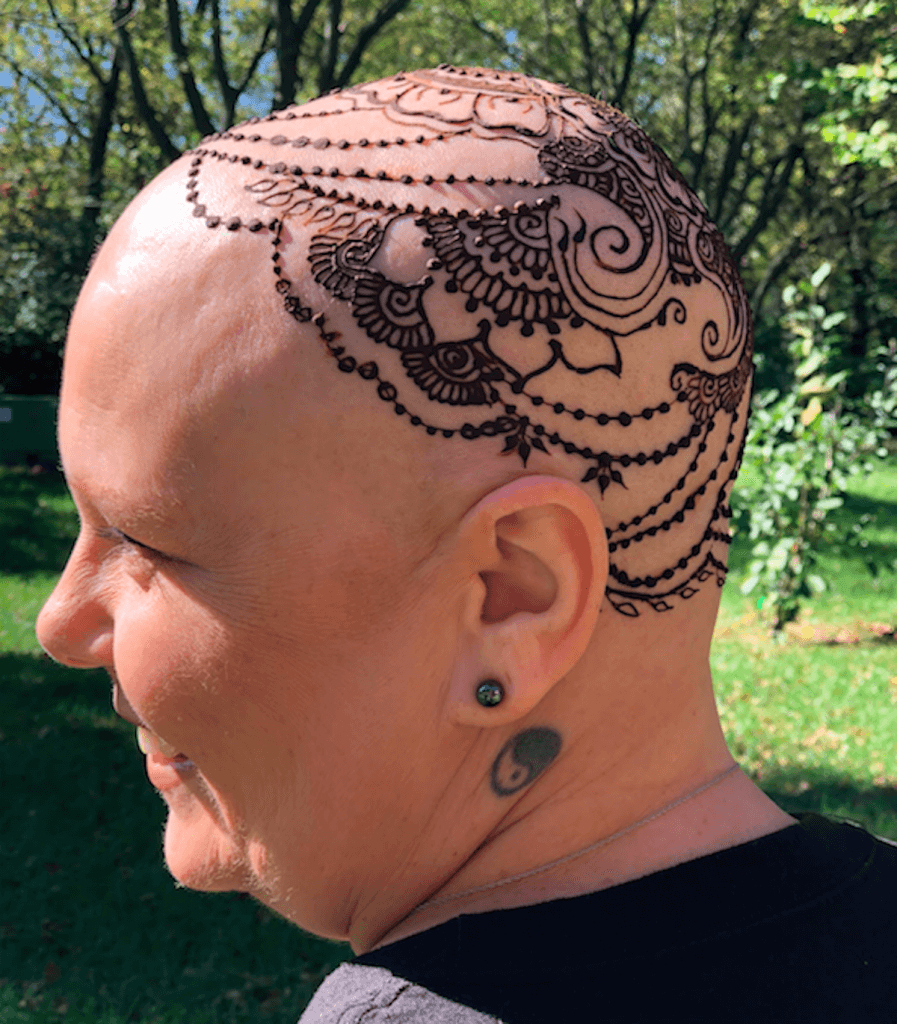 Related: 'Acknowledging the Grief' – Losing Your Hair During Chemotherapy
So far, Heiland has done about seven henna crowns since 2017, but says people will regularly drop by to talk to her about the designs as an alternative to hats or wigs in anticipation of losing their hair. All of Heiland's henna crown clients have been women, but she points out she's open to anyone coming in for an appointment. Not only has Heiland been able to meet incredible people through this process, but the most rewarding moments have been seeing women instantly feel empowered after the final product is revealed.
"I have met many wonderful ladies, and through these henna crown sessions not once did I hear about them feeling down about losing their hair," Heiland says. "In fact, they had all accepted the fate and wanted to give a henna crown a try to boost their confidence. Henna provides me great comfort and I wanted to do the same for them by providing a sense of empowerment with offering a crown for the queens they are."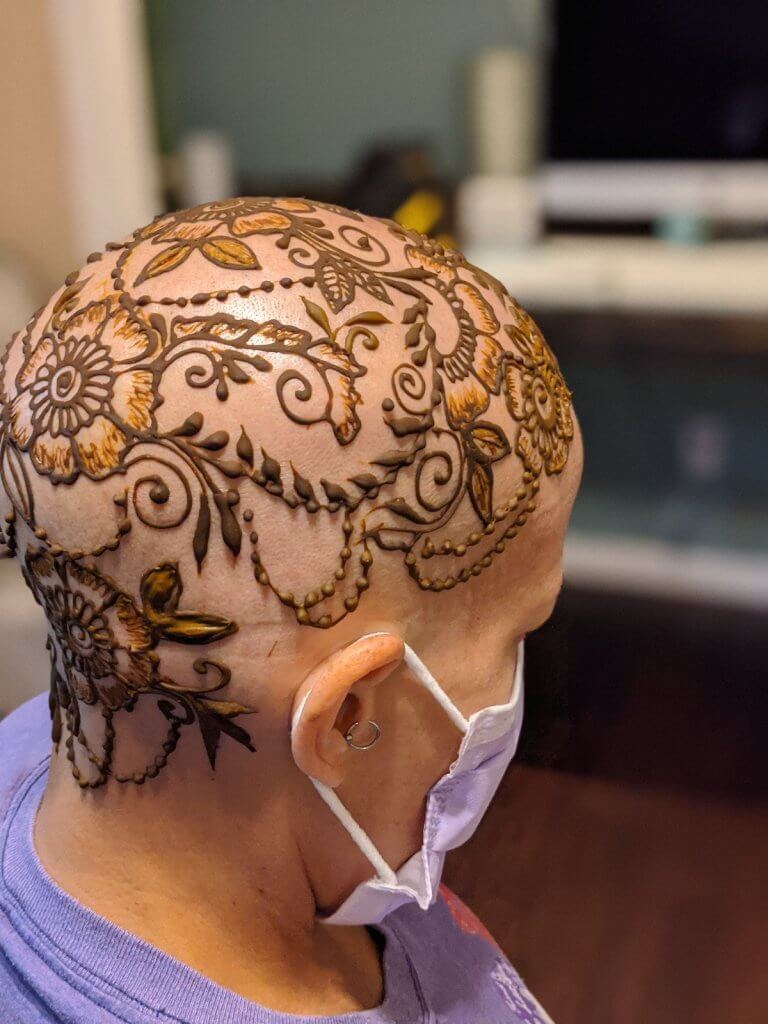 For Heiland, meeting these brave women and hearing their stories has been nothing but an eye-opening and grounding experience. Knowing these women are facing, or have already faced, one of the toughest challenges of their lives, it's important to Heiland that her henna crowns lift their spirits and bring a smile to their faces.
Related: A Celebrity Stylist's Guide to Looking Good When You're Not Feeling so Good
"To me, my hair means a lot, and I cannot imagine someone going through such difficult times and losing their hair," Heiland says. "I just can't stand the thought of  them feeling lost, sad, or worried. From the beginning of the session you can almost feel a tension, because the client is not sure what to expect. Luckily, so many ladies trust my talent, let me create something, and wait to see the finished product. At that moment, we both feel a raise in energy and happiness. I'm happy that they're happy with what I have created for them. I can definitely see spirits have been lifted after the session, and I am thankful to be able to offer that."
Dr. Yvette Williams-Brown explains what cancer patients can expect when it comes to hair loss
Learn more about SurvivorNet's rigorous medical review process.