Resilience Through Disease
Justine Martin was diagnosed with multiple sclerosis at 40. She also battled three different cancers.
She knew she couldn't let these diseases take over her life, so the resilient mom reinvented herself as an artist.
In MS, which is a disease of the brain and spinal cord, a person's immune system attacks the protective layer of nerve fibers (myelin); the breakdown triggers communication issues between your brain and the rest of your body.
The symptoms of MS include fatigue, loss of balance, vision problems, pain, and numbness or weakness in one's limbs.
Our experts love to see survivors finding joy and purpose in activities as they learn to cope with their new normal.
Justine Martin has had to deal with a lot. Not only is she facing multiple sclerosis (MS), a potentially debilitating nervous system disease, but she has also battled three different cancers. She knew she couldn't just sit there and let the diseases take over her life.
So, despite the physical pain she was now living with, she reinvented herself as an artist — an incredible story of resilience that survivors can find inspiration in.
Read More
"Out of every adversity, there is always something positive, even if at the time you can't see it," she told SurvivorNet.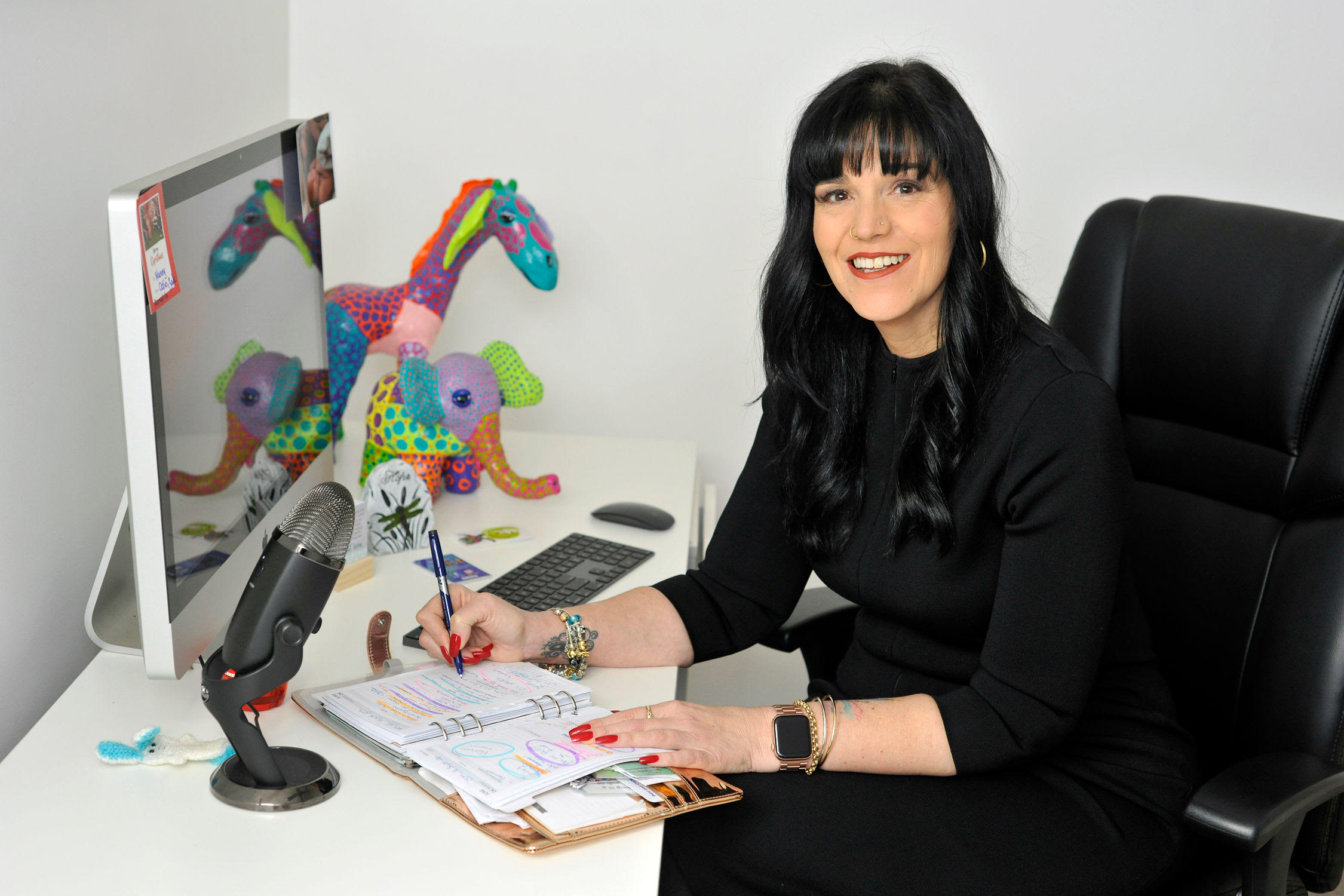 Justine Martin's Story
Martin was only 40 years old when she was diagnosed with multiple sclerosis (MS), a disease that causes debilitating fatigue and pain and can potentially lead to disability. Since then, she has battled a series of medical crises – including three primary cancers – and is now motivating others with her message of resilience.
Martin, who lives in Australia, was thriving in the corporate world, working in the weight loss industry, and raising her children, when she became ill.
"Something was wrong with my vision," Martin explained in an interview with SurvivorNet. "It was like someone had smeared Vaseline over my eyes, and then my face had pins and needles around my forehead."
Unable to pinpoint what was happening, she sought medical advice and – through a series of tests – discovered she had Remitting Relapsing MS, known as RRMS.
The National Multiple Sclerosis Society explains that RRMS, the most common course of the disease, is marked by clear attacks of new symptoms, which can range from numbness in a limb to sudden pain to vision problems.
"These attacks are also called relapses or exacerbations. They are followed by periods of partial or complete recovery, or remission," explains the NMSS.
View this post on Instagram
It took six months for Martin to get the diagnosis of RRMS, during which time her symptoms only worsened. She experienced a lot of pain and lost the ability to lift her left arm.
"I couldn't count anymore or do two things at once," she added.
The disease made her unable to continue in her job, leaving Martin feeling isolated and depressed at the shocking turn in her life.
A Series of Battles
During the years since her MS diagnosis, Martin, who is now 52, faced even more battles: heart surgery and three primary cancers.
She developed melanoma, the most dangerous skin cancer, on her leg. She also had chronic lymphocytic leukemia, which is the most common leukemia in adults and a disease that affects certain white blood cells in the bone marrow.
And then small lymphocytic lymphoma, a related disease, also struck Martin.
According to the National Cancer Institute, "Chronic lymphocytic leukemia (CLL) and small lymphocytic lymphoma (SLL) are the same disease, but in CLL cancer cells are found mostly in the blood and bone marrow. In SLL cancer cells are found mostly in the lymph nodes."
Martin went through her varying courses of treatment for the cancers, all while suffering from relapses in her MS.
It was a brutal challenge to fight cancer while also dealing with a chronic illness.
Finding Strength
How has Martin persevered despite such adversity? She cites, first of all, her close family relationships.
"Having my children and grandchildren helps me move forward, building a better life for them," she told SurvivorNet.
She was also determined to find a way to be productive, to contribute to her community, and to grow as a person, despite the pain and fatigue caused by MS.
She had left the corporate world long before, and finding a new purpose was difficult – and not just because of her physical health.
While MS had made her former active lifestyle a challenge, she was suddenly feeling anxious.
"I had huge anxiety issues, which I had never suffered with prior to getting MS," she says on her website JuztArt.
But she knew she had to do something, so she decided to pursue painting, a creative endeavor that had always interested her.
"It took me three months to walk through the door to my first art class," admits.
View this post on Instagram
Healing Through Art
But she did it eventually, and she knew it had been the right decision.
Art, and the whole creative process, changed her life: "I felt like I could express myself without even talking."
Justine calls this "art wellness," and she began pursuing it more steadily. Even though her MS causes her pain and affects her vision, Justine creates art almost every day.
WATCH: Adversity and the Art of Happiness
She studied painting more seriously and soon entered her work in contests; it was not long before she began to win awards across Australia.
She opened JuztArt Studio and offered "art wellness" classes to others with disabilities.
"Helping others achieve their own creative process is very rewarding," she says.
Justine has a lot in common with professional artist Lydia Emily, whose work has been exhibited around the world and who also suffers from MS.
Because MS causes her hands to shake regularly, Lydia Emily ties her paintbrushes to her hands so they don't slip out as she works.
She has worked this way for years, taking 28 pills a day to stave off the pain caused by MS, and then drinking several pots of coffee to offset the drowsiness that is a side effect of the medication.
A Resilience Mindset
Over time, Justine Martin explains, grappling with such a daunting series of dramatic obstacles led her to develop a "resilience mindset" – and others noticed.
In fact, her nickname became "The Queen of Resilience."
"I choose to be positive. Out of every adversity, there is always something positive, even if at the time you can't see it," she told SurvivorNet.
WATCH: How Can Gratitude Lead to a Healthier Mindset?
Justine's new purpose in life was becoming more and more clear. She is currently a sought-after Resilience Coach and is the author of a book. And recently, she launched a podcast, "The Resilience Mindset Podcast," in which she interviews people about their own struggles and how they overcome them and thrive.
"My purpose now in life is to help as many people as I can by showing them that you can overcome adversities and gain resilience," she told SurvivorNet.
"I wanted to share other people's stories from all walks of life, as well as my own to the masses to help them."
Justine Martin had to give up a job she loved because of MS, but since, she has launched new careers as an artist, a coach, an author, and a podcaster. She treasures one thing above all: time.
"Time is the most precious commodity," she told SurvivorNet. "We can't buy it, borrow it or sell it, so be careful about what and who you spend it on."
Learn more about SurvivorNet's rigorous medical review process.
---