The Youngest American in Space is a Cancer Survivor
Hayley Arceneaux, a survivor of pediatric cancer who has dedicated her career to working with childhood cancer patients, will travel to space as a member of the Inspiration4 crew.
Funded and lead by billionaire Jared Isaacmen, Inspiration4 and its all-civilian crew will be in space for about three days before landing in the water off the coast of Florida.
The mission of the trip is to raise awareness and funds for St. Jude Children's Research Hospital, where Arceneaux works as a physician's assistant.
"Yes, yes. Thank you. Please send me into space."
There is no well-established career path for astronauts, but even among those who have traveled to space, Hayley Arceneaux's story is unique.
Read More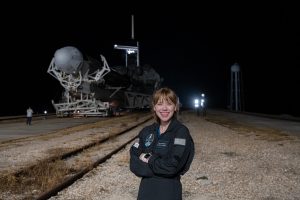 Hayley Arceneaux at the Rollout at Launch Complex 39A.
In an interview published in St. Jude Inspire, Arceneaux recalled the very first email she received hinting at a mysterious new opportunity. "They were being very vague," she said, "and I remember going into it being a little suspicious."
But when Arceneaux sat in on a SpaceX conference call and realized what she was being considered for, she didn't need time to deliberate. After an initial reaction of disbelief, Arceneaux signed on to be sent into orbit around the earth with the world's first ever all-civilian space crew. They are scheduled to take flight Wednesday Sept. 13.
The mission, called Inspiration4, is organized and funded by billionaire Jared Isaacman, founder and CEO of Shift4 Payments. The team also includes a former Air Force pilot who currently works in the aerospace industry, and a geoscience professor and analog astronaut (someone who conducts research in simulated space environments). The three-day trip aims to raise awareness and money for St. Jude Children's Research Hospital.  Here are five things you need to know about the brave cancer warrior and soon-to-be astronaut.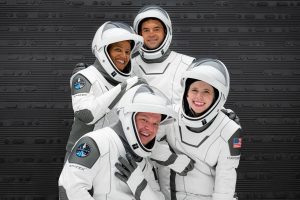 The Inspiration4 team suited up for launch rehearsal.
Her Life Goals Were Inspired By Her Childhood Experience Battling Cancer
Arceneaux had just turned 10-years-old when she began complaining about a pain in her left knee. At first, her family dismissed it as a by-product of Taekwondo training—she and her father had both just earned their blackbelts. But as the pain remained and Arceneaux started limping, they got more concerned. On her first day wearing shorts that year, Arceneaux's mother was alarmed by the egg-sized bump above her knee.
Soon after, Arceneaux was diagnosed with osteosarcoma, the most common type of bone cancer, in her left femur. Arceneaux was treated at St. Jude hospital, where she received a dozen rounds of chemotherapy. Arceneaux credits cancer with instilling in her a profound mental toughness, and an ability to embrace the unexpected, and take disappointments and challenges in stride.
Ever since she was treated at St. Jude, Arceneaux knew she wanted to come back "to wear a name badge instead of a wrist band," she told St. Jude Inspire. Arceneaux set out to be a physician assistant and studied Spanish because many of the families treated at St. Jude are Spanish-speaking. Even after being added to the Inspiration4 team, Arceneaux looks back on receiving the email that she had been hired at St. Jude as "the happiest moment of (her) life."
She Will Be the Youngest American in Space
When she was initially added to the crew, Arceneaux was set to be the youngest person to ever travel to space. On July 20, 2021, however, Jeff Bezos took 18-year-old Dutch student Oliver Daemen (whose father paid for the trip) to space on the Blue Origin flight, which lasted about 10 minutes. Arceneaux will still be the youngest American to travel to space, and that won't be her only excuse for bragging rights.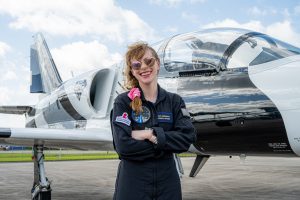 Arceneaux after arriving at Kennedy Space Center.
She Will Be the First Person in Space With a Prosthetic Body Part
When Arceneaux was treated for bone cancer twenty years ago at St. Jude, she underwent a limb-saving surgery. On top of the 12 rounds of chemo she received at St. Jude, Arceneaux had a surgery to remove her knee and part of her thigh bone. The bone was replaced with a titanium prothesis in her left leg. In addition to being the youngest American to travel to space and the first person with a prosthetic body part to exit the earth's atmosphere, Arceneaux will be the first American civilian woman, and the first survivor of pediatric cancer to become an astronaut.
She Loves Traveling Inside the World Too
Arceneaux's commitment to helping patients battle cancer inspired her to major in Spanish for her undergraduate education before earning a physician assistant degree in 2016. Her love for Spanish helped her realize an interest in immersing herself in foreign cultures. A study abroad program Arceneaux went on in Valencia, Spain showed her how rewarding it can be to push yourself outside of your geographic and cultural comfort zone. "I love being immersed in a foreign culture and all the challenges that come with it. For instance, I love being in a place where I don't speak the language or understand the currency. You have to figure a lot out on your own, and it really helps you appreciate the way other people live," she told The Cut. At 29-years-old, Arceneaux has traveled to 21 different countries.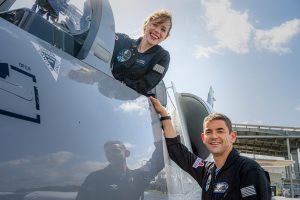 Arceneaux with commander and benefactor Jared Isaacman at Kennedy Space Center.
Her Dreams of Space Exploration Date Back to Childhood
Arceneaux's fascination with the galaxy beyond blossomed on a family trip she took to NASA when she was just 9 years old. Traveling from their small hometown in Louisiana to Houston, the Arceneaux family was captivated by the space complex, and when she saw where the astronauts trained, Arceneaux knew what she wanted to do with her life. Her dreams of becoming an astronaut were put on hold, however, when Arceneaux was diagnosed with cancer just a few months later.
She hopes her story will inspire kids who fight the same battles that she fought as a child today. She talked about one way she will work to make this happen: "While we're up there, we're also going to call a current St. Jude patient on a video call. I think that's going to be a really special moment, where we can show them what their future can look like. Kids are so visual, and if they see somebody that was just like them, who recovered from cancer and is now in space floating around a rocket ship, they're gonna know that they can do that too." Arceneaux wants her story to help kids imagine life after cancer, and to inspire them to keep fighting.
Arceneaux's Journey with Bone Cancer
Though it is 20 years in the past, Arceneaux still remembers vividly how earth-shattering her cancer diagnosis was for her family. "We just all burst into tears. I was with my two parents, and I just said, 'I don't want to die.'" Arceneaux's father quickly zeroed in on St. Jude, and the family was in the car driving to Memphis to visit the hospital within days.
Arceneaux's treatment plan included a dozen doses of chemotherapy, planned around a surgery that removed her knee and thigh bone. Speaking to St. Jude Inspire, Dr. Michael Neel, the surgeon who operated on Arceneaux, recalled that the placement of the tumor created complications. He said, "Her tumor was in the end of the thigh bone, just above the knee joint all the way to the knee joint, so it involved the growth plate." Because the tumor interfered with Arceneaux's growth plate, Dr. Neel had to use a new kind of prosthesis that could be expanded remotely—a process that has been improved in the years since, but could be extremely painful for patients at the time. Because of her prosthesis, Arceneaux needed to undergo significant physical therapy to re-develop her muscles and balance.
Understanding Sarcomas
According to the American Cancer Society, osteosarcoma is the most common cancer that starts in the bones, and it develops most frequently in young people. Osteosarcoma cells are similar to immature bone cells, but the bone tissue in these masses is not as strong.
Broadly, sarcomas are cancers that form in the bones or in soft tissues. The National Cancer Institute estimates that about 12,000 soft tissue sarcoma cases and 3,000 bone sarcoma cases will be diagnosed annually in the U.S.
In a previous interview with SurvivorNet, Dr. Dale Shepartd of the Cleveland Clinic department of hematology and medical oncology noted that a key challenge with sarcomas is that they do not always produce the kinds of symptoms that are more common in other cancers. They are painless and slow growing masses, making them possible to overlook until they reach late stages of development.
"Soft tissue sarcomas are typically painless. Bone sarcomas may be mistaken for orthopedic injuries. A mass the size of a golf ball or larger and growing should be evaluated as a potential sarcoma. Patients who do have symptoms mustn't be dismissive of them," said Dr. Shepard. Because sarcoma tumors do not always cause pain, they are often allowed more time to grow, leading to the tumors to be larger by the time they are diagnosed.
Learn more about SurvivorNet's rigorous medical review process.
---