Elton John's Last Performance: 'The Final Song'
Legendary music icon, Elton John, 75, is closing out his final North American performance with the "Elton John Live: Farewell from Dodger Stadium" special on Disney+.
The singer is a prostate cancer survivor; he was diagnosed with prostate cancer in 2017 and treated it with surgery.
Prostate-specific antigen (PSA) tests screen for this disease; men with an average risk of the disease should begin screening for it at age 50.
Elton John, 75, the iconic musician behind "Tiny Dancer" and "Bennie and the Jets," among many other hit songs, is playing his last North American concert at Dodgers stadium in Los Angeles on November 20. The music legend is also a survivor of prostate cancer and a symbol for why it's important to get screened.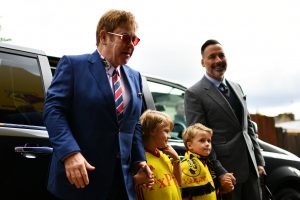 Elton is currently on his farewell tour, Farewell Yellow Brick Road, and recently shared with the crowd this would be his final tour citing his age and wanting to spend more time with his kids.
Read More
The British superstar is married to husband David Furnish, 59, and the two have two children together, Elijah Joseph Daniel Furnish-John and Zachary Jackson Levon Furnish-John.
His latest album, The Lockdown Sessions, which was released in 2021 and reached #1 in the UK, is his 32nd studio album. The album includes hits like "Cold Heart" with pop star Dua Lipa and other star-studded collaborators, such as Young Thug, Nicki Minaj, Miley Cyrus, Yo-Yo Ma, Lil Nas X, Eddie Vedder, Stevie Wonder, Stevie Nicks, Glen Campbell, and more.
Dua Lipa, Kiki Dee and Brandi Carlile will join him on stage during the final performance at Dodgers stadium, according to a release by Disney+. The hour long special "will feature legendary moments from Elton John's career and include a live simulcast of Elton John's final song and closing remarks during his last performance," it said.
Elton's Journey With Prostate Cancer
Elton was diagnosed with prostate cancer in 2017, and subsequently was treated with surgery to remove his prostate. Though the surgery was successful, it led to complications and ten days after his procedure John got an infection.
John later revealed he spent 11 days in the hospital fighting for his life.  "I didn't really know how close to death I was," John wrote in his autobiography Me. "I was ill because I kept saying, 'Please let me get well. I want to see my kids.' But I had tubes coming out of every part of my body, and it took me seven weeks to recover from that when I went home."
But after the iconic singer recovered, he didn't let cancer slow him down – he continued on with his touring.  John even admitted that he wore a diaper while performing on stage after his operation.
"If only they knew," Elton said in a 2019 interview with Graham Norton for the BBC, referring to the audience members, "at that moment I was pissing myself."
Elton's diagnosis and then near-death experience led him to decide that this would be his final tour.
"It was like being shown a different life, a life I realized I loved more than being on the road," Elton wrote in his book. "Music was the most wonderful thing, but it still didn't sound as good as Zachary [his son] chattering about what had happened at Cubs or football practice."
Prostate Cancer Screening
Elton's diagnosis is a reminder for men 50 and over to get screened. Prostate cancer is typically detected via prostate-specific antigen (PSA) tests. This screening test measures PSA in the blood, which may indicate the presence of prostate cancer. For men with an average risk of prostate cancer, it's advised by the American Cancer Society (ACS) to begin screening at 50 for the disease; men with an elevated risk of developing prostate cancer should start screening at 45.
The PSA Blood Test and a Rectal Exam are Vital for Prostate Cancer Screening
Dr. James Brooks, a urologic oncologist at Stanford Medicine, said in an earlier interview that this is a slow-growing cancer. "Prostate cancer, even when aggressive, is typically slow-growing," he says. "So the possibility that it could become fatal past the age of 70 is quite low. Still, whether you continue to screen past age 70 is completely up to you and your doctor. In prostate cancer, there are sometimes differing viewpoints and this is one of those times."
"However, if you are at high-risk (meaning you have a family history or are African-American) many doctors say you should have an initial screening well before 50–some recommend starting at age 40–because the risk is about two to three times higher than average," says Dr. Brooks.
Signs and Symptoms
Dr. Edwin Posadas, Director of Translational Oncology and the Medical Director of the Urologic Oncology Program at Cedars-Sinai, warns prostate cancer is an odd disease because "it doesn't have a particular symptom."
However, there could be changes surrounding urinary function that might be a clue. Are you urinating too much or too little or are waking up at night to go more than usual? These signs could potentially be cancer, but they also could be a urinary tract infection or even an enlargement of the prostate gland (which is not cancer).
There's No One Definitive Symptom for Prostate Cancer, But There Are Clues
"Looking at your urinary health, your sexual health, yeah, those are very important," said Dr. Posadas. "And if you're noticing things are different, bring it to your doc, mention it as part of your annual physical to make sure that at least he's thinking about whether or not you're at risk for prostate cancer."
During your regular annual exam, ask about your risk for developing the disease, report any unusual urinary or sexual issues and find out whether you should be tested.
A Treatment Option: Surgery
For Elton and for others, surgery might be the best option for your prostate cancer depending on the stage.
Removing your prostate is "a big operation," said Dr. Stephen Freedland, Director of the Center for Integrative Research in Cancer and Lifestyle at Cedars-Sinai.
The goal of the surgery is to completely remove the cancer. This can be done with traditional open surgery, laparoscopy or robotic-assisted surgery (which is becoming the norm).
"It's probably a good month or so until you're getting back to yourself," Dr. Freedland warns. And just because it is done robotically "doesn't make it any less of a big operation."
With assistance from Joe Kerwin and Anne McCarthy
Learn more about SurvivorNet's rigorous medical review process.
---