A Special Halloween
A 7-year-old Jeopardy super fan dressed up as Alex Trebek for Halloween, and the host gave him a special shoutout on Facebook in gratitude.
Trebek is currently battling pancreatic cancer, one of the most difficult types of cancers to treat.
Experts tell SurvivorNet that it's important cancer patients find things that make them happy.
As Alex Trebek, 80, battles
pancreatic cancer
, he got a very special Halloween surprise courtesy of a very young 
Jeopardy! 
fan. Evan Jenkins, a 7-year-old from Hopewell, Virginia, pulled out all the stops to dress as the iconic trivia game show host, and the little boy's creativity is inspiring.
Evan's parents, Jarred and Erika, describe him as one of Trebek's biggest fans, and likely the youngest. They've been watching Jeopardy! since Evan was a baby, and the tradition never stopped over the years. According to Erika, Evan claps every time the show's theme song comes on, and so this Halloween Evan wanted to give a special 'thank you' to the beloved host. For his costume, Evan sported a white wig, dress shirt, and tie and his parents helped him design the Jeopardy! set featuring a podium and the question board Trebek always stands in front of.
Read More
Related: "Jeopardy!" Viewer Says Alex Trebek 'Saved His Life' After He Caught His Pancreatic Cancer Early Thanks to Trebek Talking About Symptoms
"We just want to say, thank you, Alex, for what you do, " Jarred tells 8News. "You have touched our family's lives. You bring our boy hope, you bring him a smile, and we appreciate that. Alex, we love you."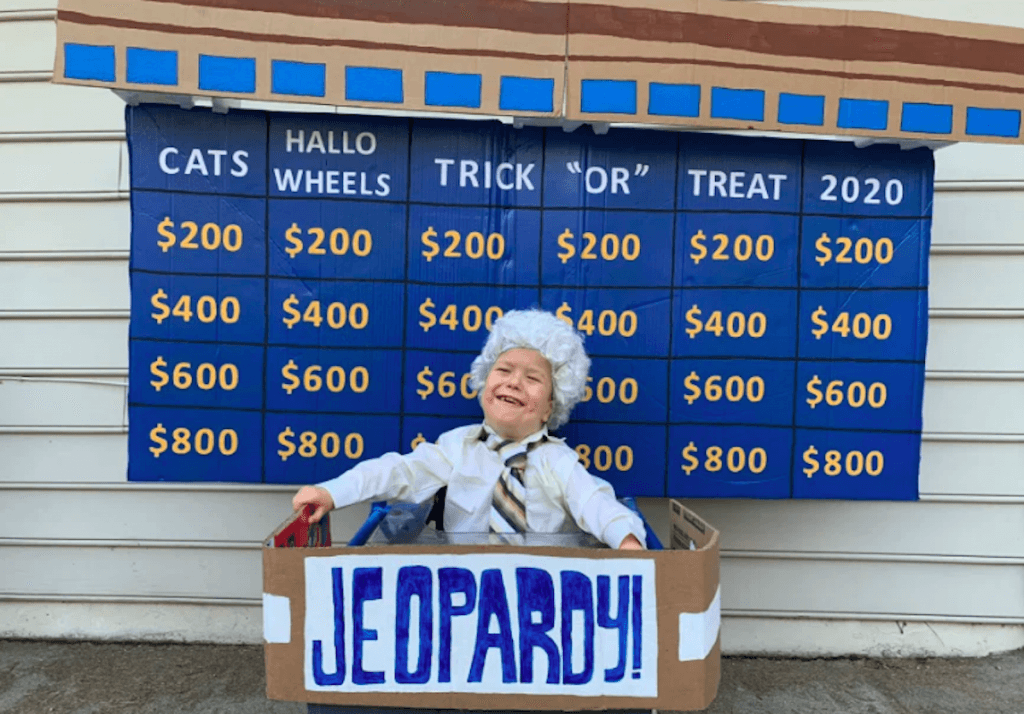 For Evan, this is certainly a very special moment. He lives with an undisclosed disability, and is currently non-verbal and relies on a wheelchair to move around. However, whenever he sees Trebek on his TV screen, a huge smile immediatly lights up his face. "As soon as Alex starts talking, Evan smiles and I think that's something special," Jarred says.
Evan's costume caught the attention of Trebek, who was so flattered and touched by the sweet tribute that he took to the Jeopardy Facebook page to give Evan a very special shoutout. "Evan, seeing you in your costume made my day. Thank you for making me smile, and I hope you have a safe and happy Halloween!" Trebek wrote.
A note from Alex: Evan, seeing you in your costume made my day. Thank you for making me smile, and I hope you have a safe and happy Halloween! 🎃

Posted by Jeopardy! on Wednesday, October 28, 2020
Alex Trebek's Pancreatic Cancer Battle
Trebek has been battling stage 4 pancreatic cancer since February 2019, and Evan's costume is sure to have brought a little positivity as he pushes through treatment. Pancreatic cancer is known as one of the most difficult types of cancers to treat, and 80% of diagnoses are caught in later stages since symptoms don't present themselves until the disease has already spread. Currently, the five-year survival rate of pancreatic cancer patients is just 9%, but Trebek continues to thrive as a cancer warrior.
The reason why pancreatic cancer is so hard to treat is because of the stroma — a barrier around cancer cells which prevents medications, such as chemotherapy and radiation, from targeting and killing these cells. If these cells continue to grow, then the disease will continue to progress.
Related: Fashion Icon Karl Lagerfeld Died of Pancreatic Cancer – Soon To Be The Second Leading Cancer Killer in The U.S.
"Think of pancreatic cancer as an oatmeal raisin cookie and the raisins are actually the cancer cells, and the cookie part is actually all the stroma around it," Dr. Allyson Ocean, a medical oncologist at Weill Cornell Medical Center, tells SurvivorNet. "And imagine having to navigate through all that stroma for a treatment to be able to get into a cell to kill it. So that's why the treatments just really aren't good enough to penetrate the cancer. But we're improving, we're getting better treatments."
Dr. Allyson Ocean explains why pancreatic cancer is so hard to treat
Embracing Moments of Happiness
During cancer treatment, it can be hard to focus on anything except your treatment. However, it's important to take a moment and focus on something that makes you genuinely happy. In Trebek's case, Evan's special Halloween surprise hopefully took his mind off of his pancreatic cancer battle for just a moment. For others, pockets of joy can range from a walk in the park, catching a movie, or simply spending time with loved ones. No matter what it is, studies have proven that patients who are able to stay positive show more successful treatment outcomes. So, your emotional health is directly linked to how you can push through treatment.
"We know from good studies that emotional health is associated with survival, meaning better quality of life is associated with better outcomes," Dr. Dana Chase, a gynecologic oncologist at Arizona Oncology, tells SurvivorNet. "So working on your emotional health, your physical well-being, your social environment [and] your emotional well-being are important and can impact your survival. If that's related to what activities you do that bring you joy, then you should try to do more of those activities."
Related: Mom of 5 Dances Through Acute Myeloid Leukemia Treatment in Hospital Isolation: "Choosing To Stay Happy Through This"
Dr. Chase says she encourages her patients to make a list of the top 10 things that make them happy, and push them to try to keep doing them. It doesn't have to be every day, but often enough so they don't lose sight of those very important happy moments.
Dr. Dana Chase explains why it's important to find pockets of joy during cancer treatment
Learn more about SurvivorNet's rigorous medical review process.