Crucial Safety Information-- Protect Your Skin
Julie Elrod, 56, was an avid user of tanning beds until she discovered a spot on her forehead that wouldn't go away. She was diagnosed with two types of skin cancer: basal cell carcinoma and squamous cell carcinoma.
The mother-of-two is now sending out a message to others to stop using tanning beds; She called the tanning habits the "biggest mistake of her life."
SurvivorNet experts warn against using tanning beds because they increase your risk of skin cancer "exponentially."
The first type, basal cell, is the most common, and squamous cell is slow-growing and typically not life-threatening.
Julie Elrod, 56, started going to the tanning bed from the age of 24, going twice a week, until she found a scab on her forehead that wouldn't go away. It turned out to be two types of
skin cancer
: basal cell carcinoma and squamous cell carcinoma.
The mother-of-two faced an extremely painful treatment regime and is now urging others who go to tanning beds to stop immediately before they have to experience what she went through.
Read More
RELATED: 'Tan Mom' In Headlines: Her Story Reminds Mothers to Teach Their Teens About Tanning Cancer-Risk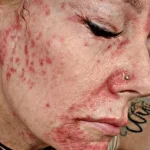 "It was painful, it was probably one of the most painful thing I've ever been through and I would not wish that pain on anybody, that's why I try and warn people now," Elrod
told
The Sun
.
"They will kill you and ruin your life and your face," she continued.
Elrod's Skin Cancer Journey
Elrod, who lives in Florida, was 36 when she was diagnosed with basal cell carcinoma and squamous cell carcinoma, which are the most common types of skin cancer. It starts in the top layer of skin and is often related to sun exposure, according to the American Cancer Society. They are also sometimes called nonmelanoma cancer.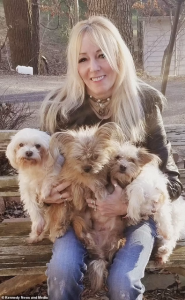 "I spent every second I could in the sun and it was the biggest mistake of my life," said Elrod.
She told The Sun she had roughly "eight surgeries, light therapy to try and kill the cancerous cells followed by more surgeries, before she started using the chemotherapy cream."
Elrod's surgeries left her with 700 stitches and large scars on her face, some being almost four inches, according to The Sun.
"The doctor said I'd like you to go on this chemotherapy topical cream – nobody could have prepared me for what I was about to experience," said Elrod.
"It is so painful," she explained. "You basically burn your face off every day for a month."
Now, Elrod puts on sunscreen religiously and is very aware of any lesions that appear on her body. She visits the dermatologist every six months to get checked out.
"If I can get other people to stop and see that it's not beautiful – you might think it's beautiful looking all tanned but eventually there's a darn good chance statistically that this is going to happen," said Elrod.
"I'd say I've now embraced my paler complexion and I see tanned people now and just think it's stupid, as I just look at the sun in a completely different way," she continued.
The Dangers of Tanning Beds
If you're considering visiting a tanning bed, we highly suggest you think again. Just one indoor tanning session can increase the risk of skin cancer — melanoma by 20%, squamous cell carcinoma by 67% and basal cell carcinoma by 29%, according to the American Academy of Dermatology.
When you hop into a tanning bed, you are exposing yourself to the very same dangerous rays you expose yourself to outside, but those rays are only 6-8 inches away. And in a study recently published in Cancer, a peer-reviewed journal of the American Cancer Society, researchers suggested that banning tanning beds among minors would prevent thousands of cases of melanoma in adolescents, along with millions of dollars in health care costs.
So, even if the temptation of achieving a nice "glow" seems irresistible, you should note that health experts warn against using tanning beds.
Tanning Salons Pose a Big Risk of Melanoma
Dr. Anna Pavlick, an oncologist specializing in skin cancer at Weill Cornell, explained to SurvivorNet that tanning beds increase your chances of skin cancer "exponentially."
"We know there is a direct correlation with (melanoma) patients who go to indoor tanning salons," Dr. Pavlick said, noting that the exposure "is about 6 inches from your body."
The sun is millions of miles away when you're on a beach, "so you have to think of the intensity that you're exposing your skin to when you go to a tanning salon," she added.
Paying Attention to Your Skin
Keeping an eye on the moles or growths on your skin is an easy way to keep an eye out for melanoma. Changes to a mole you've had for a while or developing a new growth you don't remembering having on your skin could be signs of this cancer, according to SurvivorNet's experts.
Examining Your Skin for Melanoma Remember ABCDE
Dr. Cecilia Larocca of the Dana-Farber Cancer Institute gives SurvivorNet an overview of things to look out for with moles using the ABCDE self-screening method:
Asymmetrical moles: "If you drew a line straight down the center of the mole, would the sides match?"
Borders that are "irregular, jagged, not smooth." It can also stand for bleeding.
Colors: "Multiple distinct colors in the mole."
Diameter: "Larger than 6mm, about the size of a pencil head eraser."
Evolution: "This may be the most important," she says. "Anything that is changing over time such as gaining color, losing color, painful, itching, hurting, changing shape, etc."
Spots on our skin are often harmless, but it's still important to keep an eye on them and reach out to your doctor if you see any changes or find a growth anywhere on your skin that looks suspicious.
Protecting Yourself from Melanoma
Ninety percent of melanomas are caused by ultraviolet radiation from the sun. This means excessive time in the sun – even as a child  – puts you at a higher risk.
Top 5 Ways to Protect Your Skin From Skin Cancer
In a previous interview with SurvivorNet, Dr. Dendy Engelman from MDCS Dermatology in New York shared the top five things you can do to avoid skin cancer:
Avoid sun during peak hours, which is 10 a.m. to 2 p.m.
Wear a wide brimmed hat and sunglasses to protect the tops of our heads, the tops of our ears and the delicate area around the eye.
Wear at least SPF 30 sunscreen and make sure to reapply every two hours or after excessive sweating or swimming.
Have yearly skin checks (with a professional), because it's difficult to evaluate areas all over the body.
Avoid tanning beds. There are no "good" tanning beds, and they can significantly increase your risk of melanoma.
Contributor: SurvivorNet Staff
Learn more about SurvivorNet's rigorous medical review process.
---