Staying Busy During Cancer Treatment
Freya Harris is an 8-year-old childhood cancer warrior who trained her dog Echo during treatment. They're now competing at the world-famous Crufts dog show.
Freya's work with Echo and goal to be in the dog show gave her a reason to keep fighting. One of our experts says emotional health is associated with with better cancer-related outcomes.
The American Cancer Society estimates about 9,910 children in the United States under the age of 15 will be diagnosed with cancer in 2023.
There is still a lot of work to be done in research for childhood cancer, but one of our experts shared a sentiment of hope: "There are also targeted treatments and different immunotherapies that have been studied in adults and have now moved into clinical trials for children."
Freya Harris, 8, didn't spend her time in cancer treatment focusing on her illness. She spent it training her best pal named Echo. And now, the little cancer warrior and her "soulmate" pet are competing in a famous dog show, testing all the hard work they did despite incredible circumstances.
Freya was diagnosed with Wilms' tumor in December 2021. Wilms' tumor, also known as nephroblastoma, is a rare type of kidney cancer that primarily affects children. It's the most common cancer of the kidneys in children.
Read More
Signs and symptoms of Wilms' tumor vary widely, but most children with Wilms' tumor experience one or more of the following signs and symptoms,
according to the Mayo Clinic
:
An abdominal mass you can feel
Abdominal swelling
Abdominal pain
"We didn't know the extent of it yet or how bad it was it was and then it was confirmed stage four, she had her kidney removed, had lung surgery on both lungs, chemo treatment for an entire year so far and radiotherapy, you name it,"
her mother, Gemma, explained, according to the Daily Mail
. "She's had a very rare side effect from the chemo as well, which caused internal organ failure, which luckily, she managed to pull through." But through all the ups and downs, Freya has had her beloved Australian shepherd, Echo, by her side. Not only has Echo given Freya emotional support, she's also given her a reason to keep fighting.
"I know that people use the term soulmate or the heart dog or whatever, but Echo has just clicked with Freya. She knows that's her mum," Gemma said. "It has helped [Freya] get out nearly every day walking, it has given [her] a goal to focus on, and doing things [she] has never done before."
Freya could not be more grateful for Echo. It's no secret that dogs are empathetic creatures and can serve as great emotional support animals, but Echo reads Freya's every emotion as if it were a spoken command.
"So it depends on my mood, so if I am having a bad day, she will have a bad day with me, she will snuggle up on the sofa with me," Freya said. "If I go and play out, she will go play with me. It depends on my mood, that is her mood."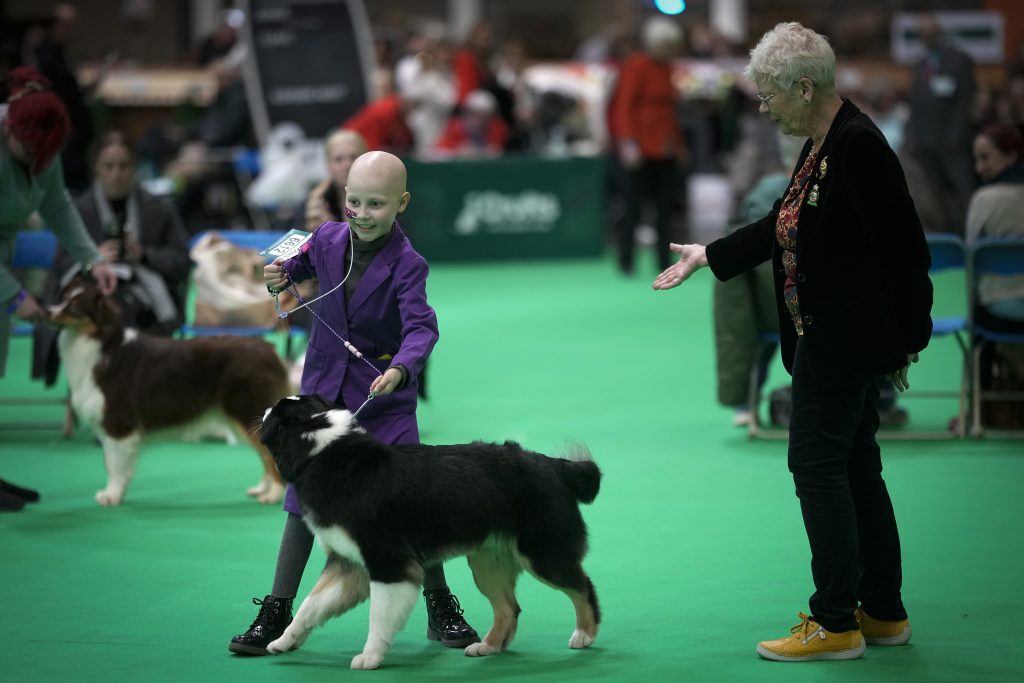 A lifelong fan of the Crufts, a world-famous international dog show held annually in the United Kingdom, Freya knew she wanted to compete someday. So, she's been training with Echo ever since she picked her out from the breeder.
"Echo really enjoys whatever she's doing with Freya. So it doesn't matter if she was curling up on the sofa or showing off, she loves it," Gemma said. "She loves the attention that she gets from it. She's a working breed anyway so she needs that extra stimulation as it goes to keep her happy, so she loves it."
Miraculously enough, the dynamic duo qualified for Crufts in their first ever competition together. But that qualification almost didn't happen because of Freya's treatment.
"She had to have a massive transfusion that lasted for about six hours," Gemma explained of the night before the Crufts qualifier. "We didn't get back home until the early hours of the morning, which was the same day as the show, but she was adamant, 'We're not staying at home, we're going.'
"It was an absolute whirlwind of a day, she was just absolutely buzzing to get in the ring, and it wasn't until after the show finished that we told her that she had qualified for Crufts… That's when she was screaming and jumping around with joy and nearly crying with how excited she was."
Pet Therapy Can Really Help During Cancer Treatment: "It Takes Me Out of My World"
Freya is now competing at Crufts and excited to be around so many dog lovers. Her participation is nothing short of an inspiration for cancer warriors — kids and adults alike.
"It's all about the participation," she said. "It doesn't matter if you win – it is just about trying."
Keeping Busy During Cancer Treatment
Freya refused to let childhood cancer put a pause on her dreams. And her story serves as a great reminder that cancer treatment doesn't necessarily have to stop you from doing what you love. In fact, experts recommend quite the opposite. Studies have shown that people who are able to stay positive often have better treatment outcomes.
Dr. Dana Chase, a gynecologic oncologist at Arizona Oncology, recommends her patients do whatever makes them happy.
Dr. Dana Chase encourages those facing cancer to find moments of joy during treatment
"We know from good studies that emotional health is associated with survival, meaning better quality of life is associated with better outcomes," Chase told SurvivorNet in a previous interview. "So working on your emotional health, your physical well-being, your social environment [and] your emotional well-being are important and can impact your survival.
"If that's related to what activities you do that bring you joy, then you should try to do more of those activities."
Understanding Childhood Cancer
Finding out that your child has been diagnosed with cancer is heartbreaking. But know that it's extremely unlikely there is anything you or your child could have done to prevent it.
The American Cancer Society estimates about 9,910 children in the United States under the age of 15 will be diagnosed with cancer in 2023. And though childhood cancer rates had been rising slightly for the past few decades, they have stabilized since 2010.
But treatment advances in recent decades have lead to 85% of children with cancer now surviving five years or more. This is up from 58% from the mid-1970s.
RELATED: Chemotherapy's Long Term Effect on Children: 8-Year-Old Girl Scout Phenom Lilly Bumpus Beat Cancer as an Infant But Still Deals With Brutal Treatment Side Effects
The Impact of a Childhood Cancer Diagnosis on the Whole Family — Jayne Wexler Shares Her Story
Still, according to the National Pediatric Cancer Foundation, more than 95% of childhood cancer survivors experience significant health-related issues by the age of 45 because of the current treatment options, and only 4% of the billions of dollars the government spends each year on cancer research is directed towards treating childhood cancer in the United States.
Dr. Elizabeth Raetz, director of pediatric hematology and oncology at NYU Langone's Perlmutter Cancer Center, reminded us in a previous interview that there is still reason for hope.
"There are also targeted treatments and different immunotherapies that have been studied in adults and have now moved into clinical trials for children and there has been a great deal of excitement in the community about that," Dr. Raetz told SurvivorNet.
"I Try To Stay Strong, But Sometimes You Need To Cry": Playing The Role of Cancer Caregiver and Mom
Learn more about SurvivorNet's rigorous medical review process.