One Relapse After Another
Riley Osmon was diagnosed with acute lymphoblastic leukemia (ALL) before his second birthday
He underwent chemotherapy and immunotherapy, but his cancer returned four times
It finally took a stem cell transplant to put him into remission
At just 9 years old, Riley Osmon is a survivor. He's overcome cancer not once, but four times. A couple of times along the way, he almost didn't make it. Riley's strength and determination has earned him the nickname, "Mr. Awesome."
Riley's journey started in 2013, when he was just 22 months old. Like his two older siblings (now 11 and 13), his parents had taught him sign language to help him communicate. "The two index fingers touching together is hurt. He would sign hurt a lot," his father, Trent, tells SurvivorNet.
Read More
It was evident from the time when Riley was 6 months old that he had an immune system problem. He had one respiratory infection and sinus issue after another. "You could tell something was not right," his father says.
Strange Fevers
After a backpacking trip with a local church camp, Riley didn't feel well. His fever spiked for no obvious reason. The family took him to the pediatrician, who did a blood test. When the nurse returned with the results, she asked Riley's two sisters to step out of the room. "I thought, this is weird. This may be bad," Trent says.
The nurse told the family to go to Riley Children's Hospital in Indianapolis immediately.
"She said, 'It's leukemia.' From that moment on, it was Charlie Brown's teacher talking. I don't remember anything," Trent recalls.
Tests revealed that Riley had acute lymphoblastic lymphoma (ALL), the most common type of childhood cancer.  "I asked, 'Is this a death sentence?' The doctor said, 'No. With a little luck, we'll get you guys back to normal by a year.'"
Related: 43 Children Are Diagnosed With Cancer Every Day in the U.S. — 90% Survive but That's Not Enough
It seemed they were in luck. About 90% of children with ALL are cured with treatment.
Setbacks
Riley went on chemotherapy. For the first year, he did well — actually, far better than he had been doing. "By putting him on high doses of chemotherapy, we were shutting all those immune responses down. He was feeling better," his mother, Karrie, tells SurvivorNet.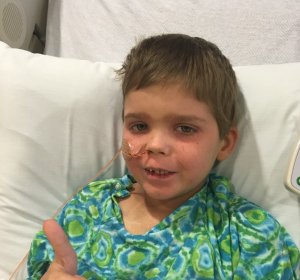 The family had just completed a Make-A-Wish Foundation trip to Disney World and wrapped up Riley's treatment in the winter of 2014, when his immune system started malfunctioning again. "We had an 18-month period where he had 12 pneumonias," Karrie says. "It was awful. We just could not keep him healthy."
Related: "This Is Childhood Cancer": Viral Photo of 4-Year-Old Boy Battling Leukemia Touches The Hearts of Millions While Spreading An Important Message
By the summer of 2016, just as Riley was finishing his maintenance treatment, doctors discovered a few leukemia cells in his spinal fluid. They put him on high-dose chemotherapy plus radiation.
Again, Riley responded well, until he got a fungal infection in his lungs and ended up in the intensive care unit (ICU). Things went downhill. Riley was bleeding internally. His lungs filled up with blood. Doctors had to put him into a coma while a ventilator breathed for him.
At one point, a blood clot lodged in Riley's airways and his heart stopped beating. The ICU staff rushed in to save him. "He essentially coded right there," Trent says. "But they were able to get him back."
A New Relapse, a New Treatment
Riley tried immunotherapy, which helped get his leukemia under control and gave his battered body time to heal. Then he went on radiation treatment.
But by March 2018, he had relapsed yet again. His family took him to Cincinnati Children's Hospital to try a relatively new type of immune-based treatment called CAR T-cell therapy that wasn't available at Riley Children's Hospital.
Dr. Stephen Schuster, medical oncologist at Penn Medicine, explains what makes CAR T-cell therapy such an efficient cancer fighter
For the next year, things looked good. "He was the healthiest he'd been," Trent says. But at a follow-up appointment at Cincinnati Children's, doctors again discovered a large number of leukemia cells in Riley's spinal fluid.
They tried CAR T-cell therapy again, but this time his remission lasted only three months. The day before Thanksgiving in 2019, Riley started his fourth relapse. His cancer had returned with a vengeance.
"We're Going to Lose Him"
The possibility of a stem cell transplant (also called a bone marrow transplant) had been hanging over the family throughout Riley's treatment. Getting very high doses of chemotherapy followed by an infusion of new stem cells to replace the ones that treatment destroyed would be intense, especially for someone who was already so frail after multiple relapses.
"The thought of a bone marrow transplant — not just for us as parents, but for our medical team — was too scary. They didn't think he'd survive it," Karrie says. And so the family embarked on yet another treatment — a new version of CAR T-cell therapy being offered at Seattle Children's Hospital. "We were grasping at straws to find some treatment that would get him into remission but wouldn't be as toxic."
"We were grasping at straws to find some treatment that would get him into remission."
Riley did well at first, but then he started showing signs of neurotoxicity — the result of the CAR T cells affecting his brain. He lost the ability to speak, as well as movement on the right side of his body. His brain swelled, cutting off its own blood supply.
Related: CAR T-Cell Therapy: How it Works, and Who Can Get It
Doctors rushed Riley into the ICU. "It was amazing how quickly he went from 'I think we're going to be ok,' to 'We're going to lose him,'" Karrie says. "If it weren't for the fast-acting medical team, he would not still be with us."
On February 13, doctors gave Riley medicine to cool his body down to 91 degrees Fahrenheit, causing him to slip into a coma. They put him on a ventilator.
"I remember looking at the doc…I looked at her and said, 'He's not going to make it,'" Trent says. "And she said, 'No, he's not.'"
The family kissed Riley and said their goodbyes. Then they watched, and waited.
But Riley didn't die. In fact, over the next few hours, his heart rate gradually increased and his blood pressure stabilized. When the doctors came into his room for their 8 a.m. rounds, they stood in stunned silence.
The little boy no one thought would make it had survived. Over the next two weeks, he gradually recovered. On March 14, Riley was finally strong enough to go home.
Time for a Transplant
Once Riley started to feel better, it was time to consider the family's next move. "We did not want a relapse again," Trent said. "We knew that if a relapse occurred again with Riley, there wasn't another CAR T facility in the world that was going to take him."
They decided to take the risk and go for a stem cell transplant. That's where Dr. Jodi Skiles, medical director of the Pediatric Stem Cell Transplant and Immunotherapy Program at Riley Children's Health, came into the picture.
"I knew that I couldn't treat him the way I could treat any other child walking into a transplant," she tells SurvivorNet. "If we were going to try to treat his cancer with the intent of curing it, I wanted us to be able to look back and say we took our best shot."
Riley had the stem cell transplant on May 1, 2020. While he did have some side effects, and his doctors still don't know what long-term complications the transplant and his other treatments might cause, today he is in remission.
Related: Is a Stem Cell Transplant Right for You?
"He is doing exceedingly well," Dr. Skiles says. "I think his family will always live with the fear that whatever remission he's in is temporary, but from my perspective, we have no reason to believe that he won't be cured."
Light at the End of the Tunnel
When asked how he feels knowing that his son is finally cancer-free, Trent says, "It's hard to put into words the feeling of freedom we have. The light at the end of the tunnel is now visible. There's hope."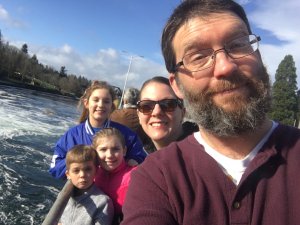 Riley is finally getting to enjoy life as a normal child. He's in the third grade. He enjoys playing video games, and he hopes to be able to invite friends over to his house soon — something he was never able to do when he was sick.
After Riley's successful treatment, the Osmon family wanted to give back to other children with cancer. They helped raise $23,000 to develop a CAR T-cell program at Riley Children's Hospital, so that other kids wouldn't have to travel as far away as Riley did for this treatment. "With the help of Riley's family's donation, we opened the program in six months, in 2018," Dr. Skiles says. "Riley's family was there the day the first CAR T cells were infused. It was one of the coolest moments in my career."
Karrie says her ultimate goal is to raise awareness about pediatric cancer, and to push for better — and safer treatments. "We can't go back and change the path that Riley had to take…but we can help generate more funds and provide better treatment options that have less toxic side effects for other children," she says.
At some point during Riley's cancer journey, his family started calling him "Mr. Awesome" because he handled his treatments like a superhero.
Dr. Skiles has a different nickname for Riley. She affectionately calls him "the comeback kid." "I am certain he has more than nine lives," she says. "He really has defied all the odds."
Learn more about SurvivorNet's rigorous medical review process.