Managing Caregiving Challenges For Kids With Cancer
Deavan Clegg, a former star of the realty TV show 90 Day Fiancé, rushed her son, who is battling leukemia, to the hospital with a fever of 102.
Three-year-old Taeyang was diagnosed with B-cell acute lymphoblastic leukemia earlier this year. A fever can be  for a child going through chemotherapy.
Acute Lymphoblastic Leukemia (ALL) is a type of cancer of the blood and bone marrow; B-cell ALL happens when the bone marrow produces too many abnormal B-lymphocytes, a type of white blood cell that helps your body fight infection, according to The Ohio State University cancer center.
Worry is a constant, say many parents with kids who have cancer. Figuring out how to emotionally sustain the marathon of care, express the fears, and seek help are key
Former
90 Day Fiancé
star Deavan Clegg, 26, lived a mothers worst nightmare after recently having to rush her son to the emergency room with a high fever— a major scare as the three-year-old continues his battle with leukemia.
Clegg opened up in a candid post on Instagram about the incident and her experience with having a child with cancer. She wrote a long captioned accompanied by a picture of her son Taeyang in a hospital bed.
Read More
"We aren't rich, we aren't famous , we are normal people who did a tv show 3 years ago. This is our reality childhood cancer," said Clegg in her post.
The former reality star detailed the scary situation in the post. She shared that she rushed Taeyang to the ER with a fever of 102, which can be deadly for children going through chemotherapy. Clegg said her son needed an emergency blood transfusion, which she was shocked by since he'd just had one days before.
"The thought of, if I didn't bring him he might have not woken up in the morning will haunt me. With it being flu season this is a reminder to stay clean and safe. Wash hands, wear a mask if possible, and if sick please stay in bed," warned Clegg. "Being at the hospital I've seen so many children and heard stories of so many sick children and December hasn't even started yet. A small cold for you might be deadly for little ones."
Clegg adds, Taeyang is doing better and will be kept at the hospital for a bit longer. He's received antibiotics and his fever is still high "but slightly better."
Taeyang's Leukemia Journey
Clegg first noticed her sons symptoms in early April. What followed was a long journey of trying to figure out what was wrong.
"In Early April, Taeyang started wheezing, seemed overly tired, and started saying ouch," Taeyang's GoFundMe page (run by his maternal grandmother) read. "His mom took him to the nearest clinic, thinking it may have been a sore throat. Taeyang was treated with steroids and sent home with instructions to go to the Emergency Room if symptoms persisted."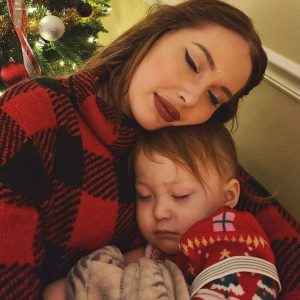 Sadly, his symptoms worsened and his mother took him for his first trip to the emergency room. There he was discharged with iron supplements after being told he was "anemic and constipated."
But Taeyang did not get better. After another trip to the emergency room, he was sent home with laxatives. His condition seemed to improve for five days, but eventually the wheezing returned and he started vomiting and struggling to walk. After his next trip to the emergency room, his red blood cell count was even lower despite the iron supplements. That led to a recommendation for continued supplement use and another blood count in a couple of weeks.
"One month after Taeyang's first trip to the Emergency Room, he was back to test his blood count; it had dropped even more, and was at a dangerous level," the GoFundMe reads. "A specialist was needed. Taeyang's mom took him to the specialist and thought he would need a blood transfusion the next day.
"Instead, with the lab work in hand, the doctor returned to the hospital room with a diagnosis that no parent wants to hear: 'Your son has cancer cells.'"
She shared Taeyang's diagnosis in an Instagram post that read: "I have vowed to always be 100% transparent with you guys and I am choosing to share the most vulnerable and saddest point of my life right now in hopes it can help give anyone else dealing with a similar situation some strength," she wrote in an Instagram caption. "I'm overcome with so much emotion and devastation to announce that my beloved son Taeyang who just celebrated his third birthday last month was just diagnosed with childhood cancer, b-cell acute lymphoblastic leukemia just a few days ago."
She continued by saying that he had begun chemotherapy treatments.
"This is every parents absolute worst nightmare and I'm trying hard to stay strong for Taeyang, Drascilla and my baby in my tummy," she wrote. "Taeyang will need around the clock hospital care and this will be a long two year process that has a high success rate of full recovery in five years. I'm still processing all of this and asking for prayers, please."
Clegg has kept her followers up to date on Taeyang's journey. Clegg has two other children, a seven-year-old daughter and a newborn, which she hasn't shared the name of yet.
Understanding Acute Lymphoblastic Leukemia
Acute lymphoblastic leukemia, or ALL, is a type of leukemia where the bone marrow makes too many immature lymphocytes, a type of white blood cell. It is also called acute lymphocytic leukemia.
The American Cancer Society estimates that about 6,660 new cases of ALL will be diagnosed in the United States in 2022. The ACS also reports that the risk for developing ALL is highest in children younger than 5 years of age, with a slow decline in risk until the mid-20s. Then, the risk slowly rises again after age 50.
What Is Acute Lymphoblastic Leukemia (ALL)?
Dr. Olalekan Oluwole, a hematologist with Vanderbilt University Medical Center, previously talked with SurvivorNet about ALL's effect on the body and the type of treatments that work to fight it.
"ALL is a type of cancer that is very aggressive," Dr. Oluwole told SurvivorNet. "It grows very fast. Within a few weeks, a few months, the person will start to feel very sick. And that's why we will have to give it an equally aggressive type of treatment to break that cycle."
All About Acute Lymphoblastic Leukemia: Answers to the Most Common Questions About the Disease
Dr. Oluwole also says the leukemia often resides in the bone marrow, and because it is an abnormal growth, it just keeps dividing.
"It doesn't follow rules, and it doesn't stop," he told SurvivorNet. "Not only that, because this is part of the immune system, the immune system is sorta like the police of the body. So those abnormal cells that have now become cancer, they have the ability to go to many places. They go into the blood, and they often go into the tissue or the lining around the brain."
Understanding Childhood Cancer
Treatment advances in recent decades have lead to 85 percent of children with cancer now surviving five years or more, according to the American Cancer Society. This is up from 58 percent from the mid-1970s.
RELATED: Chemotherapy's Long Term Effect on Children: 8-Year-Old Girl Scout Phenom Lilly Bumpus Beat Cancer as an Infant But Still Deals With Brutal Treatment Side Effects
But according to the National Pediatric Cancer Foundation, more than 95 percent of childhood cancer survivors have significant health-related issues because of the current treatment options, and only 4 percent of the billions of dollars spent each year on cancer research and treatments are directed towards treating childhood cancer in the United States. Since 1980, fewer than 10 drugs have been developed for use in children with cancer while hundreds of drugs have been created exclusively for adults.
Dr. Elizabeth Raetz, director of pediatric hematology and oncology at NYU Langone's Perlmutter Cancer Center, reminded us in a previous interview that there is still reason for hope.
"There are also targeted treatments and different immunotherapies that have been studied in adults and have now moved into clinical trials for children and there has been a great deal of excitement in the community about that," Dr. Raetz told SurvivorNet.
Still, navigating a child's cancer diagnosis can be tricky.
The Impact of a Childhood Cancer Diagnosis on the Whole Family Jayne Wexler Shares Her Story
Jayne Wexler's son battled acute lymphoblastic leukemia and now deals with heart disease as a side effect of chemotherapy. In a previous interview with SurvivorNet, Wexler explained that in addition to regular parent worries – having a child with cancer means living with a whole new world of anxieties.
"My husband and I will always have fear," she said. "I don't think we can ever let go of that. Just when he was OK, then he relapsed, and then he had the bone marrow transplant … so there's always some sort of worry."
RELATED: "I Try To Stay Strong, But Sometimes You Need To Cry": Playing The Role of Cancer Caregiver and Mom
Wexler admits she tries to live for each and every day, but its understandable that this does not always come easy.
"And I do try – you hear people say this – we do have to live each day and be thankful for what we have," Wexler said. "And it's hard to remember that when you're caught up … it's very hard to just sort of enjoy the moment, because we just don't know what's going to happen in the future."
Contributors: Abigail Seaberg and SurvivorNet staff
Learn more about SurvivorNet's rigorous medical review process.
---