On the Road to Thriving
Actress Shannen Doherty is living well and enjoying life after continuing her work on the big screen after a cancer battle.
She had hormone therapy to fight her cancer, but it was ineffective and the cancer had spread to her lymph nodes.
Doherty is grateful for her community, and represents how having a good support system can help you thrive with cancer.
It looks like Shannen Doherty is on the road in Tennessee, and we're loving the photos of the incredible food she's enjoying.
View this post on Instagram
Read More
Living her best life is exactly what she's been doing after two huge wins: being part of a new film release and living with cancer.
That's right; the 51-year-old has been up and at 'em with victories that are leaving her fans overflowing with support. She recently posted Instagram stories sharing sweet and loving praise from her fans.
The much-beloved Hollywood star shared an image that said: "Please tell Shannen she's the best actress in the world and I love her so much!!!" The message was written to Doherty from her fan Sofia.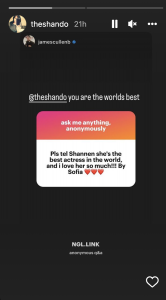 Shannen's Breast Cancer Battle
Shannen Doherty was first diagnosed with breast cancer in 2015 after finding a lump in her breast which turned out to be cancerous. She had hormone therapy to fight her cancer, but it was ineffective and the cancer had spread to her lymph nodes. Doherty underwent a single mastectomy and also had chemotherapy and radiation. After going into remission, she announced in February 2020 that her cancer returned, and this time it had spread to other parts of her body.
Surgery, like the kind Shannen Doherty had (a single mastectomy), is a common treatment path for many people fighting breast cancer. In an earlier interview, an oncologist at the Dana-Farber Cancer Institute explains the path to surgery.
She says, "So when I talk to a woman who comes to me and she has breast cancer, I evaluate what the standard options for treatment for her are, which typically include cutting out the cancer– which is either a lumpectomy if you can get it all with just a little scooping around of the area that's abnormal or a mastectomy for some women meaning taking the full breast because sometimes these lesions can be very extensive in the breast."
When to Consider a Mastectomy
Surrounding Yourself with Support
We love how Doherty is keeping an attitude of gratitude and remaining grateful for her community. Having a strong support network through cancer is so important.
Ovarian cancer fighter Beverly Reeves shares in an earlier interview how she thinks having a strong community during cancer is critical. She tells SurvivorNet, "If I had one piece of advice for someone who had just been diagnosed with ovarian cancer, it would be to get a strong support group together. Get your close friends. If you're connected to a faith community, get your faith community."
She continues, "Get your family. Let them know what's going on and let them help you. And sometimes that's the most difficult thing to do, but just know that they are there. If they love you, they're there to help you."
'Faith, Family, and Friends' Helped Beverly Reeves Get Through Ovarian Cancer Treatment
Learn more about SurvivorNet's rigorous medical review process.