Cokie Roberts was one of the few people in Washington who literally stood for the status quo. As a politcal commentator, she was respected and liked by a lot of people. When she passed away today from breast cancer at the age of 75 people who watched her all these years were surprised and saddened.
"She will be dearly missed. Cokie's kindness, generosity, sharp intellect and thoughtful take on the big issues of the day made ABC a better place and all of us better journalists. Please take a moment today to remember an exceptional reporter and remarkable friend," said ABC News President James Goldston in a note to the ABC News division.
Read More
Cokie's prime as a part of the ABC News and NPR political team was an era was where people of different political stripes could be friends and actually were. How many folks in the news business do you think will write that line in the coming days?
RELATED: ABC News Journalist Amy Robach Shares Advice For Anyone Facing Cancer
As political flavors and news brands came and went, over years and years, there was Cokie. For the most part, at the center of the political discourse as well as the ideological debate and the media party.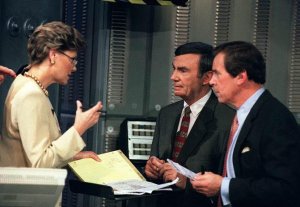 A strong mind and a comforting voice on the radio or on Sunday morning TV.
RELATED: Don't Dwell on "Why Me" Says Journalist Gerri Willis Who Just Had a Cervical Cancer Scare After Beating Stage Three Breast Cancer
Cokie is survived by her husband political commentator Steve Roberts, to whom she was married for 50 years. "I wasn't always able to appreciate him; and he, me. We've learned to do that more now that we're old," she said of their relationship and how it grew over time.
"We also had the advantage of having the same job. We would both be at the Capitol covering stories, then drive home together and get rid of that whole conversation in the car that married people have, so when we got home we were available to our children."
The experts tell us that these days 90% of women with breast cancer survive. Cokie's death is a reminder too many still do not make it. That progress has come, but much more is needed.
Information about breast cancer risk and age
We often hear that the lifetime risk for breast cancer in any woman is about one in eight, but that statistic doesn't tell the whole story. The risk varies in every age group and breast cancer becomes increasingly more common as women age. At age 30, for instance, the risk is one in 227, according to the National Cancer Institute. By age 70, the risk is one in 26.
Dr. Elizabeth Comen, Medical Oncologist at Memorial Sloan Kettering Cancer Center, on age and other risk factors for breast cancer
While the key risk indicators are age and family history, there are a whole host of risk factors, many of which our medical advisor Dr. Elizabeth Comen covers in this video. The American Cancer Society breaks them down into lifestyle factors – like being overweight and not having children – and factors you can't control, like inherited genes and race. Understanding your breast cancer risk factors is obviously very important.
Learn more about SurvivorNet's rigorous medical review process.