It's not unusual for people who are ill with a disease such as cancer to find comfort in their pets, nor for people to comfort their pets when they get sick. But Tracy Jackson, who lives in Florida, and her beloved dog, Chancellor, both have cancer at the same time, and the love and support is a two-way street.
"After a treatment I slept for 12 hours; the dog never leaves my side. He's there the whole time in bed with me," Jackson told Sarasota, Fla., TV station SNN.
Read More
Chancellor was diagnosed first, in 2018. But while he went into remission, his cancer returned after Jackson — who was told she had breast cancer this past April — had her sixth chemo treatment, the report said.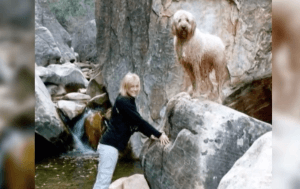 The adoring pet owner, who called Chancellor her "soulmate," said watching him struggle with cancer is even harder than dealing with her own. "I know to a lot of people might sound strange," she told SNN. But a dog's love, she said, is "unconditional."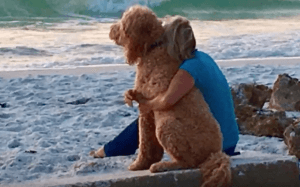 Jackson is no longer taking his medicine due to severe side effects, and Jackson told the station he does not have long to live and hopes "there's some place better that we're all gonna go that's cancer free."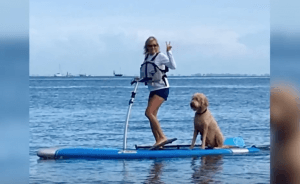 Cancer and Pet Therapy
SurvivorNet has spoken with a number of people who say that pets have helped them through difficult times. One of them, a bone cancer survivor named Richard Marks, talked to us about pet therapy, and how it can be beneficial for people grieving, people going through treatment, and the pets themselves.
"When I'm doing chemotherapy," he tells SurvivorNet, "I'm waiting and time's going by. Maybe I'm worrying about my numbers or how treatment is going. And all of the sudden [the dog is there] and I'm only thinking about that dog.'"
Bone marrow cancer survivor Richard Marks talks about how his pooch helped him through cancer
Finding joy in pets as a means to cope with cancer or with grief is a fairly common practice.
Richard doesn't have his own dog; his pet therapy was courtesy of the Good Dog Foundation, an organization that promotes recovery from trauma and stress using animal-assisted therapy services. Richard spent his chemotherapy days with a rescue dog named Bowie. Sarah Conroy, Bowie's owner, told SurvivorNet that Bowie loves visiting his friends in the hospital, but for him "it's more about getting pet massages."
Alison Snow, who works in cancer support services at Mount Sinai, told SurvivorNet that there is research to show that the animal visits to hospitals can be super beneficial to people battling cancer, as well as other ailments.
"You can hear the excitement in the air when the dog is around and there is research to show that having animal-assisted visits is helpful to patients going through cancer in terms of lowering blood pressure, reducing anxiety, decreasing depression, and overall, helping patients feel less isolated," she said.
Learn more about SurvivorNet's rigorous medical review process.
---