In the month since "Dog the Bounty Hunter" star Beth Chapman sadly passed away at age 51 after a battle with throat cancer, the many members of the blended Chapman family have been really open with fans about the hardships of their grieving processes. While several members of the Chapman clan regularly share photos and anecdotes celebrating Beth's life, they've also been really candid about how adjusting to life without her is really challenging and at times, hard to believe.
Yesterday Bonnie Chapman — Dog and Beth's youngest daughter — took to Instagram to share that even her pet cat, whom Beth lovingly referred to as her "grandcat," is missing Beth. Bonnie, 20, posted an Instagram story that showed a picture of the beautiful, grey cat with the caption, "Plum misses you a lot, mom." She followed the story up by re-sharing a few snaps from Beth's Instagram — one showed Bonnie in front of a heavily-flowered bush with the caption "Loved going out and garden shopping with you mom," another was a beautiful picture of Beth with the caption "Miss you a lot today, wish I could hear your voice again."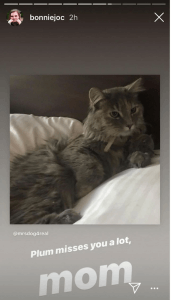 Read More
Bonnie even recently updated an Instagram she keeps for Plum with a sweet photo of the cat sitting atop a sleeping Beth with the caption, "I miss this human." Bonnie has kept fans in the loop when it comes to how she is coping with the loss of her mother — even recently sharing that
an internet troll really upset her by suggesting that Dog and Beth weren't actually her parents
— so it's encouraging to see her spending time with her pet as a means of coping.
View this post on Instagram
It turns out, finding joy in family pets as a means to cope with grief — or even to cope with your own cancer battle — is a fairly common practice.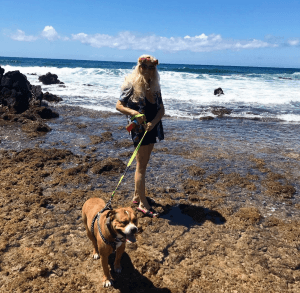 SurvivorNet did some interviews awhile back about pet therapy, and how it can be beneficial for people grieving, people going through treatment, and the pets themselves!
Richard Marks, who has bone marrow cancer and was getting chemotherapy at Mount Sinai five days a week at the time, said spending time with some pooches can really take your mind off your struggles.
"When I'm doing chemotherapy, I'm waiting and times going by. Maybe I'm worrying about my numbers or how treatment is going. And all of the sudden a cute little dog goes by, then I'm not thinking about those things," Richard told SurvivorNet. "I'm only thinking about that dog."
PET THERAPY: How A Pooch Helped During Chemo — Click Here For The Story
Richard's pet therapy was courtesy of The Good Dog Foundation — which is an organization that promotes recovery from trauma and stress using animal-assisted therapy services. In Richard's case, he spent his chemotherapy days with a rescue dog named Bowie. Sarah Conroy, Bowie's owner, became certified to visit hospitals with her pooch through the Good Dog Foundations. She told SurvivorNet that Bowie loves visiting his friends in the hospital, but for him "It's more about getting pet messages."
Alison Snow, who works in cancer support services at Mount Sinai, told SurvivorNet that there is research to show that the animal visits to hospitals can be super beneficial to people battling cancer, as well as other ailments.
"You can hear the excitement in the air when the dog is around and there is research to show that having animal-assisted visits is helpful to patients going through cancer in terms of lowering blood pressure, reducing anxiety, decreasing depression, and overall, helping patients feel less isolated," she said.
Learn more about SurvivorNet's rigorous medical review process.