Proactive People Can Live Longer Lives
Actor Ken Morley, 79, has had multiple life-threatening ailments, including a quadruple heart bypass, a burst appendix, and cancer.
Ken spoke out about his prostate cancer battle during a recent appearance on Prostate Cancer UK's programming, The Sit Down, describing his chief initial symptom: seeing blood in the toilet.
Prostate cancer may not immediately present symptoms until later stages, so it's important to get screened, and get regular checkups with your doctor.
Actor Ken Morley, 79, has had multiple life-threatening ailments, including a quadruple heart bypass, a burst appendix, and cancer. Ken spoke out about his
prostate cancer battle
during a recent appearance on
Prostate Cancer UK
's programming,
The Sit Down.
The English star, most known for his role in legendary show Coronation Street, was recruited by the organization to help raise awareness ahead of Father's Day, along with Kenney Jones, drummer of The Who, and Star Wars actor Andy Secombe.
Read More
Morley said he first noticed symptoms in 2007 in the middle of production of
The Rocky Horror Show
in London. "I went to the loo and a solid piece of blood fell into the toilet," he shared, explaining that he quickly went to the hospital.
"For four years I had this every six months and they couldn't find anything," the comedian recalled. "It didn't happen again until it did happen again and then the fateful day when you go in and they say 'There is no easy way of telling you this Mr Morley but you have got cancer.'"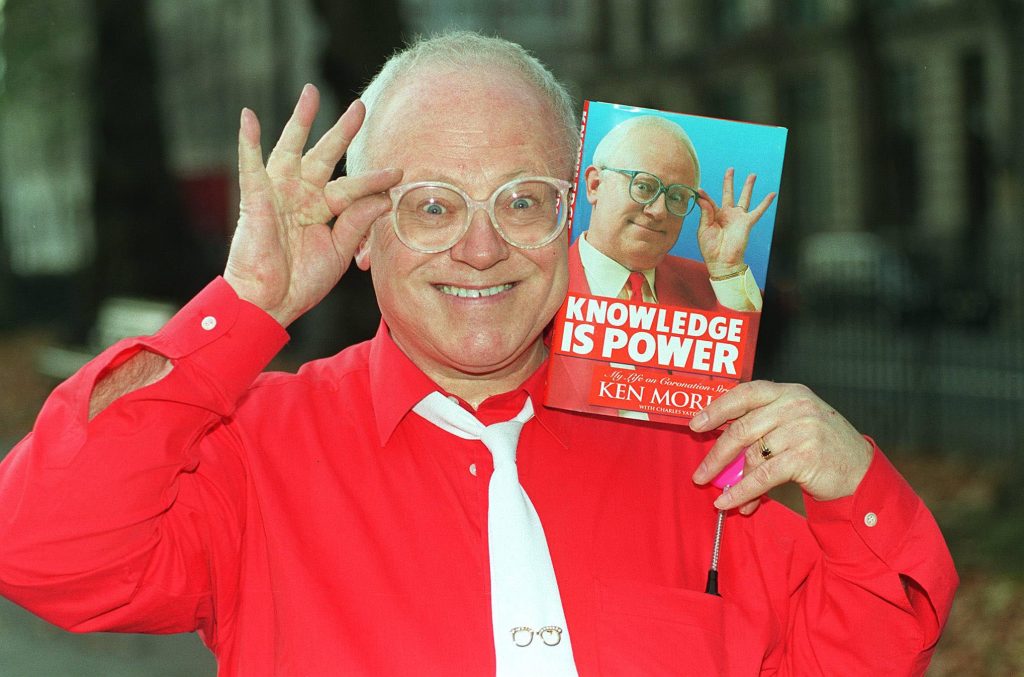 When he heard the news, Morley described how the feeling of shock felt on his body.
"At that point from the top of my head right through the body to the feet and back up again like a horizontal line, the brain just goes 'Chunk!'"
Related: 'It's a Gut Punch': TODAY Anchor Al Roker Shares the Complex Emotions that Came with His Prostate Cancer Diagnosis
Morley expressed that low prostate-specific antigen (PSA) levels, which is determined via blood test, tipped off health professionals to his condition, though just having low PSA levels is not enough for a cancer diagnosis, as other issues can affect this number.
"Because my PSA level was very very low they said 'Well you can watch and wait,'" Morley said. After six months it had gone up from six to 12. The doctor then told him "Come in and we will take it out."
10 Things Every Man Should Do to Prevent Cancer
Removing the prostate and prostate cancer cells is known as a radical prostatectomy. This type of surgery is typically recommended for men who have localized prostate cancer, meaning it has not spread outside the prostate.
Related: John Tesh, 69, Reveals Private Cancer Battle, Says Prostatectomy and Chemo Saved His Life After Disease Recurrence During the Pandemic
A radical prostatectomy is not recommended for people with compound health issues, such as also having heart disease.
Luckily, Morley's operation was a success, and then found out just how close the cancer was to spreading outside of the area. "Afterwards the assistant came around and said 'It is a good job you came in actually because the cells have just gone into the nerve tissue, so we have cut this out as well."
An Overview of Prostate Cancer Surgery
Learning About Prostate Cancer
For men with an average risk of prostate cancer, it's advised by the American Cancer Society (ACS) to begin screening at 50 for the disease; men with an elevated risk of developing prostate cancer should start screening at 45.
Dr. James Brooks, a urologic oncologist at Stanford Medicine, says in an earlier interview that this is a slow-growing cancer. "Prostate cancer, even when aggressive, is typically slow-growing," he says. "So the possibility that it could become fatal past the age of 70 is quite low. Still, whether you continue to screen past age 70 is completely up to you and your doctor. In prostate cancer, there are sometimes differing viewpoints and this is one of those times."
"However, if you are at high-risk (meaning you have a family history or are African-American) many doctors say you should have an initial screening well before 50–some recommend starting at age 40–because the risk is about two to three times higher than average," says Dr. Brooks.
Learn more about SurvivorNet's rigorous medical review process.