John Tesh Beats Cancer Again
John Tesh reveals he privately battled prostate cancer last year when the disease recurred at the height of the pandemic. After several surgeries, chemo, and a prostatectomy he is once again in remission he says in a new interview.
The former Entertainment Tonight host first battled the disease five years ago, and at the time doctors said he had 18 months to live. He credits his wife, Connie Sellecca, with helping him beat that diagnosis after he initially responded by drinking and taking pills.
There have been several advancements in the treatment of late-stage prostate cancer in just the past few years including PARP inhibitors, genetic testing, and immunotherapy.
John Tesh reveals he privately battled cancer last year in a new interview.
The former host of Entertainment Tonight, 69, tells People that his prostate cancer recurred right at the height of the COVID pandemic.
Read More
"I woke up with an enormous amount of pain one morning in October 2020 — I had pain in both my legs," says Tesh. "It turned out there were two tumors around either side of my pelvis and wrapped around my organs."
Tesh quickly and aggressively took action.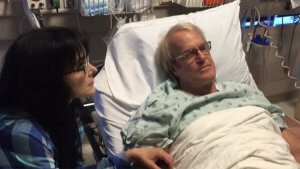 "I went back into the trenches — I was battle-ready," Tesh says. "I felt less like a guy who was sick trying to get well and more like somebody who was healed well resisting sickness."
After several surgeries, chemotherapy, and a prostatectomy, the disease is again in remission. However, Tesh does only have one functional kidney after losing the use of the other during his battle.
Tesh credits his wife, Connie Sellecca, with helping him through his journey and getting him back on track after his first diagnosis.
At the time, doctors told Tesh he had 18 months to live. "It was a get-your-affairs-in-order speech," says Tesh.
Depressed and angry, Tesh began drinking and taking pills.
"When you're in that situation — we thought I was terminally ill — that identity gives you a lot of free rein," explains Tesh. "The doctor wants you to have Vicodin so you can feel better, and people look the other way when you're drinking scotch every night and mixing the two."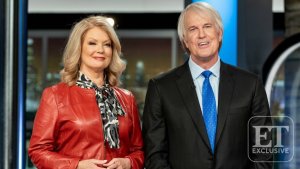 Related: 'You Can't Outrun Your Genetics' Says Philanthropist John Ingram Who Had His Prostate Removed To Prevent Cancer
Sellecca then told her husband to shape up and get serious about beating the disease.
"Ultimately, my wife and I went toe-to-toe, and she said, 'I am not going to abide this. This is my battle too. And you're giving up,'" recalls Tesh. "If she hadn't been my advocate and such a brilliant study of prostate cancer, I wouldn't have made it."
That mentality stayed with Tesh and allowed him to take swift and life-saving action when his cancer recurred last year.
"This is a couple's disease; it affects the whole family," says Tesh. "We made it clear to our doctors that if there were couples going through this battle, especially with prostate cancer, here's our phone number. Because prostate cancer breaks up marriages, it breaks up relationships. People can't take it, it freaks them out."
Related: Captain Kirk is Headed to Space!: 'Star Trek' Actor William Shatner Is Living His Best Life After a Prostate Cancer Misdiagnosis in 2016 and Will Become the Oldest Person to Fly to Space
Advancements in Late-Stage Prostate Cancer Treatment
John Tesh beat late-stage prostate cancer twice. There have been several advancements in the treatment of late-stage prostate cancer in just the past few years. And just last month, AstraZeneca revealed the effectiveness of one of its PARP inhibitors to extend overall survival and slow disease progression when combined with hormone therapy.
These are a few of the significant developments.
PARP Inhibitor
In August, the Food and Drug Administration approved Olaparib (brand name LYNPARZA) for individuals not responding to therapy with hormones and diagnosed with metastatic castration-resistant prostate cancer.
Lynparza is a PARP inhibitor, a class of drugs that can target and kill poly ADP ribose polymerase (PARP). That is the enzyme that is responsible for repairing DNA damage. When blocked, it causes cell death in cancer cells. It is also effective in fighting ovarian cancer, advanced breast, and pancreatic cancer.
Metastatic castration-resistant prostate cancer patients got even more good news this week when the results from a Phase 3 trial showed that Lynparza in combination with abiraterone significantly delayed disease progression.
"These exciting results demonstrate the potential for Lynparza with abiraterone to become a new 1st-line option for patients regardless of their biomarker status and reach a broad population of patients living with this aggressive disease," said Susan Galbraith, executive vice president, oncology r&d, in a statement shared with SurvivorNet. "We look forward to discussing the results with global health authorities as soon as possible."
Genetic Testing
Even in late-stage prostate cancer, genetic testing can provide crucial clues for fighting and treating the disease.
One example is next-generation sequencing, a DNA sequencing technology. Next-generation sequencing allows for the sequencing of an entire human genome in a single day and gives crucial clues as to the genetic tendency of the cancer to behave in a certain way.
"There is a lot of refined genetic information that we get from these next-generation sequencing tests that tell us more refined information about the DNA of a person's tumor," explains Dr. Heather McArthur, clinical director, breast oncology at UTSouthwestern. "And sometimes there are changes in that DNA, which we can exploit to our advantage because drugs have been successfully developed for that target."
Discovering if the cancer is genetic is also a way to save the lives of other family members who may be at high risk.
Understanding the Genetic Makeup of Your Tumor
Immunotherapy
Provenge (also known as Sipuleucel-T) is the only immunotherapy vaccine to receive FDA approval to treat late-stage prostate cancer. These drugs utilize a patient's immune system to attack cancer cells. It is most often used to treat men who have early metastasis but are not responding to androgen deprivation therapy.
"They take those white blood cells out, put them in a petri dish, expose them to proteins made by the tumor, some other proteins in there to stimulate the immune cells to grow, and about three days later, they put those white blood cells, those immune cells, back into you," explains Dr. Stephen Freedland, director of the Center for Integrated Research in Cancer and Lifestyle at Cedars-Sinai Medical Center.
"So, this is done three times, and the idea is to train your immune cells to fight the tumor. And as they get into your body, they will go and fight the tumor. And we know men who get this vaccine will live longer than men who don't."
How Can Prostate Cancer Patients Boost Their Immune System?
Sexual Function After Prostate Removal
John Tesh is one of the many men who had prostate removal surgery in their battle with the disease. Some of those men will experience sexual dysfunction in some form after having prostate surgery because the nerves responsible for erections wrap around the prostate like a web, making it impossible to remove the gland without some damage to those nerves.
Men Can Still Get Erections After Prostate Surgery
Prostate surgery causes sexual dysfunction in most men by causing injury to the nerves responsible that allow men to have an erection.
In a radical prostatectomy, the most frequently performed surgery, doctors can often remove the prostate gland or a tumor without causing widespread injury to these nerves. Minor injuries mean a greater chance that a man can regain his ability to have an erection.
Those injured nerves need time to heal after surgery, and that process can take about two years. Still, the American Cancer Society puts the standard recovery time at around 24 months. A man may be able to achieve an erection after just a year and, in some cases, be sooner.
Age is also a key factor, with younger men more likely to regain full erections. Most men under 60 will have full erections within two years if there is no widespread nerve damage.
Penile Rehabilitation After Prostate Surgery
Even though they will not maintain an erection without assistance, men who wish to regain this ability must continue to have erections during the recovery period.
If a man does not have an erection until his nerves have healed, the tissues in his penis will weaken. Those men will then be unable ever to achieve a natural erection. Once this happens, he will not be able to get an erection naturally.
Doctors recommend penile rehabilitation in the weeks or months after surgery to ensure that the tissue retains its strength.
The best practice is for men to have an erection that is strong enough to achieve penetration two or three times a week. Since most men will still struggle to have a natural erection at first, they can use aids such as therapy, devices, or prescription pills such as Viagra, Cialis, and Levitra.
If those drugs are not effective, a doctor might prescribe a penile injection or vacuum to help achieve an erection.
Preserving Sexual Function After Surgery
Learn more about SurvivorNet's rigorous medical review process.
---