Moore's Good News
Mandy Moore, 36, gave birth to a baby boy, Gus, last month, and she credits a cancer-free diagnosis with setting things in motion.
In a story shared on Instagram, Moore says that learning her dog's tumor was benign and that he was cancer-free allowed her to go into labor.
While living through a pandemic and dealing with the health issues of loved ones and furry friends, it's important to prioritize your mental health.
Actress and singer Mandy Moore recently welcomed a bundle of joy into her life, and she credits – of all people (or, creatures) – her dog, in large part. Moore's beloved dog Jackson, who she's had for more than a decade, got some amazingly good health news: He's cancer-free.
Related: Life Is Good Again for Michael Bublé — His Son's Cancer Is in Remission and He's Announced a New Tour
Read More
She credits the relief felt after this news with causing her to go into labor! Moore is married to Taylor Goldsmith, 35, and they welcomed their new son, August (Gus) Harrison Goldsmith, in February.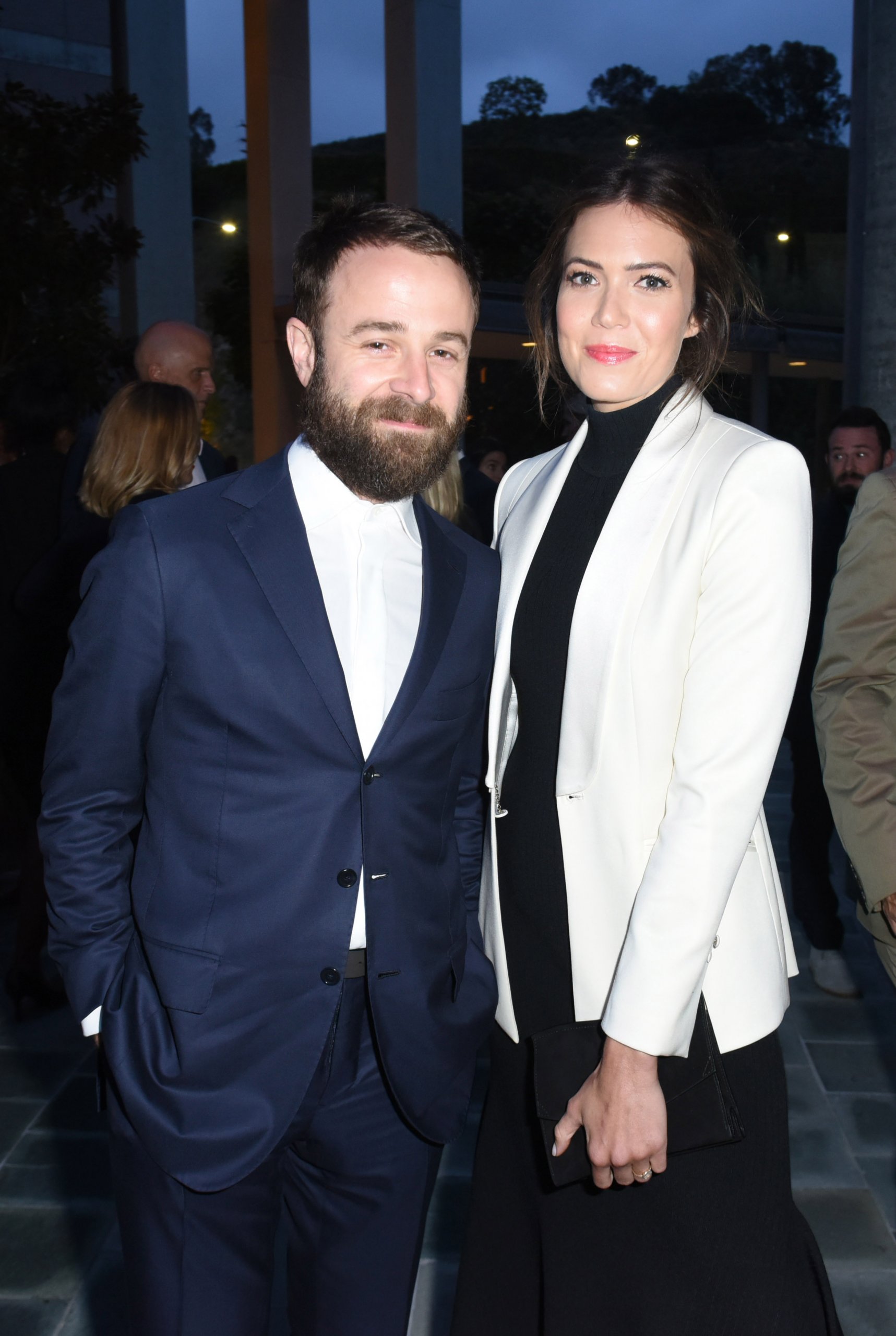 Mandy's Family Cancer Scare
For most of us, our four-legged friends are like family. So after Moore's dog was diagnosed with cancer, we imagine it was an incredibly stressful time for her and her husband.
Related: 6 Tips to Help You Avoid Alcohol When Faced With Stress of a Cancer Diagnosis
Moore shared the great new son her Instagram stories yesterday.  She writes, "In the flutter of all things Gus, I'd be remiss if I didn't mention that this guy got a clean bill of health. His tumor was benign. Cancer-free. We found out about 3 hours before I went in to labor and I know my relief was what set things in motion. So much gratitude these days. We love you so much, Jackson!!!"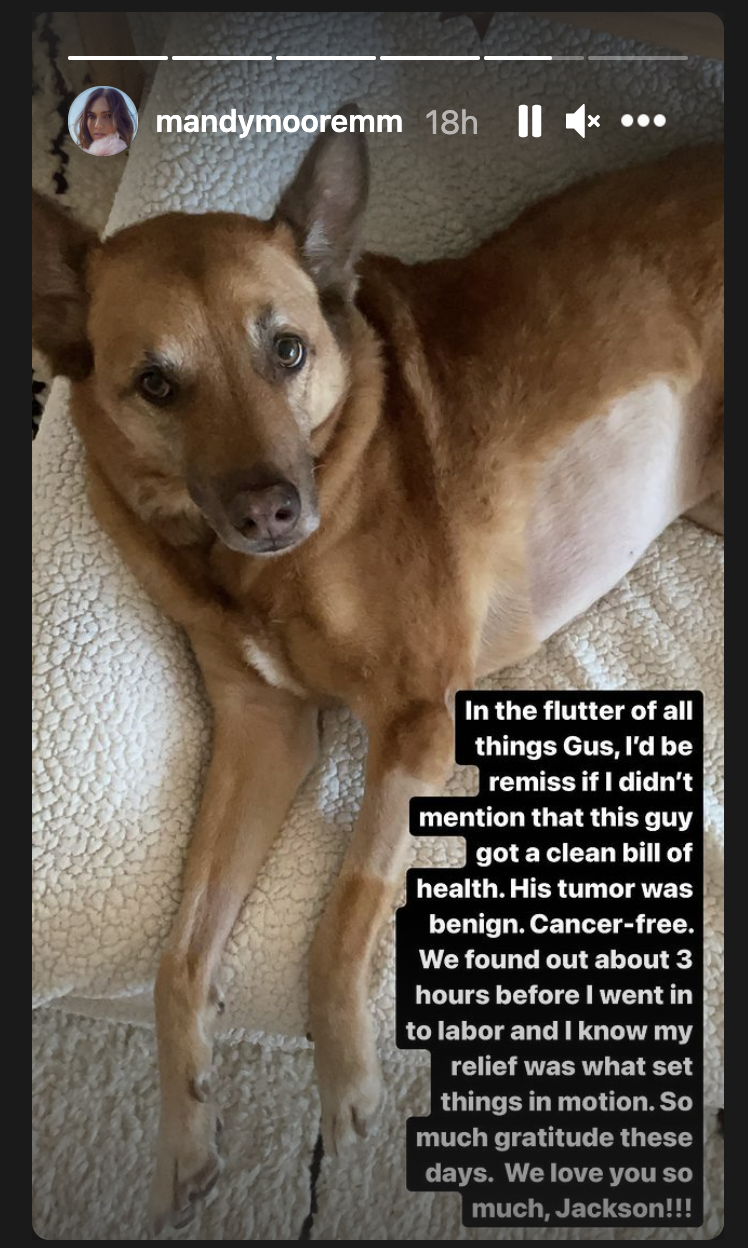 Related: Shannen Doherty, 49, Reveals a Big Concern She Has While Fighting Metastatic Breast Cancer: How Are Those Around Her Coping?
Coping with the cancer diagnosis of a pet or a loved one can be really difficult. Tools like therapy and support groups can help make the coping process feel less difficult and less lonely.
View this post on Instagram
Stress and Anxiety for Cancer Patients During COVID-19
Managing Anxiety During the Pandemic
Like Moore, everyone is dealing with heightened anxiety right now, due to the ongoing COVID-19 pandemic. That anxiety has a tendency to increase during life-changing circumstances such as pregnancy and cancer scares. Meditation, mindfulness, and anxiety-management techniques can help make the day-to-day reality of living during a pandemic more tolerable.
Related: Meditation Expert Mallika Chopra on How to Teach Mindfulness Techniques to Children During These High-Stress Times
In a previous interview, Dr. Marianna Strongin, a clinical psychologist at Strong In Therapy, talked about dealing with pandemic-related stress. "COVID-19 is especially threatening to the anxiety mind because there are no answers right now," she says. "And what happens is people get addicted to looking for answers through the media. What happens, as a result, is that they wind up with more questions, and questions equal anxiety."
Related: An Unexpected Pandemic Stress Side Effect? Teeth-Grinding, Clenching Is On the Rise, Says New Survey
"Under the anxiety umbrella, there are a few things to pay attention to. The first thing is that people have to understand their anxiety and the relationship they have with their anxiety. So what I mean by that is, how often are you checking in with your anxiety? Where do you feel it in your body? And what are the questions that it's asking you? Is it asking you, is everything going to be OK? What's happening? Will I survive? Now, the second most important thing is, are you providing it some answers? The answers are our coping skills," says Dr. Strongin.
Mental Health… How Are You Coping?
Learn more about SurvivorNet's rigorous medical review process.