Life is good again for singer Michael Bublé and his family, who back in 2016 were dealt a blow when son, Noah, then 3, was diagnosed with hepatoblastoma, a form of liver cancer. Noah is not only in remission, Bublé has also announced a new outdoor summer tour in the U.K., with stops in outdoor venues that reportedly include the grounds of castles, and he couldn't be more excited.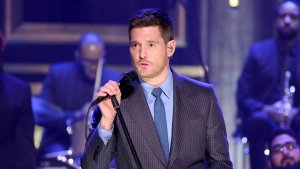 Read More
"When you have those kind of shows, and they're outdoor and loose, and everybody's sitting down and having wine, it's going to be so beautiful. It's going to be a lot of fun," he told
Smooth Radio
.
"And this is my idea!" he said. "I keep telling people this. This wasn't some agent who said, 'What if we…?' This was me saying to them, 'Can we do this?'
"It's funny, I asked in America, and I said, in America, maybe we could go to baseball stadiums and go on the field and have 40,000 people," he continued, "and they were sort of reticent about it. But here, they were like, 'Yeah! Let's go to these castles!'" he told the station.
Noah's Cancer Journey
After his diagnosis, Noah had an operation to remove the tumor as well as chemotherapy to fight the disease. The most important part of his treatment, Bublé told the Evening Standard, was to remove the tumor with clean margins, meaning no cancer cells remaining on the edges of the tumor sight.
RELATED: "I Don't Worry About Silly Things Anymore" — Pop Star Michael Bublé's Wife Reveals How Her Son's Liver Cancer Helped Her To Focus On What Is Really Important
Bublé and his wife, Argentinian actress Luisana Lopilato, had both put their careers on hold after Noah's diagnosis. Bublé and Lopilato have two other children, 3-year-old Elias and 1-year-old Vida. In 2018, Bublé returned to the stage with a big concert in Dublin. That show was understandably emotional for him.
RELATED: Singer Michael Bublé Says People Told Him Taking Time Off for His Child's Cancer Would be Bad for His Career
"My first show back, I played Croke and I cried for like two hours afterwards," he told The Sun. "It was too emotional for me. I was too happy. Noah is great, thank God."
'An Evening with Michael Bublé' Tour
Throughout his current tour, Michael has brought his three children up on stage to join in with his "Nobody But Me" hit.
The fans "go crazy, yeah," he told Smooth Radio. "That's my favorite part." The singer has also invited them up to dance.
View this post on Instagram
"That's my life," he told Smooth Radio. "That's the joy of my life, you know? I'm a better entertainer when they're with me, too. Much better. I think I'm a happier guy. So I think that sort of shows on stage."
Liver Cancer in Children
Although it is unknown exactly how cancers of the liver develop, it is believed to begin during the growth of the liver cells, according to the Children's Hospital of Pittsburgh. If a mistake occurs during the growth of these cells, the cells begin to multiply at an abnormally fast rate, causing a tumor. The faulty cells are not regulated by the liver as are the healthy cells. Tumors originating in the liver account for 1 to 2 percent of all childhood cancers.
There are two kinds of liver carcinoma (cancerous tumors), the hospital notes. Hepatoblastoma is the most common type of liver cancer in children, and typically occurs in infants through about 3 years of age. This type of tumor occasionally spreads to other parts of the body, most commonly the lung.
Hepatocellular is less common and occurs in older children typically. Hepatocellular cancer often spreads to other parts of the body.
Learn more about SurvivorNet's rigorous medical review process.