Showing Up For Friends With Cancer
We're happy to see Shannen Doherty continue to have her best friend Chris Cortazzo by her side throughout her battle with stage 4 metastatic breast cancer and divorcing her former husband. The besties were recently photographed having a "date night" at a restaurant.
The "Beverly Hills, 90210" actress was first diagnosed with breast cancer in 2015 after finding a lump in her breast that turned out to be cancerous. In February 2020, her breast cancer returned and spread to other parts of her body.
This year, Doherty underwent radiation treatment and brain surgery due to her stage 4 metastatic breast cancer spreading to her brain.
It's no secret that fighting cancer, and/or going through a divorce, can be overwhelming, so having physical and emotional support from friends, like Doherty does, during your battle is huge.
Licensed clinical psychologist Dr. Marianna Strongin says having people by your side during this "arduous chapter" of your life can be very beneficial. "It will be important that you surround yourself with individuals who care and support you throughout your treatment," she wrote in a column for SurvivorNet.
Despite the whirlwind year Shannen Doherty has enduredbetween divorcing her former husband Kurt Iswarienko. and undergoing radiation treatment and brain surgery due to her stage 4 metastatic breast cancer spreading to her brain the beloved actress has still made time for her friends and "date night."
In fact, just this week, the 52-year-old Tennessee-native, popularly known for her roles in "Charmed," "Beverly Hills, 90210," and "Heathers," enjoyed a nice evening with her best friend, Malibu real estate powerhouse agent Chris Cortazzo.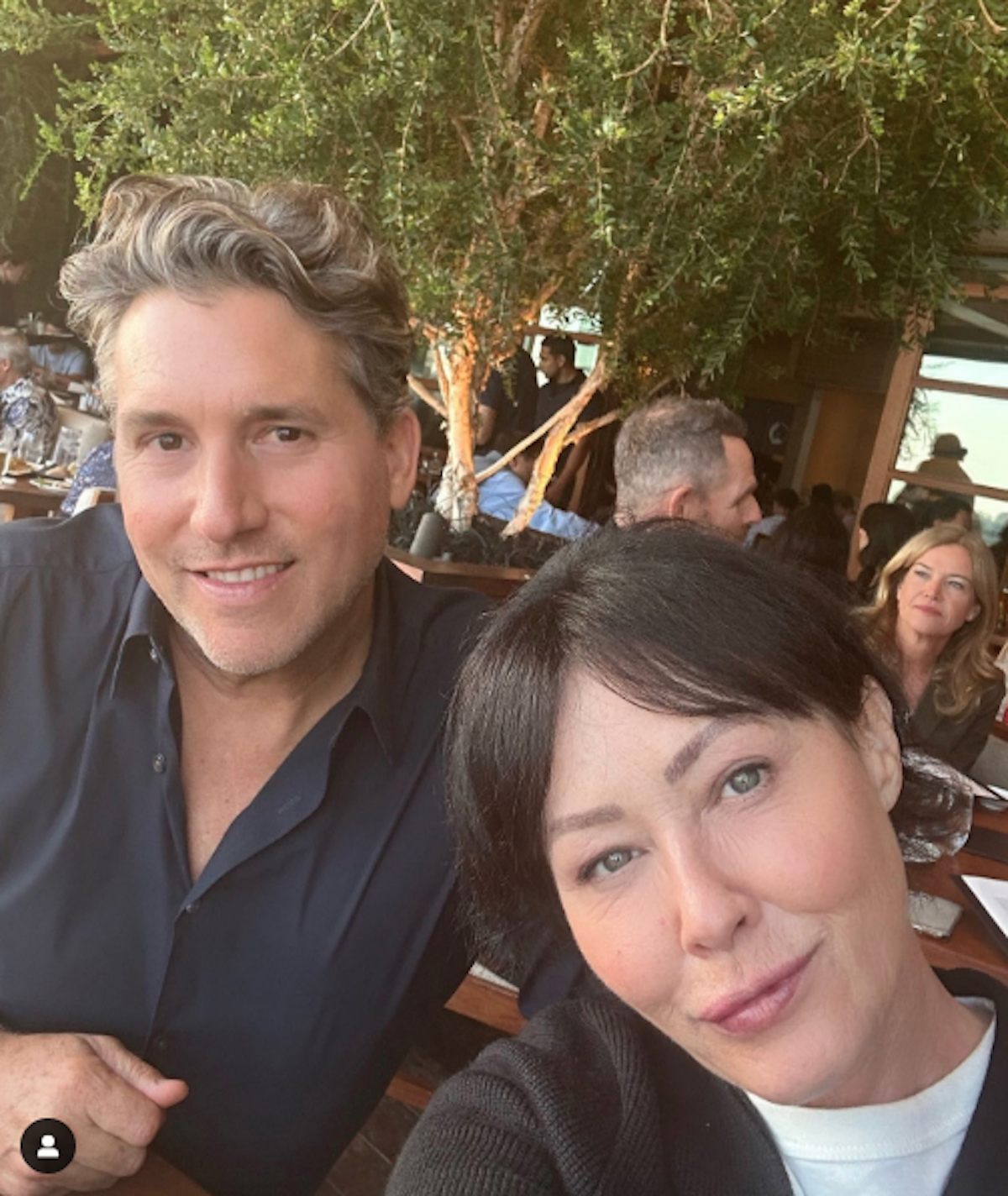 Read More
Doherty took to social media to celebrate the wonderful "date night" she had with her close friend and shared a gladdening selfie, alongside Cortazzo. The photo showed the best buds were seen smiling while sitting in what appears to be a crowded restaurant, with a large, beautiful tree behind them. "
Date night with @chriscortazzo
#hubbygoals," she captioned the post, to which her bestie replied, "Divine evening with my love."
Cortazzo also shared the lovely photo on his Instagram page, writing alongside it, "Date night with my love…my everything @theshando #wifeygoals."
Although their posts could spark speculation that the two are dating, that doesn't seem to be the case as Doherty has previously dubbed Cortazzo as her best friend. The friends appeared to simply be enjoying an evening together on was seemed to be a gorgeous sunny day.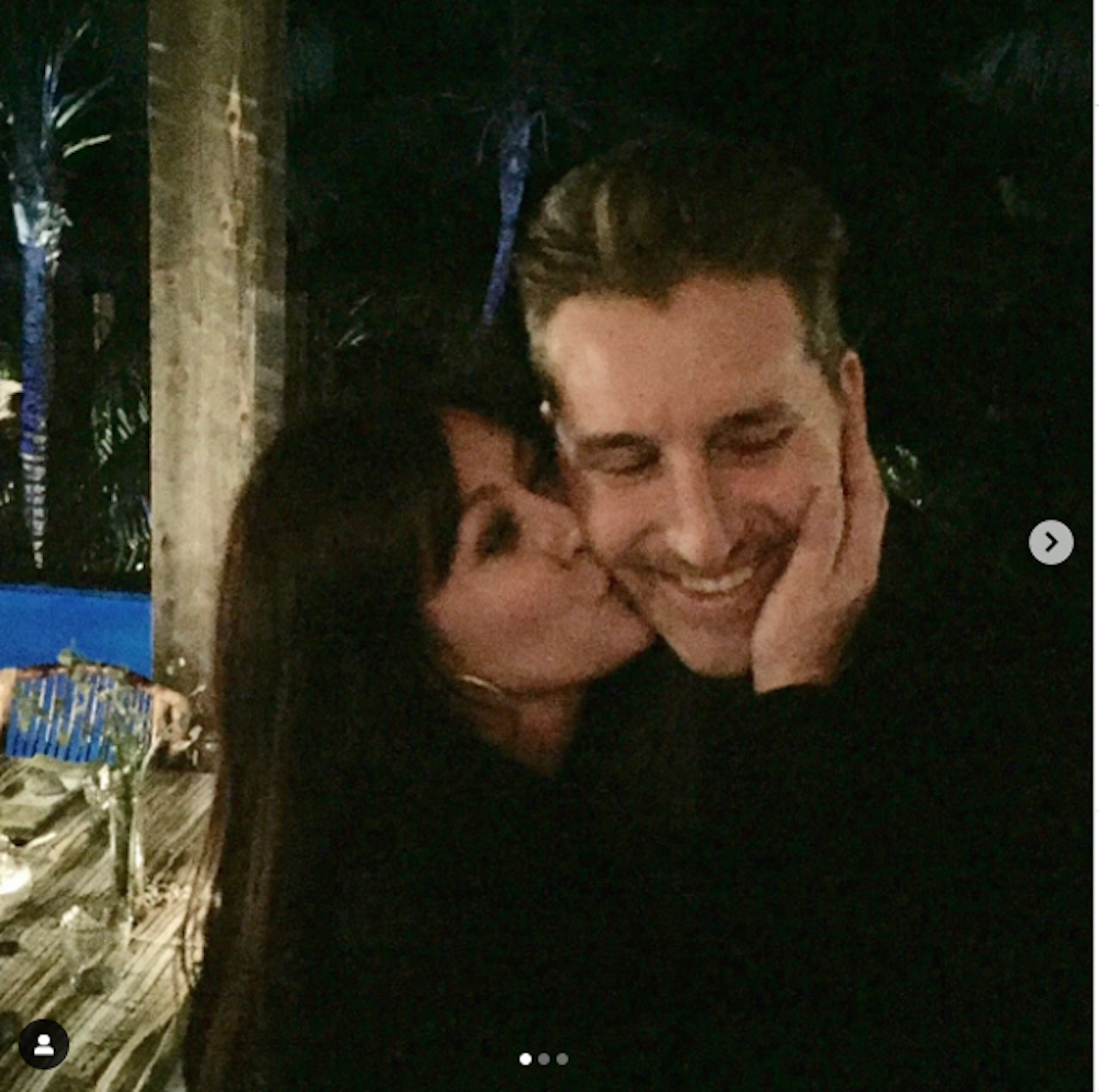 Back in February 2021, Doherty shared a some photos on Instagram for Cortazzo's birthday, writing, "Today is an epic day because on this day, @chriscortazzo was born (we don't talk about how many years ago). I couldn't ask for a more kind, loving, compassionate, funny best friend.
"You are a rock and not only am I blessed with your friendship but the world is just a better place with you in it. I love you Chris!! Happy birthday!"
Later that year, she uploaded another selfie of the two of them, saying, "Never a bad night with this one. @chriscortazzo. It's not complicated. Fill your life with kindness and love. Spend time with people who make you smile. Who challenge you. Expand. Grow."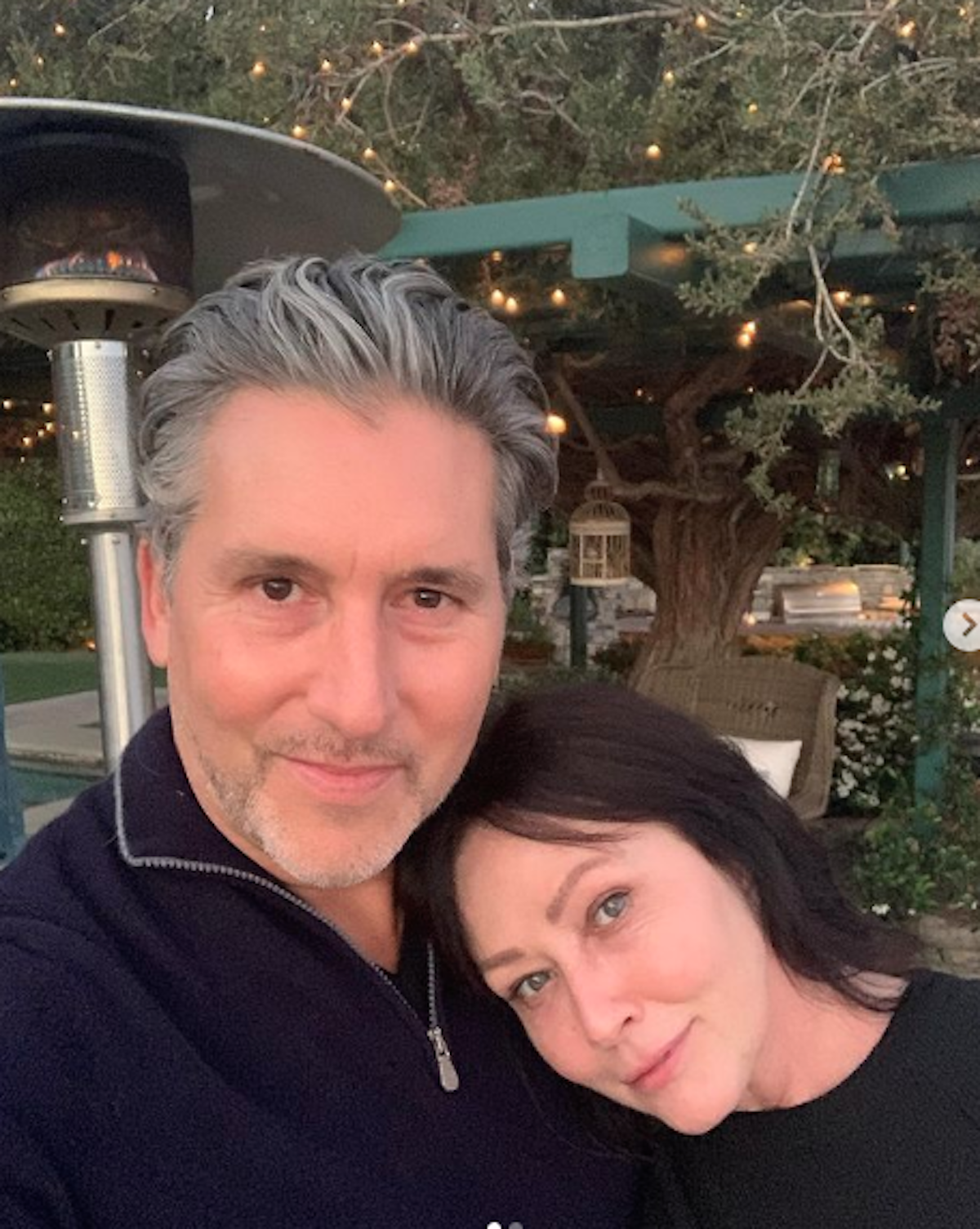 Doherty, who often takes to her Instagram page to share photos of Cortazzo, captioned a post earlier this year, "Friends. Seriously, friends. Like the people that will help you escape type friends. I love each of them so deeply."
RELATED Attorney For Actress Shannen Doherty, 52, Says Divorce Proceeding Has Taken 'A Toll' on Her Cancer Battle
In another post, showing Doherty and Cortazzo happily standing close to each other, the actress wrote, "A little blue steel is never a bad thing. Trust, love, enduring loyalty are the things I value most. @chriscortazzo always hits all three."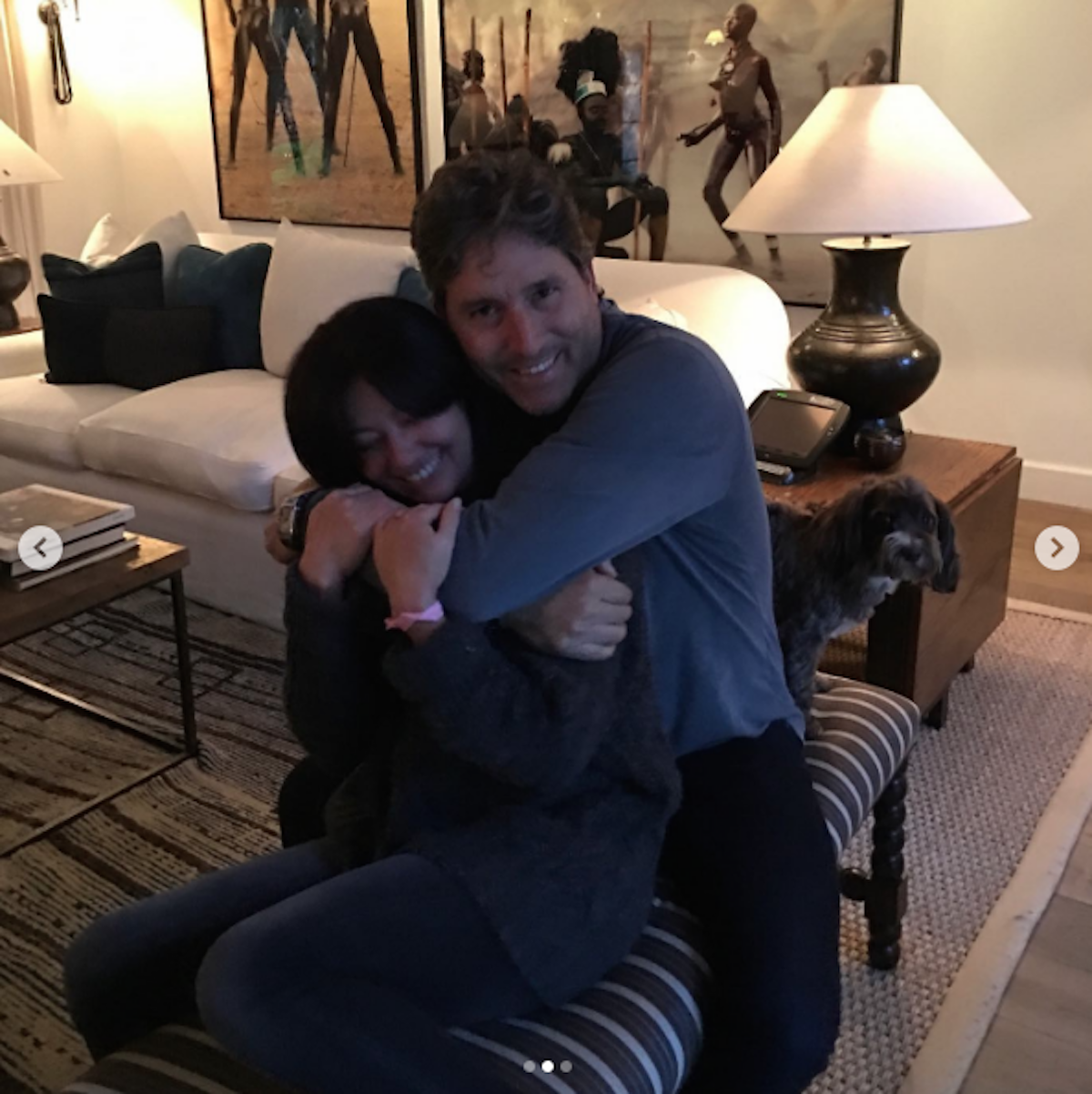 Shannen Doherty's Cancer Battle
Shannen Doherty was first diagnosed with breast cancer in 2015. It went into remission in 2017 but returned as stage 4 (or metastatic) in 2019. Metastatic cancer means the disease has spread to distant areas of the body, like the bones, liver, lungs, or brain.
RELATED: Going to London: Actress Shannen Doherty Is Not Letting Divorce Or Breast Cancer Stop Her From Finding Joy Through Hardship
This year, her continued battle with cancer involved surgery and radiation.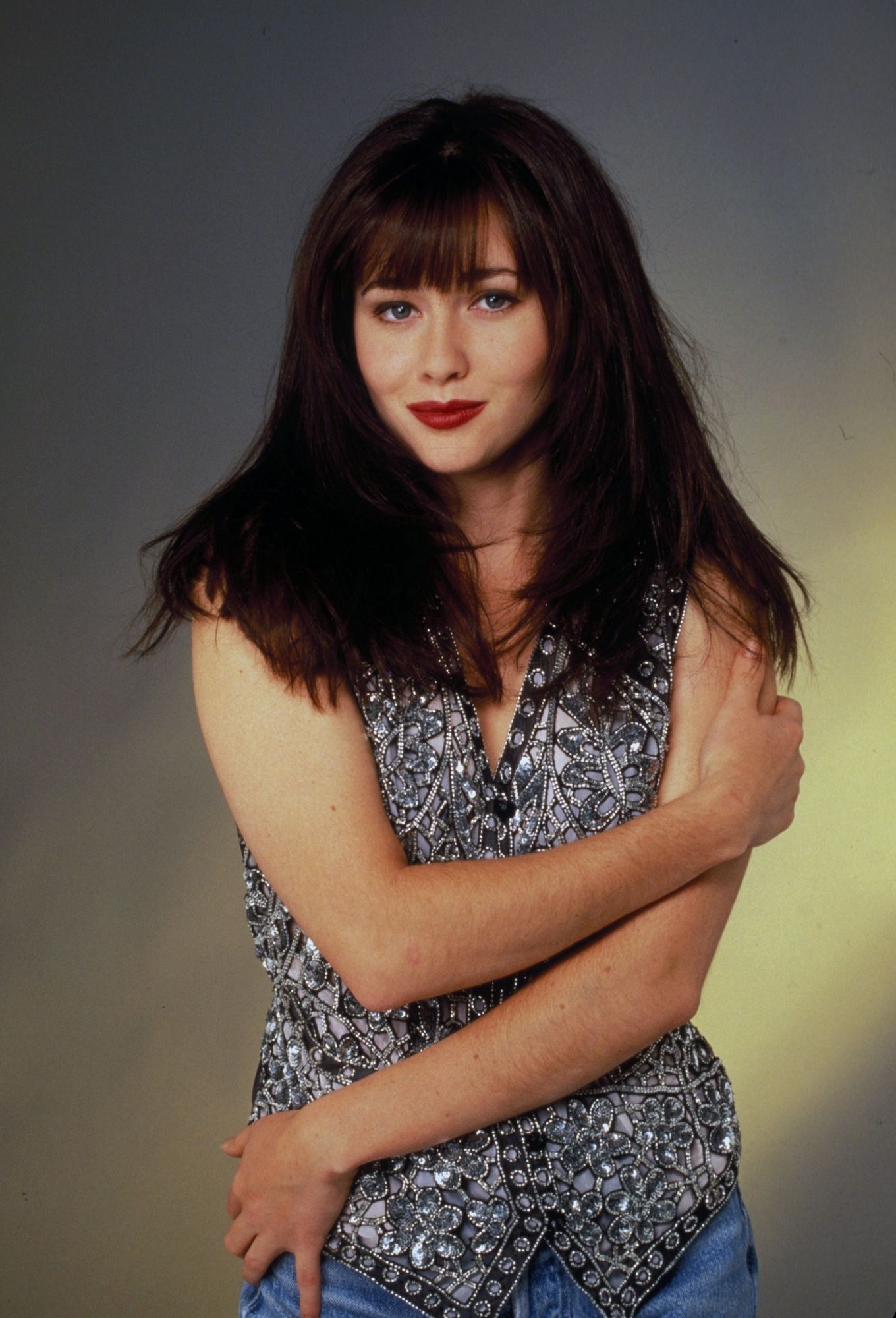 Earlier this year, the actress shared a handful of photos and videos of her getting prepared for radiation treatment on her head. During radiation, high-energy beams are aimed at the location doctors believe cancer cells to be. The MRI helps doctors pinpoint the exact location of the tumor within the skull.
She also underwent a craniotomy brain surgery where doctors worked to remove cancer from her brain.
"We take off the bone overlaying the area we need to get to. We open the little envelope around the brain called the dura and then we move through the brain tissue to get to where the tumor is to try to cut out as much as we can safely without hurting the patient's function or other important things like big blood vessels that can cause things like a stroke," neurosurgeon at Emory University School of Medicine, Dr. Kimberly Hoang, told SurvivorNet in a previous conversation.
Metastatic breast cancer survivor shares uplifting message: you are not a statistic.
After the procedure, the patient is closely monitored and usually receives radiation to keep the tumor from growing back.
"Because many patients can have more than one brain tumor or metastasis from their cancer, that was not reasonable to think about surgery for, they also get radiation for those spots as well to try to keep those tumors from growing or shrink them down," Dr. Hoang further explained.
Doherty's prognosis after having surgery to remove cancer from her brain is an encouraging sign of progress, several neurosurgeons have told SurvivorNet.
Dr. Elizabeth Comen Discusses Stage Four Breast Cancer
"A couple of decades ago, to have a brain metastasis was a very bad prognosis for patients. They didn't live for more than a couple of months, so it was a very terminal thing. Thanks to a lot of advancements in microsurgery we do and radiation…patients are living longer," Dr. Hoang said.
Friendship & Support During a Cancer Battle
It's no secret that fighting cancer, and going through a divorce, can be overwhelming, so having physical and emotional support from friends during your battle is huge. Thankfully, it seems that Shannen Doherty has been able to live her life to the fullest with supportive loved ones, especially her best friend Chris Cortazzo, by her side.
Licensed clinical psychologist Dr. Marianna Strongin says having people by your side during this "arduous chapter" of your life can be very beneficial.
"Studies have found consistently that loneliness is a significant risk factor for physical and mental illnesses and the trajectory of recovery," she wrote in a column for SurvivorNet. "Therefore, it will be important that you surround yourself with individuals who care and support you throughout your treatment."
That being said, it's very important to know your limits on what you can handle during treatment.
"Going through treatment is a very vulnerable and emotionally exhausting experience," she wrote. "Noticing what you have strength for and what is feeling like too much… [is] extremely important to pay attention to as you navigate treatment."
In a previous chat with SurvivorNet, psychiatrist Dr. Lori Plutchik added that some cancer warriors may need to look beyond their existing relationships to find the support they need.
"Some people don't need to go outside of their family and friends circle. They feel like they have enough support there," Dr. Plutchik said. "But for people who feel like they need a little bit more, it is important to reach out to a mental health professional."
Seeking Support: Dr. Plutchik shares the first 3 things to do after a cancer diagnosis
Dr. Plutchik saod it's best to find a mental health professional with experience aiding people undergoing cancer treatment.
"Make sure that the mental health professional that you work it is reaching out with your consent to the rest of your team, to the oncologist, to the surgeon," she said. "It can also be helpful to reach out to family, friends, and any other caretakers that may be involved in the person's treatment."
Five Ways You Can Support Someone with Cancer
No matter what role you play, it can be very tough to know what to do when someone you care about is diagnosed with cancer. To help get you started, below are some ways to offer support to your loved ones with cancer.
Avoid asking, try doing. Although it's understandable to not know how to best support your loved one during their cancer journey, it can be equally as hard for them to voice exactly what they need or want from you. Instead of always asking, "How can I help you?" maybe try saying something more concrete like, "Hey, can I come over at 8? I'll bring Monopoly." If you offer specific ways to support rather than ask for things they need, it's likely to come across as more genuine and feel easier for them to accept the support or help.
Stay in touch, but "don't say stupid things." You might never be able to truly understand the battle your loved one is facing, but being a person they feel comfortable talking through some of their negative emotions with can make a big difference. That being said, breast cancer survivor Catherine Gigante-Brown says there are some topics you might want to avoid. "Don't burden us with stories about your Great Aunt Harriet who had breast cancer," she previously told SurvivorNet. "And then you say, 'Oh how's she doing?' And then they'll say, 'Oh, she died.' We don't need to hear the horror stories."
How to Talk to a Friend With Cancer: Don't Say Stupid Stuff
Offer to cook them a meal. Consider inviting them over for dinner, dropping off a special dish, or, if that's not possible, sending a gift basket with some pick-me-up goodies. If you're able to cook for them, perhaps try to make a healthy meal that will bring them joy. Remember that there's no specialized diet that has been found to fight cancer, but it's always a good idea to maintain a moderate diet with lots of fruits and vegetables, as well as fats and proteins. No matter what, it's the simple gesture of providing a meal that will make them feel loved and supported.
Try helping them find joy. There's no one right way to do it, but try to think of activities you can do with your loved one that will lift them up. It could be something as simple as watching a funny tv series together, having a wine and paint night, taking a drive to a beautiful place or starting a book club with them. We've seen in previous studies that patients with better emotional health have a better quality of life when going through treatment and actually tend to live longer than those with worse emotional well-being. Dr. Dana Chase, a gynecologic oncologist at Arizona Oncology, says "better quality of life is associated with better survival, better outcomes… having a good social network can be very helpful."
Dr. Dana Chase explains how emotional health is key during a cancer journey
Be involved. If you've take on more of a full-time caregiving role, work to understand your loved one's diagnosis and help them follow the instructions from the cancer-care team. "I encourage caregivers to come in to visits with my patients, because in that way, the caregiver is also listening to the recommendations what should be done in between these visits, any changes in treatment plans, any toxicities [side effects] that we need to look out for, changes in dietary habits, exercise, etc.," Dr. Jayanthi Lea, a gynecologic oncologist at UT Southwestern Medical Center, previously told SurvivorNet.
How to Be a Better Caregiver for Your Loved One
Dating After Cancer
We love how Doherty is spending time with loved ones and maintaining joy through her health struggles amid breast cancer metastatic as exhibited through the photos she's recently shared on social media. Although she isn't actually dating her best friend, she just simply enjoyed a nice evening out, Doherty going out amid cancer is something others battling disease can do if they feel up to it.
RELATED: 'When Do I Tell a Potential Partner About My Health Battle?' Five Key Dating Tips for Breast Cancer Survivors
Dating and being intimate with someone after you've undergone treatment for cancer, or even divorce, can be really scary. A lot of survivors have told us that they needed to take some time to feel like themselves again before getting back out there.
Dating After Cancer: Getting Intimate With the New You
Breast cancer survivor and author Laura Morton says that she's really adamant about being honest with people she's dating when it comes to what she's been through.
"It is a part of who I am … but it's by no means who I am," Morton previously told SurvivorNet. "It's not anything that I feel any shame about. It's nothing that I feel any regrets about. If anything I need them to know I don't have a lot of feeling there … it doesn't do much for me if you're playing with my boobs."
Aside from the honesty, Morton says it's important if you're close to anyone who has been through cancer to acknowledge that they've experienced this huge, life-altering battle. Morton also had some frank advice for anyone who finds themselves dating someone who lacks that empathy.
"If you're with someone who has an issue with it … quite frankly, why are you with them? Show them the door … fast."
Contributing: SurvivorNet Staff
Learn more about SurvivorNet's rigorous medical review process.
---