Coping with the Loss of a Loved One
Actress Shannen Doherty, 50, is currently battling metastatic breast cancer, but she's been an inspiring source of hope and resilience for many.
Now, she's showing us how to move forward after the loss of loved one by paying tribute to her dear friend and acting coworker Luke Perry on the third anniversary of his death from a stroke.
Grief is unavoidable and important to feel after losing a loved one.
Therapy and support groups can be great tools to help you cope with all the emotions that come with loss.
Actress Shannen Doherty has inspired us in many ways throughout her metastatic breast cancer battle. Most recently, she's set an example of how to move forward after loss by remembering her late
90210
co-star Luke Perry.
The 50-year-old actress, best known for her roles in Heathers, Charmed and Beverly Hills, 90210, was first diagnosed with breast cancer in 2015 after finding a lump in her breast. At first, she was treated with hormone therapy, but this effort turned out to be ineffective as the cancer had spread to her lymph nodes.
Read More
RELATED: Shannen Doherty, 50, Now Has 'Cordial' Relationship With Former Foe Alyssa Milano, 49, As Cancer Survivor Sets Brave New Goals for 2022
Then, she underwent a single mastectomy to remove one of her breasts, chemotherapy and radiation. She was in remission until 2019, when she discovered her breast cancer had returned. This time, the cancer had spread to other parts of her body making it a metastatic, or stage four, cancer diagnosis.
Shannen Doherty on the Loss of Her Friend
Even still, Doherty has managed to keep acting and staying positive amid her cancer journey. But that doesn't mean there aren't tough days – cancer-related or otherwise. And when her friend Luke Perry died from a stroke at the age of 52 on March 4, 2019, Doherty shared her thoughts on the loss of her beloved 90210 coworker.
RELATED: Beloved Actor Luke Perry Had a Cancer Scare Years Before Fatal Stroke
"I am in shock. Heartbroken. Devastated by the loss of my friend. I have so many memories with Luke that make me smile and that are forever imprinted on my heart and mind," Doherty said at the time of his death.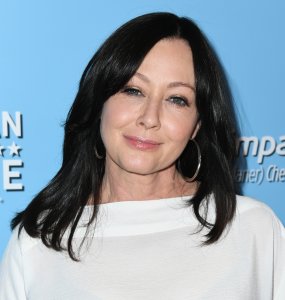 Most recently, Doherty paid tribute to her friend on the third anniversary of his death by sharing a throwback picture of the two on her Instagram story. It showed them "staring lovingly into each other's eyes as he embraces her tightly in his arms."
"Luke was a smart, quiet, humble and complex man with a heart of gold and never-ending well of integrity and love," Doherty previously shared. "Luke reached out to me during my cancer journey and we picked right back up, albeit older and wiser, but that connection remained intact.
"There is a special kind of love one has for each other when you are experiencing the journey we did on 90210 and of course life in general. Luke and I were working on show ideas for us. We wanted to work with each other again and create something special and meaningful for our fans at this stage in our lives."
Learning to Cope with Grief like Shannen Doherty
Grief is inevitable – and essential – when you're forced to say goodbye to a loved one. Giving yourself privacy can be hugely beneficial, but opening up to others, like Doherty has done via social media and with PEOPLE, can also allow for better healing.
"I will miss him everyday. Every minute. Every second," she said at the time of his death.
In a previous interview, Doug Wendt shared his thoughts on the grieving process with SurvivorNet after losing his wife Alice to ovarian cancer.
"I Don't Want to Move On; I Do Want To Move Forward": Doug Wendt On Being A Caregiver and Tragically Losing His Wife to Ovarian Cancer
"We're never gonna move on, I don't even think I want to move on, but I do want to move forward," Wendt said. "That's an important distinction, and I encourage anybody who goes through this journey as a caregiver and then has to face loss, to think very carefully about how to move forward."
Everyone's journey of grief looks different, but therapy and support groups can also be wonderful options to explore. It's also important to keep in mind that time does not heal everything, but it certainly helps.
In an earlier interview with SurvivorNet, Camila Legaspi shared her own advice on grief after her mother died of breast cancer. For her, therapy made all the difference.
"Therapy Saved My Life": After Losing A Loved One, Don't Be Afraid To Ask For Help
"Therapy saved my life," Legaspi said. "I was dealing with some really intense anxiety and depression at that point. It just changed my life, because I was so drained by all the negativity that was going on. Going to a therapist helped me realize that there was still so much out there for me, that I still had my family, that I still had my siblings."
Legaspi also wanted to remind people that even though it can be an incredibly difficult experience to process, things will get better.
"When you lose someone, it's really, really, really hard," Legaspi said. "I'm so happy that I talked to my therapist. Keep your chin up, and it's going to be OK. No matter what happens, it's going to be OK."
Learn more about SurvivorNet's rigorous medical review process.