Mental Heath is Always 'In'
Actress Zoë Kravitz, daughter of singer Lenny Kravitz, shares a humorous photo on her social media with a big message that references what is cool these days: mental health. "F*ck nudes, send me a dated invoice from your therapist so I know you're working on yourself."
Experts say that mental health issues are at an all-time high due to the pandemic. Luckily, the stigma of mental health has been greatly reduced in recent years thanks to people in the public eye especially, and many people are no longer afraid to say that they are in therapy, which encourages more people to get help.
A top psychiatrist tells SurvivorNet about redirecting feelings of vulnerability in a positive way, to help many people with cancer get over feelings of shame for seeking help. "What I will often point out to people is that we have the ability to choose how we respond to this vulnerability," he says. "We can be ashamed of it. Or we can use it to create a sense of empathy."
The actress Zoë Kravitz, 32, has a mental health message that we think is relevant for people with cancer.
Kravitz, the daughter of rocker Lenny Kravitz, shares a humorous photo on her social media that references what she thinks ought to be super cool these days: mental health. The YSL campaign model has spoken out on mental health in the past, specifically on the eating disorder she struggled with for many years. Being the daughter of famous parents didn't exactly help (her mom is Lisa Bonet who some of you may remember from The Cosby Show, and her step-dad is Game of Thrones hunk Jason Momoa, no big deaI). Kravitz has said that she's had a hard time "loving herself."
Read More
Related: Oscar Nominee Taraji P. Henson, 50, Shares Mental Health Struggles So Many Understand Amid COVID-19, Especially Those Fighting Cancer
"F*ck nudes, send me a dated invoice from your therapist so I know you're working on yourself," the post reads. The "nudes" refers to what inevitably goes on in the virtual dating game these days. But working on mental health is sexier, as the photo suggests. "Not no …," she writes on her Instagram stories over the image, which features the message in red balloon letters on a wall. (Millennial speak meaning that the actress agrees.)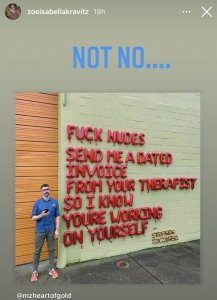 View this post on Instagram
Staggering Reports on Mental Health
Experts say that working on your mental health is more socially acceptable than ever these days, because there's nothing better than helping yourself feel better. Especially while navigating through the fears of COVID, and/or a cancer diagnosis. Many Americans are no longer as afraid to speak up and say that they are in therapy. The stigma has been greatly reduced in recent years, but there's still more work to do, according to mental health professionals.
Related: Fans Say Actress Kristen Bell's Honesty About Depression Helps Them: "Thank You for Always Being Open About Your Struggle With Mental Health"
The CDC (Centers for Disease Control and Prevention) reports that 40.9% of 5000+ respondents in a survey conducted last year "reported at least one adverse mental or behavioral health condition, including symptoms of anxiety disorder or depressive disorder." And according to Mental Health America's 2021 report, 60% of our youth are depressed.
Reducing the Stigma
People in the public eye, like Kravitz, who is also a singer like her dad, do so much to help to continue to reduce the stigma, especially for our youth. Other generations who grew up around more of a stigma where people were called "crazy" for going to therapy, or maybe it was kept secret, can let their guard down, and learn how to be vulnerable, which encourages more and more people to get help. It is how we will grow as a society, helping ourselves, and by helping ourselves, we can help others. And for people who have been going through cancer on top of this global crisis, it is especially imperative to get help.
View this post on Instagram
It's OK to Feel Vulnerable
For those dealing with feelings of hopelessness right now, especially people going through cancer, doctors want you to know that there is nothing to feel shame over, as these are common feelings that many people just like you are going through.
Dr. William S. Breitbart, Chair of the Department of Psychiatry at Memorial Sloan Kettering Cancer Center tells SurvivorNet how people can navigate through these feelings. "What I will often point out to people is that we have the ability to choose how we respond to this vulnerability," he says. "We can be ashamed of it. Or we can use it to create a sense of empathy."  Dr. Breitbart tells us how to redirect those feelings in a positive way. More along the lines of, "'I'm imperfect. And now I understand other people who are imperfect.' And so being imperfect can teach you how to love other human beings." To top that off, he goes further to explain an even higher level of thinking that is pretty monumental. "And it's what makes it possible for others to love you." So we can take our feelings of vulnerability and make them work for us and not against us.
A Major Step in the Cancer Journey Learning to Deal With Vulnerability
Therapy Can Teach Coping Skills
We are living in a time where we need to learn how to cope more than ever. Although there are many advancements being made in cancer, the pandemic has placed a huge double whammy on the cancer community. Dr. Marianna Strongin, a clinical psychologist who specializes in mood disorders and life transitional issues tells SurvivorNet that "the COVID-19 pandemic is one of the largest issues that anybody with any kind of mood or anxiety disorder right now is facing." She makes a valid point on how searching the internet when you're feeling anxious will only make matters worse. "People get addicted to looking for answers through the media. What happens, as a result, is that they wind up with more questions, and questions equals anxiety."
Dr. Strongin expresses the most important things that people need to understand about these feelings. "The first thing is that people have to understand their anxiety and the relationship they have with their anxiety," she says. "So what I mean by that is, how often are you checking in with your anxiety? Where do you feel it in your body? And what are the questions that it's asking you? Is it asking you, is everything going to be OK? What's happening? Will I survive? Now, the second most important thing is, are you providing it some answers?"
Many people do not have the coping skills to deal with their anxiety. So the real way to get through these feelings is to learn coping skills, which is why you will benefit by sitting down with a professional. "Some people are really good at always giving themselves answers. And other people don't have the coping skills to answer their anxiety. And as a result, the anxiety increases."
How To Manage Anxiety During Coronavirus 'You're asking Yourself a Question, But You Can't Find The Answer'
Learn to Forgive Yourself — Dealing With the Psychological Aspects of Cancer
Learn more about SurvivorNet's rigorous medical review process.