Dennis Smith's Story
Smith spent 57 days searching through rubble at Ground Zero.
He developed throat cancer 13 months later.
People exposed to smoke, fires and dust on 9/11 and in its aftermath face higher cancer risk.
Those at risk are eligible for free care and follow-up through the World Trade Center Health Program.
Retired FDNY firefighter and celebrated writer Dennis Smith, 80, spent 57 consecutive days digging through the rubble at Ground Zero in the aftermath of 9/11. Afterward, he was diagnosed with cancer.
Smith served as a firefighter for 18 years from 1963 to 1981, and is the author of 16 books, including his 1972 autobiography, Report from Engine Co. 82, and his 2002 account of the men of the FDNY on 9/11, Report From Ground Zero. 
Read More
RELATED: 9/11 Raised Cancer Risk for Nearly 500,000 People; One Man Diagnosed With Breast Cancer Shares His Story
Thirteen months after 9/11, Smith was diagnosed with throat cancer — a topical cancer at the base of the tongue about an inch and a half long. To treat the disease, Smith underwent Brachytherapy, a process during which doctors place a radioactive substance directly onto the cancer, and then 29 days of radiation.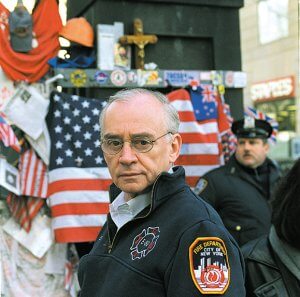 The Morning of 9/11
"It was a simple enough beginning for me. I was in a doctor's office getting an annual checkup, and nurse came in and said, 'God, a plane went into the World Trade Center.' So, she put on the television and they said it was a regular size commercial flight airplane."
At that point, Smith knew he was going to respond. "I went down to the fire department on 67th street, ladder 1. And I just gathered with 15 other guys. Well first I went home and changed clothes into essentially fire department work clothes, which I had. The entire time I still had those clothes in my drawer."
RELATED: "We Were Told The Air Was Safe" — The People At Risk for 9/11 Cancers
And the group used any means they could to get to the site. "We commandeered a bus and we went down there," smith said, "and the immediacy could be seen in everybody's eyes, because they knew that these were the tallest building in the world at the time, and they knew that a fire on a floor or a few floors would be extremely dangerous."
"A chief of the department, who was also a friend of mine, had been killed in the first collapse when the South Building came down. I just did as much as I could that day," Smith said. Smith also said there is a lot he doesn't remember about the day, but has been told where he was and what he did throughout.
Smith told SurvivorNet that he often reflects on the gravity of what happened on 9/11. "Little did we know that day would become one of the three or four most important days in American History. And I've given a lot of thought to that afterward. You know, the day we singed the Declaration of Independence, the day George Washington was elected– it's right up there."
RELATED: Helpful Resources if You're Worried About 9/11-Linked Cancer
"I stayed there for 57 days, consecutive days," he said.
The Smoke at Ground Zero
The air at Ground Zero was initially filled with a thick smoke, Smith explained. "God knows, as I had time to reflect on it later, God knows what the composition of that smoke was."
And the thick debris didn't lift for days after the attack. "The first few days were very still days. There was no wind and that smoke just hung there like drapery for two days," Smith said. "So that was the beginning of a lot of my medical problems that happened."
Hopeful Recovery Mission
The days after 9/11 were days of hopeful recovery and rescue, Smith explained to SurvivorNet. "Anybody who really knows the story of 9/11 knows that there were no people really rescued except that there were 13 people in the north tower that were caught, and they were largely unhurt, in a miraculous structure that created a sort of a ceiling for them. But there was no real rescue operation the way fire department is used to making a rescue operation."
"The aftermath became a recovery operation, not a rescue operation," Smith said. "It was then I met Lee Ielpi, who I had heard of and not actually met, and then I worked next to him for a few days. It was a privilege for a guy like me to be down at that sight and to work next to a guy like Lee Ielpi, who lost his son and who has got probably more medals in the history of the fire department than anybody else."
RELATED: The Decorated Firefighter Who Got Cancer Searching For His Son In the Rubble of Ground Zero
Together, Smith and his group began the difficult process of digging through the rubble. "It was just grunt work. It was digging. It was putting out small pockets of fire, it was lifting and carrying, it was doing whatever you could to lighten up the load of that scene and to see what was underneath it. So I did that for 57 days."
Still, Smith refers to his time at Ground Zero as a great privilege. "It was tremendously, it was just a great honor. Such a great honor to be down there at that time, searching for everybody," he said. "If you worked all day and you found a body part, that was a successful day, because somebody would take that body part and they could make a funeral out of it."
"I stayed largely with the FDNY people who I knew would be spending their time in the most positive way," he added.
Cancer Treatment
In order to treat his throat cancer, Smith had what's called a Brachytherapy, a treatment where doctors place radioactive material directly onto the cancer. "It essentially saved my life, that therapy," he said.
In Smith's case, he underwent a laryngectomy first to enable him to breathe. He was also prescribed thirty days of radiation therapy. "[It] was tremendously painful," he said.
"During this time I wish that I had somebody that would tell me what to expect," Smith said, "because I had no idea what 30 days of radiation would do to you. First of all, I lost 65 pounds. Second of all, it was tremendously painful in so many ways– because it changed the whole structure and function of the body."
Smith completed 29 days of radiation therapy. "On the 30th day I went in and told them I cannot do the 30th day. Because I just didn't have it in me," he said. Smith made a full recovery and recently celebrated his 80th birthday.
Coping With Occupational Cancer and Illness
Cancer wasn't the only diagnosis Smith received as a result of his time spent at Ground Zero. Six months after his cancer diagnosis, and after he'd lost sixty five pounds in treatment, Smith was diagnosed with Chronic Obstructive Pulmonary Disease (COPD) and with a aortic aneurism in the lower chest. As a result, he had to have open heart surgery 18 months after 9/11.
"I see quite a lot of Lee Ielpi and so many guys that I worked with, and everybody has similar experiences," Smith said. "We realized that nobody we know from those days, those several months working at the site, nobody remembers anybody who did not get sick. It just came with the territory."
According to Smith, firefighters and other service workers weren't properly compensated for the medical issues that resulted from 9/11. "I haven't written about it, and I suppose I will write a book about it or a story some day, about the injustice of that 9/11 Victim's Compensation Board inflicted upon so many people," he said.
"During that time there was no advice given to anybody who was suffering these illnesses the way I did and so many others. Nobody called and had a long conversation — you're going to go to the hospital for a cancer or you're going to the hospital for an aneurism."
Still, Smith believes that illness is part of what it means to be a firefighter, and is honored to have been at Ground Zero. "Everybody felt this was part of the territory, and you took the job, you took the consequence," he said.
Learn more about SurvivorNet's rigorous medical review process.
---