Support from loved ones is integral to taking on cancer, especially in a long, grueling fight like the one faced by comedian Cedric the Entertainer's mother Rosetta Boyce Kyles. Kyles passed away in 2015 after initially being diagnosed with uterine cancer in 2009.
As Kyles worked with her oncologist at St. Mary's Hospital in Richmond Heights, Missouri, her son and his sister were at her side to help her navigate her own unique treatment path and offer advocacy as needed. Cedric recalls, "My sister and I would have our own meetings with the doctors to look at all the treatments and get a clear understanding."
Uterine Cancer Explained
Making a Difference for Others
Read More
Now, Cedric the Entertainer is aiming to encourage others facing their own cancer battles to seek out potentially lifesaving information about emerging research.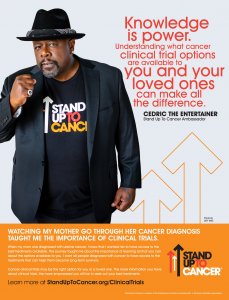 A Partnership with Stand Up to Cancer
The comedian, who also serves as a Stand Up To Cancer (SU2C) Ambassador, teamed up with SU2C for a new public service announcement (PSA) designed to educate and encourage cancer patients to  explore treatment options available through clinical trials.
The PSA is the third in a series of PSAs supporting Stand Up To Cancer's Health Equity Initiative, which is aimed at increasing diversity in cancer clinical trials. That research addresses differences in genetics, metabolism, and physiology. Currently, data from the FDA shows only 4 percent of total cancer clinical trial participants are Black, and 5 percent are Hispanic, despite the fact that people of color have the highest mortality rates and shortest overall survival rates for most cancers.
"We have the old, traditional ways in which the disease is treated, but in order for us to really grow, in order for us to understand the disease in many ways, it's important that people not be afraid of clinical trials," The Neighborhood star notes. "It's important that we get away from the myth that you're a guinea pig in that situation. It may not feel like the comfortable way, because it's not something that you know, but doctors and scientists are really trying to figure out ways to help people."
That's why he's passionate about experts sharing information about clinical trials with patients in a digestible way. He went on to say, "That way, the average person can explore their options."
After Losing Mom, Lending His Voice to SU2C Made Sense
Spreading awareness is the main reason Cedric says he has been supporting Stand Up To Cancer since 2018.
"After my mom passed away, I got introduced to this organization," he shares. "And the partnership was a no-brainer. [Now I'm] spreading the word that we as a culture have to stand up to cancer and say we do want to eradicate it at some point in time in our lifetime, hopefully, and find a real cure for it."
To that end, clinical trials — not just for some, but for all communities — could be the key.
To learn more about cancer clinical trials, visit StandUpToCancer.org/ClinicalTrials.
Learn more about SurvivorNet's rigorous medical review process.