There's been an outpouring of praise for "Jeopardy!" host Alex Trebek, who is handling his stage 4 pancreatic cancer with grace and optimism. But perhaps among the most meaningful to him were the words recently bestowed by Joseph M. McShane, S.J., president of Fordham University in New York.
RELATED: The Amazing Strength of Alex Trebek — a Look Back at the Cancer Survivor's Jam-Packed 2019
Read More
"You think Alex Trebek is a good man; you don't know the half of it, he's better than you think," said Father McShane. McShane's speech came while giving Alex and Jean Trebek the school's Founder's Award, which recognizes people whose lives reflect the university's dedication to "
wisdom and learning
in the service of others."
"He's a brilliant man who is the nation's school teacher, let's admit that," McShane said according to the Fordham News. "As the host of 'Jeopardy!,' he is our school teacher and we look forward to going to school every evening."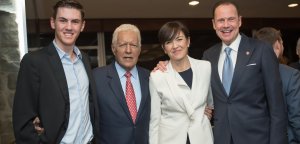 Fordham is a Jesuit school, a Catholic order that the Trebeks are drawn to. Both their children went to Jesuit colleges, the Fordham News reports — their son, Matthew, to Fordham College at Rose Hill, and their daughter, Emily, Loyola Marymount University in Los Angeles.
In accepting the award, Trebek recalled a recent Lakers game that he attended where he was told "a lot of people praying" for him.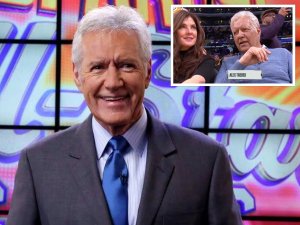 "And if there's one thing I have discovered in the past year it is that power of prayer; I learned it from the Jesuits when I was a kid, l learned it from the Oblates of Mary Immaculate when I was in boarding school," he said, reportedly tearing up.
"It's humbling and it's gratifying because of the program that I have hosted for 36 years I have managed to touch the lives of so many people," he also said.
Renowned Sense of Humor Front and Center
The event was held in Los Angeles and not in New York, where Fordham is located, due to Trebek's health and work, and he arrived from the studio still in makeup. "He told the crowd that he was there to provide comic relief from the formalities," said the Fordham News. "Pointing to the statue, he noted that at 20 pounds it was the heaviest award he has ever received."
'That's about a case of beer for those of you who keep track of statistics,'" he said.
RELATED: Enormous Love for Brave Alex Trebek as 'Jeopardy! Greatest of All Time' Tournament Begins
Earlier, "eyeing the Archbishop Hughes statue during his acceptance speech," Trebek had said, "I have a thing about men with capes. People ask me at the studio quite often, 'If you weren't hosting Jeopardy what would have you wanted to be in your life?' And my response for years has been consistent — 'pope!'"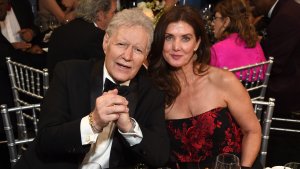 "We understand how education, and probably more importantly, higher education, is one of the linchpins of society," Jean Trebek said. "The many issues that we currently face are intertwined and affected by the leveling of educational availability."
RELATED: 'I Don't Mind Experimenting — I've Got Nothing to Lose': Alex Trebek Speaks Out on New Treatments and More
The Trebeks started the Alex Trebek Endowed Scholarship at Fordham in 2015, making a $1 million gift to the school to provide scholarships for students from Harlem, according to Fordham News. In 2019, they added another $1 millions gift, and expanded the scholarship to students from East Harlem, according to the university. Their son Matthew is a restauranteur in Harlem, and the Trebeks told Fordham they have "a soft spot" for the area.
Jean also said in her acceptance speech that to her the result of scholarship funding are "awe inspiring," and that an educated mind "has the opportunity to be open and curious which allows for a fuller understanding and appreciation of our humanity both individually and collectively."
Alex Trebek's Cancer Journey
In March of 2019, Alex was diagnosed with advanced pancreatic cancer. In the months since, there's been an outpouring of prayers, support and deep concern from Trebek's many of fans.
Initially, Trebek thought treatment would go quickly. But unfortunately, the treatment hadn't worked as well as doctors initially thought.
"That was a bit premature and certainly overoptimistic. I began immunotherapy, but that didn't go well. My numbers went south — dramatically and quickly," Trebek said. "The doctors are now re-examining my situation and, it appears, I will be having more chemo treatments ahead of me."
This month, Trebek revealed that he's open to trying new therapies. "We may try a new protocol…a different chemo or something in the trial stage that is not chemotherapy," he said in an interview on ABC. "I don't mind experimenting. I've got nothing to lose, so let's go for it."
Trebek's advanced stage of pancreatic cancer has only a 3% five-year survival rate, which means that only 3% of people diagnosed end up living five years. But with most stage 4 pancreatic cancer patients living only 3-6 months after finding their cancer, Trebek is already beating the odds.
Learn more about SurvivorNet's rigorous medical review process.
---