In March of 2019, "Jeopardy!" host Alex Trebek announced that he had been diagnosed with stage 4 pancreatic cancer — a disease with a really difficult prognosis. Yet he has approached the challenges that accompany the disease with class and bravery. Not only has he continued to host "Jeopardy!," which he has been doing for the past 35 years, but he is using his experience to spread awareness about the disease.
It's been a busy year for Trebek, who also became a spokesman for pancreatic cancer awareness — and it looks like 2020 is going to be just as productive for the beloved host.
The Trebek Effect — Pancreatic Cancer Awareness
Read More
On March 7, 2019, the day Trebek went public with his pancreatic cancer diagnosis, online searches for pancreatic cancer went from about 2,000 views per day to 66,454 views. After he participated in a PSA to spread awareness for the
World Pancreatic Cancer Coalition
, a group of organizations that aim to raise awareness about the disease and inspire action, the coalition said it saw a massive increase in traffic to their website.
Why It's So Important
The  Trebek Effect could very well save lives.  Pancreatic cancer has the lowest survival rate of all major cancers. The coalition points out that the disease has a dismal 2% to 9% five-year survival rate in almost every country. What's more, pancreatic cancer is often diagnosed in the later stages, as it was for Trebek, which makes it incredibly difficult to treat. In Trebek's PSA, he lists off some symptoms that may help catch the disease earlier.
"I wish I had known sooner that the persistent stomach pain I experienced prior to my diagnosis was a symptom of pancreatic cancer," Trebek said. "Other common symptoms include mid-back pain, unexplained weight loss, new-onset diabetes, and the yellowing of the skin or eyes."
Speaking Out About Side Effects
As someone whose job it is to appear on TV, the side effects of cancer treatment can be particularly daunting. Yet Trebek has spoken candidly about some of the tougher side effects he's experienced — such as fatigue, nausea and hair loss.
RELATED: Alex Trebek's 'Hair' Looks Amazing–Here's Some Wig Advice From the Best in the Biz
In a May appearance on CBS Sunday, Trebek made a lighthearted joke about his hair loss, prompting "Jeopardy!" fans to guess whether his hair was real or a wig.
"So what the challenge for 'Jeopardy!' viewers is right now is to figure, 'Is that Alex's real hair or is that a full hairpiece?' Because they all know that when you start chemo, you lose your hair … So, which is it?"
He then disclosed the answer: He has, in fact, been wearing a hairpiece for "Jeopardy!" tapings. Even though the piece looks incredibly realistic, Trebek added that he hoped after he finished chemo, the hair would grow back.
"I like my own hair," he said.
79th Birthday Bash
Over the summer, the beloved game show host also had a big birthday party. Despite being in the process of cancer treatment, Trebek's friends and family joined him in a large ballroom for a birthday bash. The official "Jeopardy!" social media accounts shared photos from the celebration, in which Trebek is seen posing with loved ones and smiling.
View this post on Instagram
Keeping Active Around the House
Many oncologists recommend people battling cancer try to remain as active as possible when it comes to daily activities — and Trebek has been doing just that since his March diagnosis. In fact, his wife, Jean, shared earlier this year that the game show host is also quite the handyman.
RELATED: Jean Trebek Opens Up to SurvivorNet About Healing & Spirituality
Jean shared photos of Alex working on her bathroom in their home to her website, Insidewink.com, and praised her husband for being the dedicated, problem-solver that he is.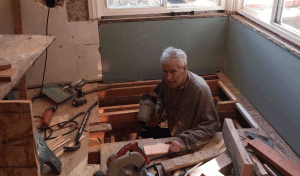 Trebek also spoke about how little victories, like being able to fix things around the house, mean a lot during the cancer journey in an interview with Los Angeles' News 8 Now.
"I told my wife I felt really good about being able to do this, because I've been feeling very very weak," Trebek said. "I have trouble going upstairs, and it was just so satisfying to be able to do work like that around the house."
Going Out and Having Fun
He's also still out there partying. For Christmas, Trebek threw his annual "Jeopardy!" staff and crew bash, taking over one of Los Angele's premier supper clubs, Feinsteins's at Vitello's. Invited to entertain were comedian Paula Poundstone and one of his favorite singers ever — "American Pie" musician Don McLean.
RELATED: A Trebek Family Holiday Tradition, and the Importance of Rituals When Going Through Tough Times
And on Christmas night, he was spotted out with his wife, Jean Trebek, sitting courtside at the Lakers game. Fans were thrilled to see Trebek out and about, with many taking to social media to share that the game show host was looking happy and healthy.
Planning a Busy 2020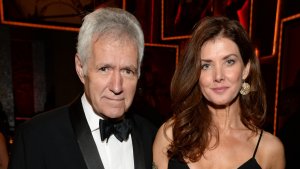 To kick off the new year, Trebek, once again, will be a busy man.
On Jan. 2, ABC's "20/20" will air a special interview with Alex and Jean Trebek. Called "What is Jeopardy!? Alex Trebek and America's Most Popular Quiz Show," the "20/20" special will be hosted by Michael Strahan and provide an intimate look at Trebek's life, both on and off the "Jeopardy!" set.
Then on Jan. 7, fans can tune in to the "Jeopardy! The Greatest of All-Time" special, which will feature the game show's biggest winners — Ken Jennings, James Hozhauer and Brad Rutter — competing for a share of $1.5 million in prize money.
Learn more about SurvivorNet's rigorous medical review process.