Amid a battle with advanced pancreatic cancer, "Jeopardy!" host Alex Trebek is definitely still making the most of this holiday season. Not only did he host a star-studded Christmas bash for the people who work on the game show last week, on Christmas nigh, he was spotted out with his wife, Jean Trebek, sitting courtside at the Lakers game.
Fans were thrilled to see Trebek out and about, with many taking to social media to share that the game show host was looking happy and healthy.
Read More
RELATED: Alex Trebek Throws Christmas Party With Surprise Guest
"Alex Trebek looking good what a king," wrote one user who goes by the username, @NaturallyKatz. He also included a snap of Trebek and his wife at the game.
???????????? pic.twitter.com/hZFmOG67fP

— Lamar Jordanson (@NaturallyKatz) December 26, 2019
"Alex Trebek at the game and he looks good y'all!! Warms my heart," wrote another who goes by the handle @HumbleTeej.
RELATED: Jean Trebek Talks to SurvivorNet About Healing and Spirituality
When the 79-year-old game show host went public with his stage 4 pancreatic cancer diagnosis earlier this year, fans were naturally distraught. Trebek, who has hosted "Jeopardy!" for 35 years, is one of the most well-liked figures in TV history. But Trebek has maintained a really positive attitude throughout the journey.
Trebek's Cancer Journey
After announcing his diagnosis in March, the host spoke about his treatment in May and disclosed that the way his tumors were shrinking during chemotherapy was quite "mind-boggling," as pancreatic cancer — especially in advanced stages — is extremely difficult to treat. However, Trebek did suffer a setback in September, and announced that he would need to undergo an additional round of chemotherapy.
In a September interview with "Good Morning America," Trebek explained that after his initial positive response to chemo, his medical team chose to stop that mode of treatment and attempt to use immunotherapy — a type of cancer treatment that attempts to make use of the body's own immune system to find and attack cancer. However, the host explained that when he stopped chemotherapy, his condition worsened quickly.
RELATED: How Does Immunotherapy Work?
"I lost about 12 pounds in a week. And my numbers went sky high, much higher than they were when I was first diagnosed," he said on GMA.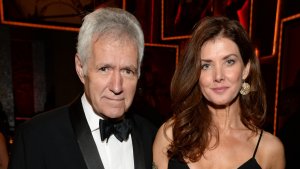 Trebek Gears Up for a Busy 2020
The host has been relatively mum about his health over the past few months, but fans are certainly delighted to see he's remaining incredibly active, as his holiday season activities can attest to. Plus, in addition to his usual "Jeopardy!" hosting duties, Trebek will also be hosting a prime-time "Jeopardy!" GOAT special and be featured in a "20/20" special to kick off the new year.
On Jan. 2, ABC's "20/20" will air a special interview with Alex and Jean Trebek. Called "What is Jeopardy!? Alex Trebek and America's Most Popular Quiz Show," the "20/20" special will be hosted by Michael Strahan and provide an intimate look at Trebek's life, both on and off the "Jeopardy!" set.
Then on Jan. 7, fans can tune in to the "Jeopardy! The Greatest of All-Time" special, which will feature the game show's biggest winners — Ken Jennings, James Hozhauer and Brad Rutter — competing for a share of $1.5 million in prize money.
Learn more about SurvivorNet's rigorous medical review process.