When talking about cancer, we often consider the support system the person battling the disease needs — but a survivor's loved ones often also need an outlet of their own. Cancer, after all, affects the whole family. When it comes to the family of beloved Jeopardy host Alex Trebek, his wife Jean keeps it positive with the help of her faith.
Trebek, 79, has been very candid with fans about his battle with stage 4 pancreatic cancer, and maintained a really positive attitude as he continues treatment. In an interview earlier this year, Trebek said that the strength he's been able to muster up in the face of such a challenging disease comes from the amazing support system he has at home — including his wife of 29 years, Jean Currivan Trebek.
Read More
Jean has several of her own outlets to turn to — and a really strong support system to find solace in. She's a Religious Science Practitioner, a Reiki master and a sound healer. She also recently
launched a website dedicated to celebrating the "goodness"
in life.
RELATED: ALEX TREBEK CELEBRATES HIS 79TH BIRTHDAY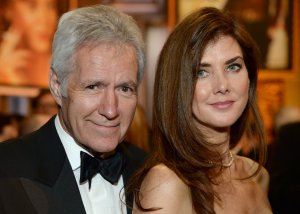 Jean is a member at the North Hollywood Church of Religious Science. According to the church's website, religious science is a spiritual philosophy developed by a philosopher named Dr. Ernest Holmes, who believed that the commonalities of the world's religions could be combined into one philosophy — or way of life. Trebek has been quoted in the past saying his wife is heavily involved with her religion.
Having faith to hold on to during the cancer journey — whether you are the one battling the disease or the one watching a loved one do so — can make a really significant difference. Countless survivors have told us that, no matter what their religious affiliation is, having a higher power to turn to during the cancer battle made the challenges a little less scary.
In a previous interview with SurvivorNet, colon cancer survivor Jovannie Lorenzo said that when she was first diagnosed, she was mad at God. But she realized she would need her faith to take on her diagnosis.
"For me, my faith is everything. I do believe in being born again — and I feel that after having had my cancer, for me, this was my second chance at life," she said. "I will say that my faith was tested, absolutely … but I knew that I didn't have it within myself to do this alone, and I knew that I needed the strength of God."
RELATED: WHY IS CATCHING PANCREATIC CANCER EARLY SO IMPORTANT?
Beth Chapman, the wife and co-star of Duane "Dog the Bounty Hunter" Chapman, recently passed away after a battle with lung cancer — but faith played a major role in her cancer journey as well. She even told fans that she considered her diagnosis "the ultimate test of faith" — and essentially, accepted that her life was in God's hands.
While Jean Trebek is not quite as outspoken about her religion, she certainly is a big proponent of spreading her message of positivity. On her website, Insidewink.com, Jean regularly shares heartwarming updates about her family and her life — and is always sure to build up her hubby. In a recent column celebrating the men in her life, Jean praised the Jeopardy host for his "ingeniousness" — pointing out that he is a man who becomes extremely determined once he has set his mind to a challenge.
And Trebek's battle with pancreatic cancer seems to be no different. Trebek was diagnosed at stage 4, which means his cancer is at a stage doctors consider extremely difficult to treat. However, the beloved game show host says he is responding well to treatment. He announced earlier this year that after several rounds of chemotherapy, his tumors had begun to shrink. He told People that the results were "mind-boggling."
Trebek also told People that he and Jean's two children, 28-year-old Matthew and 25-year-old Emily, are just as positive as their parents. "They look at me as Mr. Strong. They think, if anybody's going to beat this, dad will. They're very positive, and until I demonstrate otherwise, they're going to continue in that vein," Trebek said.
It's important to note, that even though Trebek seems to be defying the odds for pancreatic cancer — the disease is notoriously difficult to treat. Only 3% of people diagnosed with pancreatic cancer live for five years, and most of them live only 3-6 months. However, Trebek announced his diagnosis in March — and those close to him seem to have remained in high spirits as he continues treatment.
In July, the Jeopardy host celebrated his 79th birthday with a party and looked both happy and healthy — a testament to the notion that a positive attitude really can make a difference for people battling cancer.
Learn more about SurvivorNet's rigorous medical review process.