Taylor Leans on Joe
Singer Taylor Swift, 30, has been dating British boyfriend, actor Joe Alwyn, 29, since 2016; he has reportedly been a source of support as her mom battles cancer.
Andrea Swift, 62, was first diagnosed with breast cancer in 2015; in early 2020, Taylor said her mom had a brain tumor.
Having a strong support system as a loved one battles cancer is important so you can take care of your own physical and mental health, too.
Taylor Swift's mom,
Andrea
, 62, has been battling cancer since 2015 and while Swift is there for her mom, it's equally important that Swift have someone nearby to help her cope with her emotions. Watching (and supporting) a loved one battle through
multiple rounds of cancer
is made more manageable when you have a loved one to lean on.
Related: Taylor Swift, 30, Gets 6 Grammy Nominations as Her Mom Andrea Swift, 62, Continues Cancer Battle
Read More
It was reported by
 ET 
that Alwyn, along with Swift's family, has been a strong support during
Andrea's medical battle
. 
ET 
wrote that Taylor "has been having a tough time with her mom's health, but her mom is getting treatment and she and her family have been
trying to stay optimistic
." Swift is reportedly staying focused on her music, as well as spending
lots of time with boyfriend Joe
. The two began dating in 2016.
Andrea Swift's Cancer Journey
Taylor is known for being very open and generous with her fans (even going so far as to send them gifts or pay for their medical bills or their education). So, it's not suprising that she was open and vulnerable with fans when it came to her mom's cancer.
Related: Taylor Swift's Surprise Album "Folklore" Is Pure Joy Amid Mom's Cancer Battle
In 2015, the singer shared on Tumblr that her mom was diagnosed with breast cancer.  Swift wrote: "I'd like to keep the details of her condition and treatment plans private, but she wanted you to know. She wanted you to know because your parents may be too busy juggling everything they've got going on to go to the doctor, and maybe you reminding them to go get checked for cancer could possibly lead to an early diagnosis and an easier battle. Or peace of mind in knowing that they're healthy and there's nothing to worry about."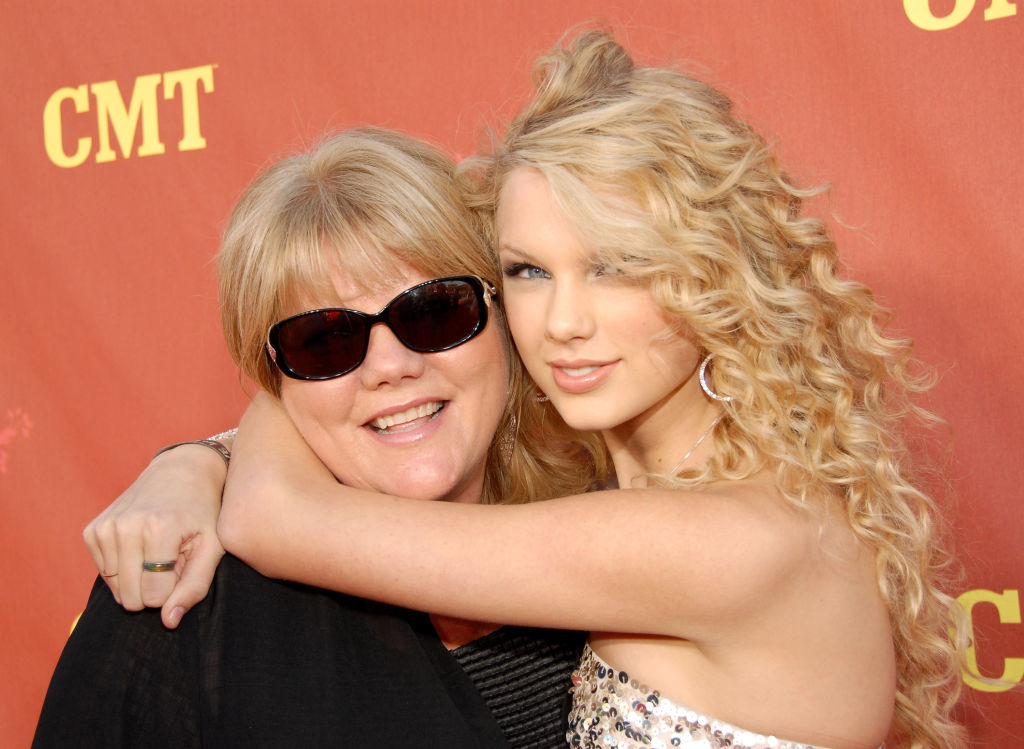 And in early 2020, Swift said in an interview with Variety that her mom had a brain tumor. In the interview, the singer shared how it was discovered, saying, "While she was going through treatment, they found a brain tumor. And the symptoms of what a person goes through when they have a brain tumor is nothing like what we've ever been through with her cancer before. So it's just been a really hard time for us as a family."
Related: Should The Wanted's Tom Parker, 32, Consider Optune for Inoperable Brain Tumor? The Treatment Can Extend Survival Time in Some Patients
While we don't know exact information about the tumor's progression or Andrea's prognosis, we're glad to hear that Swift has a support system in place to help her during this potentially emotionally taxing time.
Kicking Cancer's Ass — One Survivor's Advice for Taking On Brain Cancer
Strong Support Systems Through Cancer
Having a strong support system through a loved one's cancer battle is important so that you can also take care of yourself amidst their fight.
Related: A Major Step in the Cancer Journey: Learning to Deal With Vulnerability
Tools and networks like therapy, support groups, and family and friends, can all help provide powerful support during a difficult time of a loved one's cancer diagnosis. In order to be there for those you love, and step into the caretaker role as needed, you must first be sure to take care of your own mental and emotional health.
Related: "Watchmen's" Yahya Abdul-Mateen II Reminds Us Losing a Parent to Cancer Affects Us Forever By Thanking "Daddy" in Emmy Speech
We hope that Taylor continues to lean on those around her for support, and ask for help when it's needed.
"Therapy Saved My Life": After Losing A Loved One, Don't Be Afraid To Ask For Help
Learn more about SurvivorNet's rigorous medical review process.